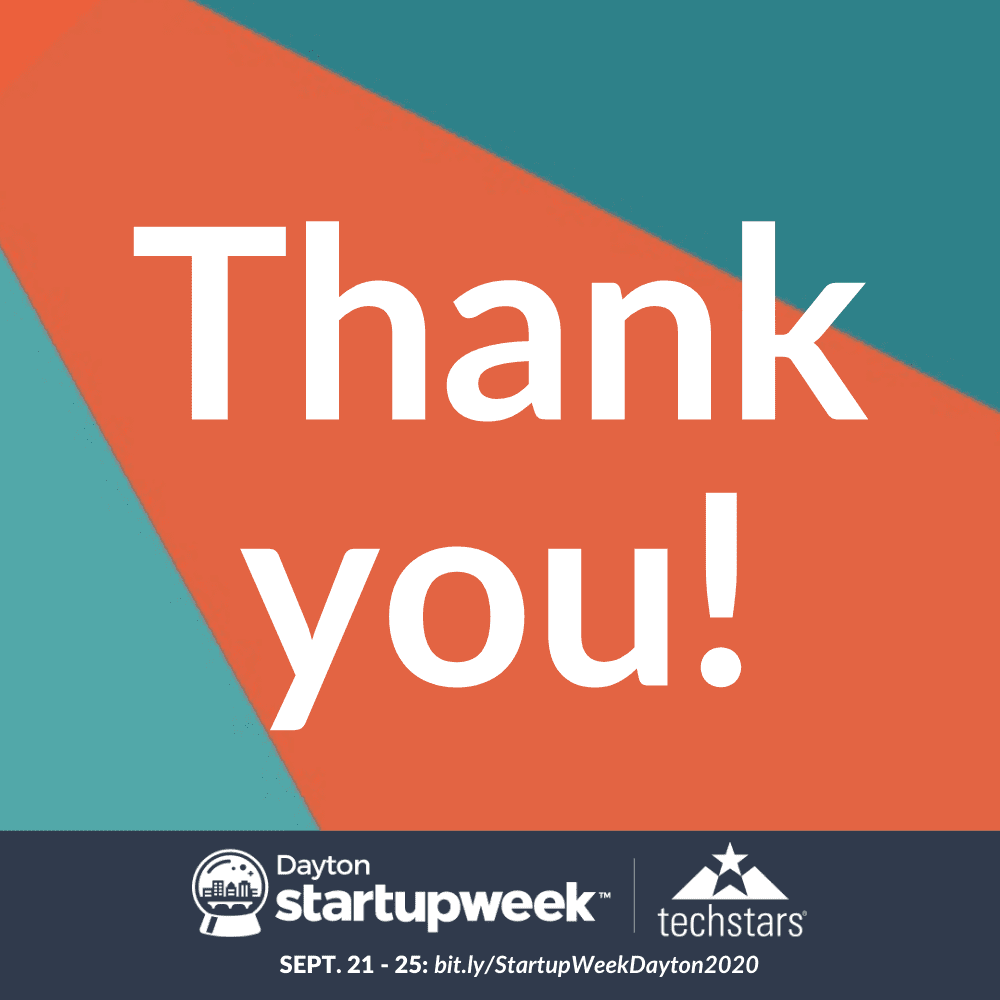 A thank you from your Startup Week organizers
September 25, 2020
Thank you, all who attended Techstars Startup Week Dayton 2020, and to all of you who helped make it happen.
We hope you made valuable connections and picked up needed knowledge to help you move your companies & ideas forward.
We're always working to improve our programing — please take our Startup Week 2020 survey and let us know what worked, what didn't, & what you want to see next year.
Thank you to the nearly 100 speakers who volunteered their time and shared their knowledge with our startup community.
We recorded all of this year's sessions, stay tuned to our @LaunchDayton channels for first access!
Thank you to our sponsors:
We could not have pulled this event off without an amazing group of committed sponsors, many of which have been with us for multiple years.
Our title sponsors for this year were Fifth Third Bank, The Entrepreneurs Center, and Wright State Applied Research Corporation.
The New Media Incubator was our official Technology Partner this year. They helped immensely as we shifted to a virtual environment.
The ONEIL Center sponsored our Early Risers Startup Week Edition Pitch Competition.
Tangram Flex, Infinite Management Solutions, and JJR Solutions sponsored this year's Defense Track.
& 937 Payroll, the Downtown Dayton Partnership, and Converge Technologies stepped up as Partner Sponsors.
Thank you all for your ongoing support of Startup Week and our greater entrepreneur community!
Thank you to our track captains:
These community champions have volunteered their time over the last several months to identify topics relevant to entrepreneurs in their industry & secure the right speakers to deliver those messages.
Andrew Cothrel & John Lewis: MedTech
Eric Wagner & Kaila Miller: Materials & Manufacturing
LeKeisha Grant & Tae Winston: Healthy/Beauty/Wellness
Mandy Grosko: Food & Beverage
Ryan Helbach & Anissa Lumpkin: Defense
Thank you all for your work!
Thank you to our technology partner:
The New Media Incubator at Wright State University is a media production and innovation hub on campus that connects with the local and global community.
New Media Inc was the official technology partner for Techstars Startup Week Dayton 2020. They handled all our livestreaming & pre-recording needs impeccably, and we couldn't have pulled off this year's virtual pivot without them. Learn more about the org here.
Thank you Ashley, Jen, Amie, Tionna, Marvin & Brenden for your support and excellent work this week! 
Popular Categories
Related Stories