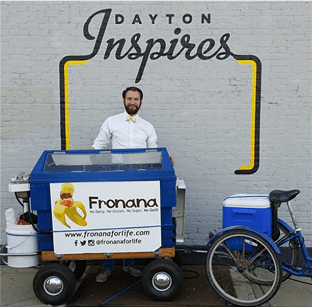 Introducing Kiva Dayton
June 5, 2017
The Start Downtown initiative brought together over 100 people last summer to figure out ways to support entrepreneurs in the area and then broke into small groups over a few months to make headway into one of six problems.
The small group focused on funding has set up a local Kiva chapter to provide loans to local businesses. Read more about the program from the Downtown Dayton Partnership's release below or click here to join Kiva Dayton!
---
Greater access to capital is critical to continuing the growing momentum in the Dayton startup community. Funding can't just be for high-growth or technology-based startups – businesses of all types need to have opportunities for funding. To provide another outlet to support Dayton small businesses, Start Downtown introduces Kiva Dayton – a collaborative effort between several startup ecosystem partners to utilize the international platform of Kiva as a lending outlet for local small businesses and startups. The first Kiva Dayton candidates will be launching soon.
Soon you'll be able to support these Dayton-area entrepreneurs through Kiva!
What is Kiva?
Kiva is like crowd-funding, but instead it's crowd-lending – after your loan is repaid, you can use the same dollars to support another small business. Loans are 0% interest and are repaid by the small business over a period of 6-36 months depending on the loan size. Businesses that apply for lending through Kiva have 30 days to reach their fundraising goal. If they don't reach their goal, they don't receive funding.
What Businesses are a Fit for Kiva?
Kiva borrowers are typically businesses that are unable to access capital through traditional lending outlets – either because they don't have a revenue track record, or because they are unable to meet the loan down payment requirements. Kiva isn't easy money though – you need to have a good plan and be willing to hustle to meet your fundraising goal. For entrepreneurs just getting started, Kiva is a great option to build financial credibility.
How Can You Help?
The Kiva Dayton team is building a base of ecosystem partners that can advise local startups on how to put together strong Kiva applications, and a network of Dayton funders who help provide support to local small businesses. You can help by signing-up to be a lender on Kiva and joining the Kiva Dayton Lending Team.
To learn more about Kiva, or explore an application for your small business, please contact Scott Murphy at [email protected].
KIVA DAYTON PARTNERS: Downtown Dayton Partnership, Nucleus, Minority Business Assistance Center (MBAC), Ohio SBDC Network, The Entrepreneurs Center, Dayton Tech Guide, NCIC CapitalFund, Dayton Development Coalition, Dayton SCORE
Popular Categories
Related Stories