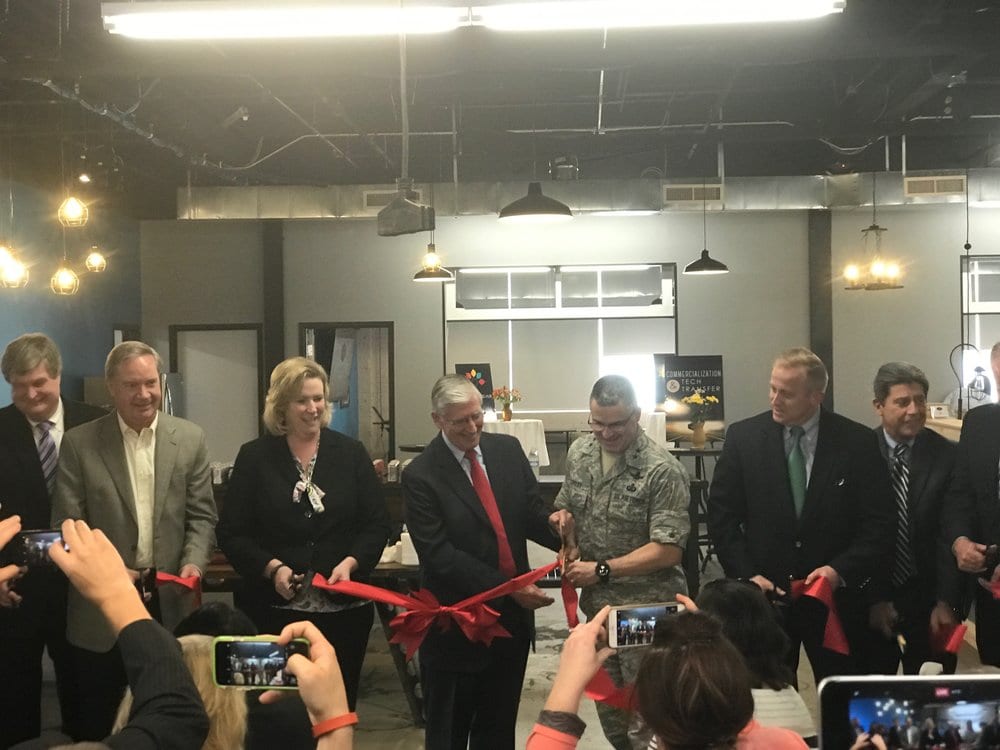 WBI-AFRL Downtown Innovation Center Officially Opens
May 30, 2017
When you have the @AFRLMakerHub at your disposal & your hosting a ribbon-cutting, you make custom scissors. @Team_AFRL #wheredaytonismade pic.twitter.com/dim3iYGQoC

— WrightBrosInstitute (@wbiinnovates) May 25, 2017
The WBI-AFRL Downtown Innovation Center officially opened last Thursday with a ribbon cutting and words from the stage by AFRL, WBI, and local economic development professionals. This wasn't an ordinary ribbon cutting, though–when you house a maker hub, you create your own wooden scissors to make the official cut.
The space has been operational for a few weeks, bringing in 50+ researchers from AFRL, universities, NASA, and industry for a "Summer of Innovation" project focused on autonomous software. Officials stated that the group already has identified four potential spin-out companies.
The WBI-AFRL side of the building will also house AFRL's Small Business Hub, the AFRL Maker Hub, and WBI's Tech Transfer Team.
Startup Week attendees will have the opportunity to see the space and hear a series of talks from WBI & AFRL partners in just two weeks!
Monday 1PM: Overview of AFRL
Monday 2PM: AFRL Downtown
Monday 4PM: AFRL STEM
Tuesday 1PM: Jedi tricks for working with the (Air) Force
Tuesday 2PM: AFRL Small Business Innovation Research
Thursday 3PM: EOP Overview
Attendees from last year's inaugural Dayton Startup Week will recognize 444 as last year's Basecamp. The WBI-AFRL space occupies the south side of the building's first floor. The Entrepreneurs Center will occupy the north side of the building's first floor in the coming months. TEC's side will include partners from university, venture capital, and startups that will provide a commercial & community view to the government side of the building.
Startup Week attendees can hear about some of the community initiatives going on in the WBI event room at 444.
Monday 11AM/Tuesday 10AM: ESP Overview
Tuesday 3PM: What is the Ohio Federal Research Network?
Wednesday 2PM: Resources & Programs to Hire People
Thursday 9AM: Intro to the Ecosystem
Thursay 10AM: Ohio Third Frontier Program Overview
Thursday 2PM: TEC TAP Intro
The second floor of 444 houses local software development startup Mile 2, which hosted an open house for their space immediately following WBI's ribbon cutting ceremony. Co-founder Jeff Graley sat down with the Dayton Tech Guide team a couple of months ago to talk about the vision for their space.
Since then, the team has added some startup flair to their office with Dayton and tech inspired murals.
Popular Categories
Related Stories