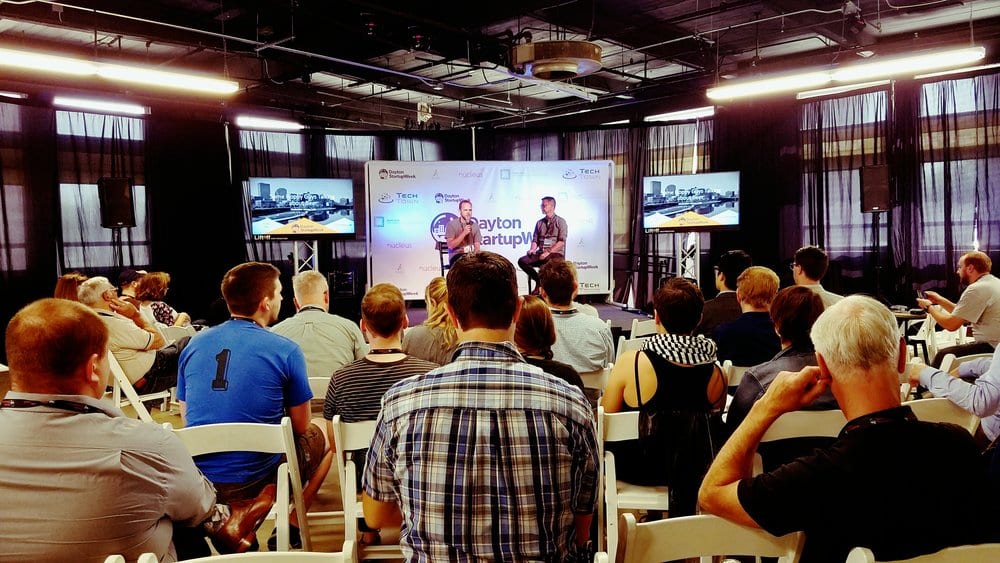 What to Expect at Dayton Startup Week
May 8, 2017
Last year's biggest entrepreneurial event is back in 2017 and you can register now at www.dayton.startupweek.co!
What can you expect this year at Dayton Startup Week?
Great Speakers
Like last year, we have 5-days packed with one-hour sessions, panels, and fireside chats! Our main stage will be at 400 E 2nd St, right next door to last year's venue (which is now how to the Wright Brothers Institute-AFRL downtown innovation center and local startup Mile 2) and feature entrepreneurs, investors, and technical experts.
Our community room will be at 444 E 2nd St in the newly established Wright Brothers Institute Event Room. Sessions in this location will take a more startup community spin where you can hear about programs that support entrepreneurs and hear from AFRL staff on items like R&D, technology transfer, and how to work with the Air Force.
Workshops
You asked for it after last year's event so we've added it! Workshops will run throughout the week and give you an opportunity to dive deep into a topic with an expert. Workshops are scheduled for branding, growth hacking, web design, sales forecasting, pitch decks, & more.
Be sure to sign up for them early because space is limited!
Great Social & Networking Events
We've moved Dayton Startup Week to June this year, which means prime Dayton Dragons time! Dayton Startup Week is taking over the Dragon's Lair on Wednesday June 14th. Join your fellow Startup Week attendees for an all-you-can-eat buffet with unlimited non-alcoholic drinks and cheer on the Dragons!
Note: This is the only event at Dayton Startup Week that will cost to attend. Tickets are $20 and can be purchased here.
Startup Week Swag
It wouldn't be a Startup Week without T-Shirts and Stickers! Be sure to get their early in the week to get your gear with our 2017 logo!
Sponsor Shout-out
This event could not be pulled off without support from our awesome Title Sponsors: The City of Fairborn, The Entrepreneurs Center, & Wright State Research Institute.
Popular Categories
Related Stories