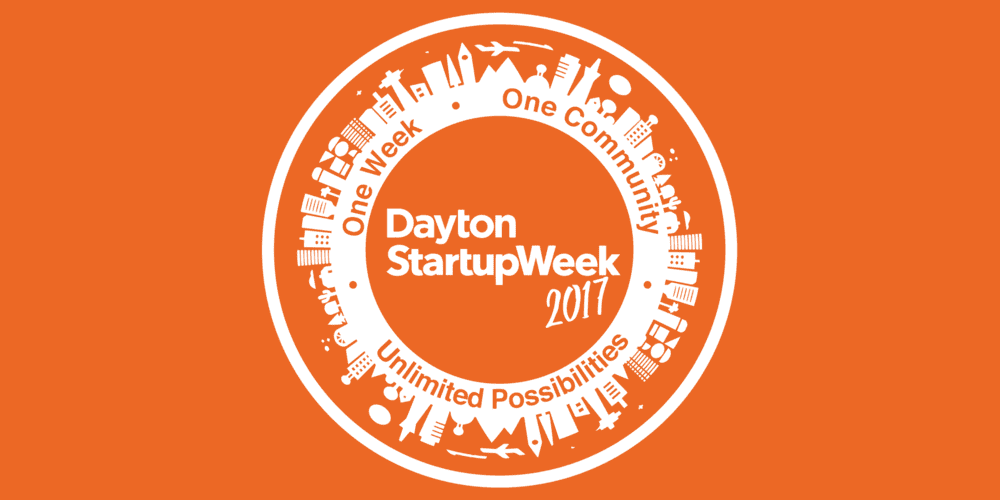 The official schedule is released for Dayton Startup Week 2017
May 2, 2017
This morning the schedule of events was officially released for Dayton Startup Week 2017–Dayton's largest high-energy conference for entrepreneurs that is free to attend thanks to Title Sponsors The Entrepreneurs Center, City of Fairborn, and Wright State Research Institute. Slated to take place June 12-16 in multiple venues in Downtown Dayton, this year's event boasts over 100 unique sessions with a wide range of topics like the Lean Startup,  Social Media Masters, and How to Build a Scalable Company. The workshops, presentations, panel discussions, and fireside chats are all led by local entrepreneurs, such as Zach Weprin, CEO of Fusian, and Barry Besecker, CTO of Marxent. Mornings will offer breakfast and yoga and evenings will conclude with social opportunities like an entrepreneur improv show at Black Box Theater and a party in the outfield at the Dayton Dragons.
With so many sessions and networking opportunities to choose from, some might be afraid of getting lost in the schedule, but the event has been set up with some tools to help attendees keep track of the sessions they're interested in. When you register, you'll be able to create a customized schedule by simply clicking on the sessions that you want to attend. During the week of the event, you'll receive a morning email reminding you of your schedule for the day.
Not sure if Dayton Startup Week is right for you? During last year's inaugural event, over 500 individuals attended, representing all kinds of industries, experience levels, and age groups. What does that mean? It means that whether you're thinking about starting a clothing boutique or you've already been in business a few years with a software development company, there's something at Dayton Startup Week for you. Learn a new skill, discover some helpful resources, make some new connections, and join Dayton's thriving startup community!
To check out this year's schedule and to register, visit dayton.startupweek.co
Popular Categories
Related Stories