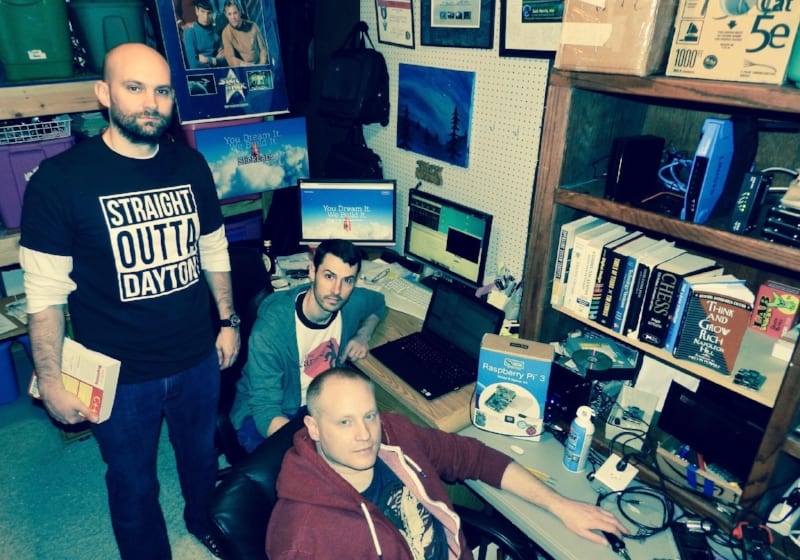 Get to know startup Dayton – Rob Slater
February 28, 2017
"I don't measure success by my personal accomplishments. I measure by the accomplishments of the 10 closest people to me. If these people are successful then I feel successful." This is Rob Slater's mantra. Rob is a fresh entrepreneur on the Dayton scene with a few experiences that set him apart from most of his fellow counterparts in the startup community.
Rob spent much of his earlier life surrounded by a family of innovators and entrepreneurs. "I grew up in a household of entrepreneurs but didn't realize it. There wasn't a time that my father didn't own his own business" said Rob. "He and my mother were always coming up with new ways to make ends meet. I remember my mother finding furniture at a bargain price, refurbishing it, and then reselling it to make a profit. At the time that didn't seem like entrepreneurship but now it does."
Rob went to Clemson University for his Bachelor's in Electrical Engineering while also being in the ROTC. Right out of undergrad he married his wife who now works for Miami Valley Medical Center on the nursing staff. "We both have the mindset of an entrepreneur which makes for some great times," Rob remarks with a smile on his face.
When he first began his career in the Air Force, he received extensive training as a pilot but quickly decided that flying was not for him. Throughout his career in the Air Force, he worked on several projects and in various departments accumulating a vast amount of experience in sensor systems and other engineering projects. While a program manager, he was able to make a connection with a Developmental Engineer, Dave Chick. Dave and Rob began to collaborate on projects and eventually came to the conclusion they needed to begin doing the same things but on their own. Then SlickLabs, LLC was born.
Wondering where the name comes from? Slater + Chick = SlickLabs.
SlickLabs designs, develops, and delivers electronics and software prototypes using lean, intuitive methods to deliver minimum viable products at a minimum viable price. Rob's title is founder and "Ninjaneer" (Ninja Engineer). "We love working on projects involving the internet of things (IOT), analog/digital design, machine learning, big data and everything in between. But over the next year, our main focus will be in IOT home system integration". Jack Harris is the other member of Slick Labs who brings his expertise of software development to the team. The three bring together hardware, software, sensor integration, and analytics to iron out technological advances. Founding SlickLabs was only the first step in Rob's entrepreneurial journey, though.
Last year Rob joined Ascend Innovations™, a new venture between the Greater Dayton Area Hospital Association (GDAHA) and Kaleidoscope with a focus on combining purpose driven design and state of the art technology to develop an ecosystem that produces commercially viable solutions in human health innovation. Rob works as a Senior Design Engineer, leveraging his vast technical experience with his Master's in innovation and entrepreneurship from Wright State to support the lean startup approach that Ascend offers. Before Rob came on board with Ascend, they formed a project known as Vye.
"With the vast healthcare market in Dayton, it is easy to get in that space with full-support," Slater says. "Currently, Vye is not separate from Ascend but will be in the future." Vye is a new technology to deliver real-time concussion assessments to the parents and coaches of young athletes. Through a simple guided test, Vye can be used to provide objective and quantitative results pointing to potential head injury or concussion. According to Slater their latest backer is Anthony Muñoz, NFL Bengals Hall of Famer."
Rob and the team at Ascend are really changing the way we look at healthcare innovation. He and his team of merry engineers at SlickLabs are capable of providing amazing services and developing products that could provide solutions for power grid sustainability or solving real-time healthcare problems while providing research-based analytics to solve real world problems.
Slater advises, "Whatever you are doing, make sure you have something to show for it. It needs to be something your customer can experience with their senses. Have real results that you can leverage."
Austin Rains
Popular Categories
Related Stories