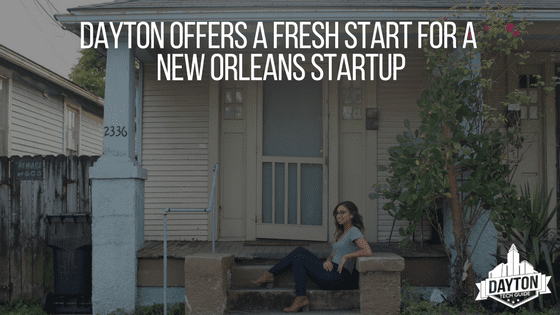 Dayton offers a fresh start to a New Orleans startup
February 21, 2017
---
UPDATE: Arielle will be one of our featured presenters at the March edition of Early Risers! Want to hear her pitch? Register for Early Risers.
---
Two months ago, New Orleans native Arielle Jordan sat in her home contemplating the options for the future of her startup DreamStarter. Having founded DreamStarter in 2015 with the idea of creating a hybrid of various social media networks that would allow experts, coaches and content curators to connect with their clients and followers in a healthy, subscription-based online environment, it seemed that her progress had hit an impenetrable wall.
"I just wasn't getting the support from the community that I thought I'd receive, " Arielle noted along with several other factors that made the likelihood of her success minimal.
"I was working part-time while exploring my startup. This was a way for me to pay the bills and keep my idea alive. It was a real struggle to stay above water because everything costs a lot in New Orleans. I lived a low-income neighborhood where just a few blocks from home, I was carjacked at gunpoint."
"The carjacking was sort of the last straw for me. I had every opportunity to leave before but this really pushed me to search. My sister is a personal trainer and health fitness guru in Urbana. On our weekly phone calls, she kept telling me that I should bring my dream here to Dayton, Ohio because it was more affordable. I began to frantically search the web for the resources that would be available for me if I moved out here and sure enough, I stumbled upon Dayton Tech Guide and The Entrepreneur Center. Dayton Tech Guide had an amazing compilation of resources and showed that there was a lot going on in the Dayton startup scene. Plus, they sponsored some cool events that I could get plugged into, and that got me motivated to take the next step."
Having made the decision to explore a fresh start, she packed her bags and headed to Ohio, where she has now lived for about a month. When asked what she thinks about Dayton so far, she said, "First of all, I think the cost of living is much more reasonable if you are trying to get a business off the ground, and secondly, it seems like Dayton is in the early stages of a startup revolution. There's a lot to do, and there's a strong sense of community and support."
So what's next for DreamStarter?
Arielle is searching for developers who can help bring her vision to life. "We have very little development help in New Orleans, so it is refreshing to get here to Dayton and see a nice population of developers".
Want to connect with Arielle?
Visit her site, Connect with her on LinkedIn, or meet her at one of our local events like Pints & Preneurs.
Welcome to Dayton, Arielle! We're happy to have you as a part of #STartupDayton!
Popular Categories
Related Stories