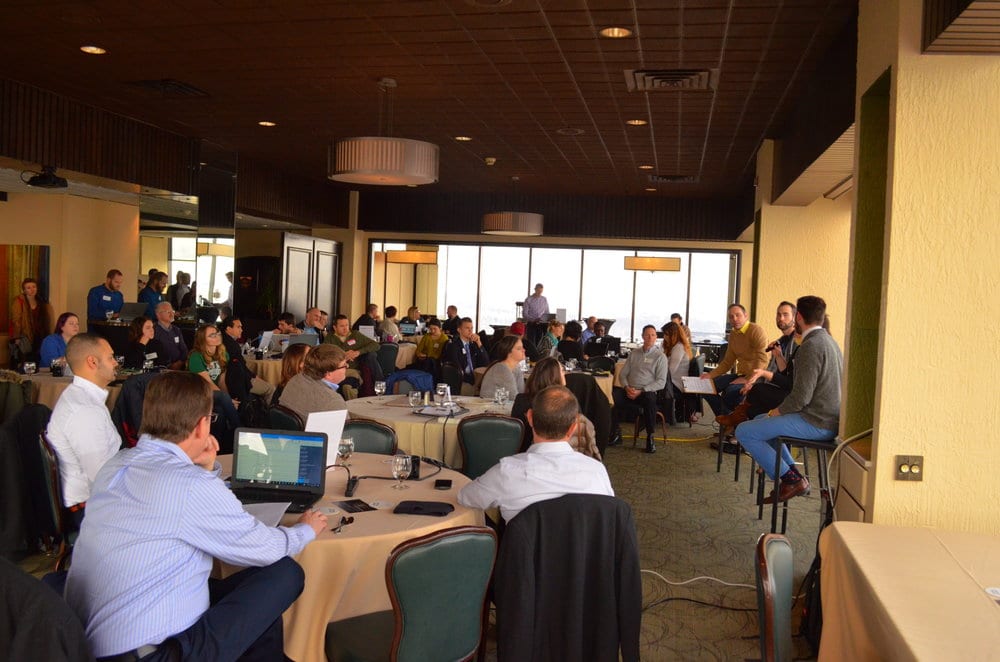 Dayton Startup Community Reaches the Summit in February
February 13, 2017
February's featured entrepreneurs share their individual funding stories. Photo credit to AJ Ferguson of UpDayton.
Coworking is fairly new in Dayton but events like Start Downtown's monthly Cowork At [Fill in the rotating location] and venues like Nucleus Co-Share have opened many people's eyes to the opportunity to work independently in a social setting with people who share similar core values.
This month, 100 entrepreneurs & community partners gathered at the Dayton Racquet Club on February 9th for Cowork At The Top. Here's our recap of the day to get you on board for the next Start Downtown coworking event.
The day kicked off at 9am with people grabbing their coffee and pastries and finding a home base for the day. Many people settled right into their morning routine of responding to emails but some took advantage of the co-location and set up impromptu meetings and handled their business in 5-10 minutes instead of an email chain dragging on for days.
Tables with the best views went quickly at Cowork At The Top. Here's a view of Riverscape and The Great Miami River from the the Racquet Club.
---
The morning and afternoon featured open office hours with experts in their field to help startups. These drop by sessions allowed for a quick consultation to get advice on an issue or began the first step in longer process. Resource partners included:
Roshawn Winburn of the Minority Business Assistance Center
Casey Telgar of CFi
Pat Newcomb of the Small Business Development Center
Brandon Gross of Flagel Huber Flagel
Jason Lewis of Theralent Executive Search
Jeff Senney of Pickrel, Schaeffer & Ebeling
Photo Credit to AJ Ferguson of UpDayton!
---
Lunch featured a panel of local entrepreneurs discussing their challenges in raising funds to operate their business.
Eron Bucciarelli of Soundstr told the group the story of how his band lost out on an estimated $500,000 in royalties because of the way the music industry tracks plays. Eron set out to create a product that could better track what music is really being played at establishments so songwriters get their correct royalties and establishments pay for what they really use.
Eron shared his struggles raising the capital he needed to create a company that includes hardware (not necessarily a favorite of venture capitalist) and in the music industry (definitely not a favorite of venture capitalists, think Napster). Eron pursued though and eventually raised the funds he needed through CincyTech, Accelerant, and local angel investors.
Soundstr is now manufacturing their product and raising more funds.
Natalie Skilliter, and her husband Jack, own Corner Kitchen in the Oregon District. Both spent time in New York City and Washington D.C. in the restaurant industry, Natalie running the front of the house and Jack in the kitchen. Eventually, they moved home to Dayton to start their own restaurant.
When the time came they looked at purchasing an existing restaurant (which normally means one going bankrupt) and the ability to get funding was relatively easy. When these two young aspiring entrepreneurs decided they wanted to create something new though, the ability to land funding proved difficult. In the end, they were able to work with CityWide and get the funding they needed from a local bank.
Corner Kitchen is already ahead of pace on their most aggressive 3-year estimate, just a year and half into business.
Photo Credit to AJ Ferguson of UpDayton!
Bobby Walker graduated from the Air Force Academy and decided to eat whatever he wanted after being told what to eat for four straight years. A fitness test made him change that lifestyle but he struggled to satisfy his sweet tooth, until he came up with a recipe to turn frozen bananas into an ice cream substitute–Fronana.
Fronana launched a Kickstarter that ultimately failed, but Bobby got enough validation from the experience to invest his own time and money into the business. Along the way he got help from friends and family but his growth to this point has primarily been driven by sales.
Fronana is in grocery stores across the midwest but is looking for partners & investors to help them grow nationally.
---
After lunch, it was back to business. Some people had arranged client or partner meetings in the space and found an isolated spot for confidential discussions, others put their headphones on (a trick we told everyone in our 4 Myths of Coworking blog post) and got back to building websites, products, and answering emails
Photo Credit to AJ Ferguson of UpDayton!
At the end of the workday, people enjoyed some drinks and conversation at happy hour and then hung around for Startup Grind Dayton, which featured Andrew Klein of local startup Smart Barn.
---
We would love to see you at the next Coworking Day on March 9th. The location will be announced soon and we will be sure to share it in our newsletter! Don't get our newsletter? Sign up for it here! 
Popular Categories
Related Stories