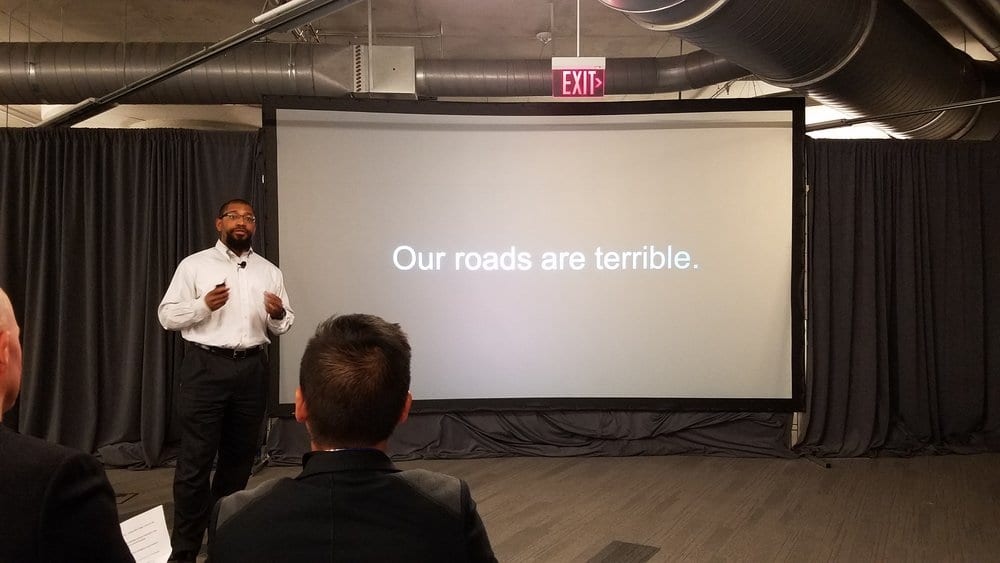 Road-Aid knocks it out of the park at Uptech Demo Day!
February 10, 2017
Dayton startup Road-Aid's founder James Bridgers shared his innovative solution to an obvious societal pain point last night at Uptech Demo Day.
---
Last night hundreds of people gathered at 84.51 in downtown Cincinnati to hear from Uptech Accelerator's latest cohort. Uptech is a technology accelerator located in Northern Kentucky that works with hand-selected data-driven startups from across the globe. The nine startups who made up the graduating cohort last night hailed from Cincinnati, Kenton County, Luxembourg, New Delhi, Riga, Dublin, Chile, and Dayton, and we couldn't be more excited that Dayton was represented by Road-Aid!
We named Road-Aid as one of our 4 startups to watch in 2017 because of Founder James Bridgers' innovative Waze-like solution to gather and aggregate data regarding the condition of our roadways. This information helps drivers to avoid road hazards and could provide government with up-to-date accurate assessments of road conditions, allowing them to better prioritize and allocate their funding and schedule for road repairs.
You can check out James' pitch, as well as the other presentations from the other 8 startups by clicking here. Fast forward to 1:18:30 to see James!
Popular Categories
Related Stories