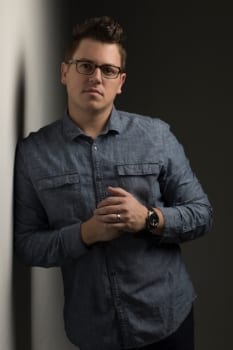 Get to Know #StartupDayton's Joe Harrison of Virtuojo
January 20, 2017
---
Entrepreneurship is hinged on the perpetuation of innovation and being able to bring both creativity and technical skill to your creations. At Virtuojo, this is key.
Joe Harrison, the Founder of Virtuojo, grew up surrounded by established entrepreneurs, one of which being his grandfather who owned a printing company. It was through his grandfather's business that Joe says he learned valuable lessons in people management. But there wasn't an expectation that Joe would carry on the family legacy.
"My family didn't have this expectation for me to take over the printing business," Joe explains.
"I began working right out of high school which, wasn't a big deal, but I felt like I had a bigger purpose". Joe took positions with Apple, Creative Fuse Initiative and GMi, but ultimately couldn't shake the empty feeling that followed him from job to job. "I wasn't really building anything, and that's what I love about entrepreneurship. It gives you the opportunity to always build something". During his time at GMi, he decided to step out of employment and take the leap into entrepreneurship. He gave GMi a 3-month notice and founded Virtuojo. Starting as a freelancer, he began gaining clientele and meeting influential people in the Dayton startup scene.
"It was crazy fast, but during this 3 month period, a group of us came together and founded Nucleus." Nucleus is a co-working space for freelancers, micro-businesses, startups, and entrepreneurs to come and work. "I knew it was meant to be when on my last day at GMi, I signed the lease for Virtuojo at Nucleus."
Starting a business is not an easy task. The work is taxing and can be overwhelming. In the early stages of any business, you will see the founders take on many tasks and wear several hats. Joe began to realize quickly that he couldn't succeed all on his own. "It is way too much pressure," Joe explains. "I began meeting really awesome people through Nucleus who were stronger in some areas than myself, and I brought these people on to help with what I couldn't do".
Jacob Crawford, who has a strong marketing, website development and non-profit management background, was one of those people. He now serves as a partner in Virtuojo and focuses on operations and development. The dynamic duo now use a uniquely designed three-tiered process to help their clients with strategy, design, and execution. They are passionate about bringing businesses to life in an interesting and engaging way.
With Virtuojo's growth, you can expect to see some changes in the near future, and according to Joe, they're going to be awesome!
Want to connect with Joe and Virtuojo?
Check out Virtuojo's website here! You can also follow them on Facebook and Twitter.
Written by Austin Rains
Popular Categories
Related Stories