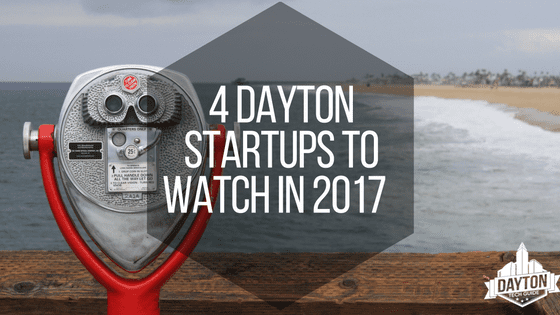 4 Dayton startups to watch in 2017
January 6, 2017
---
This past year has been an amazing time for the Dayton startup community. If you missed our recap of 2016, simply click here to catch up. There are lots of things to look forward to in the New Year! Dayton Startup Week will be here before you know it, and you can check out our other monthly events in the Dayton region here. We want to see you this year!
We have compiled a list of top 4 startups to watch in the New Year. Keep an eye out on these companies because they are gaining momentum for 2017 to be a great year!
Road Aid
UPDATE: Road-Aid was recently featured on WHIO, check out the article here!
UPDATE: Road-Aid will be pitching at UpTech 5 Demo Day on February 9th! Join us as we support James Bridgers & Road Aid!
UPDATE: James Bridgers pitched at UpTech's Demo Day and you can find the pitch here!
Dayton-based startup that is building an ecosystem to inventory, analyze, and disseminate collected pothole data to a wider user base. They aim to democratize the data, removing it from the hand of the government which would allow consumers (drivers) and enterprises (insurers) to reduce the emotional and economic impact that potholes in the road can carry. They are transforming the road infrastructure 1 pothole at a time. In Fall 2016, RoadAid was accepted into UpTech Accelerator's 5th Cohort, which will take their business to the next level in the New Year!
GlobalFlyte
This startup designs, develops, integrates, and supports advanced sensing, communications and collaboration systems provisioned as a service over the Internet. They provide the associated training that enhances situational awareness and understanding for incident response and emergency management teams. They have pitched at Early Risers, and even at Dayton Catalyst this past year! During 2016, GlobalFlyte was awarded a $100,000 grant by the Third Frontier Commission. These funds will be used to license the technology that it owns, as well as some valuable marketing research technology prototyping. They are currently working in collaboration with several emergency management organizations in the state in the Dayton, Cincinnati, and Columbus regions, and use communication technologies which originate from the Air Force Research Laboratory.
GreenSpace
GreenSpace Enterprise Technologies seeks to automate occupancy management and scheduling services for global enterprise. With simple architecture, global scalability and cost-effective pricing, GreenSpace is poised to change the way occupancy management is done. The Dayton Development Coalition's Accelerant program, an initiative of the coalition that funds seed-stage companies, just invested $500,000 into GreenSpace. And with more big name corporations on the verge of signing up for the GreenSpace occupancy management solution and projected sales of $2M in 2017!
Third Wave Water
UPDATE: Third Wave water launched their Kickstarter… and crushed it in less than 24 hours!
UPDATE: Third Wave Water featured speakers at Startup Grind Dayton.
Third Wave Water was founded about three months ago, and sales launched last month. Third Wave Water offers a revolutionary mineral formula that when combined with the right amount of distilled water, provides a consistent base for optimal coffee extraction. Third Wave Water is much different than its top competitors in its convenience, portability, and a reduced footprint. Since their launch, they have received orders from over 15 different countries, been featured in publications like Daily Coffee News, Barista Magazine, and Food & Wine, and were finalists for the Sprudgie Award for Best New Product! 
Don't forget to subscribe to our email server check back in regularly to see what is happening at Dayton Tech Guide and what we are up to throughout 2017!
Written by: Austin Rains, Marketing Associate at DTG
Popular Categories
Related Stories