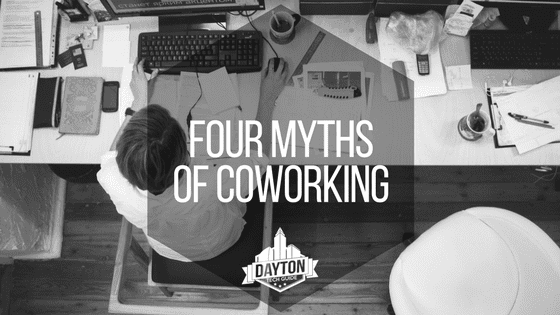 4 Myths of Coworking
January 30, 2017
Coworking: Is it for you?
There are two great co-working events coming up in early February, but some of you might be a little leery of attending. After all, isn't co-working just a fancy term for socializing in the guise of work? In a region where co-working is a fairly new concept, we understand many of you may have concerns or questions about co-working.
We are here to bust some of those myths:
Myth 1: I won't be  able to get any work done.
Sure, there will be distractions when there are other people around. It's no different than your standard cube farm or home office.
But what you'll find is people that cowork are looking for that balance between an atmosphere of productivity in which they can put their heads down to knock out a project and a collaborative environment where they can get feedback on their ideas. Plus, they will respect your right to quiet way more than your boss or small child will.
Pro tip: Headphones! Headphones are the universal sign for "I'm working right now, leave me alone." Introverts have been using this trick for years.
Myth 2: Co-working is just a fad for young professionals.
Okay, the typical coworker tends to be younger. But on a recent trip to St. Louis, we saw Boeing, Square, and Mastercard operating out of these spaces. Why? Because it's an opportunity to find new ideas & new talent.
Coworking spaces tend to have an increased density of new ideas, collaborative people, and coffee. Those three elements can spark the next big thing, just like they did for Uber and Instagram.
Pro tip: Don't go into sales mode as soon as you walk in the door–that's the quickest way to build a reputation, and not a good one!
Myth 3: I work for a  big company, so coworking isn't for me.
Do you ever take meetings at coffee shops just to get out of the office? Coworking is essentially the same thing. Sometimes a change of scenery can help bring new perspective or maybe just an enhanced ability to focus.
Coworking facilities can also be a great place for teams to get away from office distractions and really dig into a project. Many facilities offer conference and breakout rooms that be rented by the hour.
Pro tip: Use coworking spaces the way you used the library in college. It's a great place to avoid the usual distractions of your office and really dig into a project.
Myth 4: This sounds a  lot like that gym membership that I pay for and never use.
Most coworking facilities (like Dayton's own Nucleus) offer flexible memberships that allow you to drop by when you need a change of scenery. They also typically offer renewal on a monthly basis, allowing you to increase or decrease your commitment on the fly.
Pro tip: Find a free trial. Here are two convenient opportunities that you should check out:
First Friday Workday at Nucleus CoShare, Dayton's coshare facility located in the  Oregon District, is held the first Friday of every month and gives you a no-risk opportunity to try out the coworking experience. This month's free workday is February, 3.
Downtown Dayton Partnership, in collaboration with a number of startup organizations (including yours truly), hosts a monthly coworking day that includes opportunities to both hear from local entrepreneurs during lunch and talk with business experts during open office hours. The day concludes with Dayton Startup Grind and a happy hour.  This month's coworking day is February 9 at Dayton Racquet Club.
Popular Categories
Related Stories