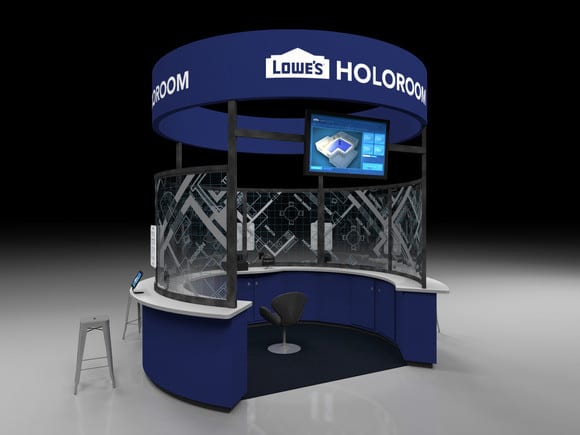 Marxent raises $10 million for in-store AR visualizations
April 12, 2016
This article, written by Dean Takahashi, first appeared on VentureBeat.com on 4/11/2016. You can read the original post here.
Augmented reality has some obvious commercial applications when it comes to visualizing products for shoppers. Marxent has raised a second round of $10 million so that it can create applications for retailers using both augmented reality (AR) and virtual reality (VR).
AR is expected to become a $90 billion industry by 2020, according to Digi-Capital. And it's not all about games and entertainment. Marxent is creating VR/AR apps for average consumers with its VisualCommerce virtual product platform.
The round was led by Detroit Venture Partners and Stage 1 Ventures, and it brings the total amount invested to date to $14 million.
Retailers can use VisualCommerce to create an AR experience that shows what a home would look like with a new backyard deck, or whether a piece of furniture will really fit in a corner of a room. Such visualizations can be the clincher when it comes to convincing someone to spend a lot of money.
The second round of funding will support the surge in demand from enterprises that want to turn their product catalogs into immersive AR and VR marketing tools. Well-known retailers such as Simmons Bedding Company and Azek are tapping VisualCommerce to give customers a taste of what a product would look like in a real-life setting.
"We're not creating new demand. Retailers and manufacturers have been investing in visualization, visual merchandising, and customer experience since the beginning of time," said Beck Besecker, Marxent's cofounder and CEO of Dayton, Ohio-based Marxent, in a statement. "High quality product visualization and remarkable customer experiences have always been a core  tenet of retail and direct sales models. We saw an opportunity to enhance, and in some cases, replace, classic visual merchandising tactics such as photography, paint samples, store windows and catalogs with an exciting 3D high-tech experience that is waste-free, portable, device agnostic, and has a limited footprint."
Marxent has figured out how to transform rigid, bandwidth-hungry 3D models into flexible, light, and dynamic assets that can easily be shared and managed independently. You can view the AR/VR apps on a variety of platforms, from YouTube 360 (viewed with Google Cardboard) and other VR headsets.
"AR and VR will effect everything from gaming to entertainment to commerce. Marxent has emerged as the clear leader in providing solutions for retailers and manufacturers in this exciting space," said Dan Gilbert, founding partner of DVP, in a statement. "We led this latest round because we believe Marxent has the momentum to achieve widespread adoption of their products. In addition, the culture and talent leading this company are both exceptional."
Rivals include Augment, which received funding in March.
Popular Categories
Related Stories