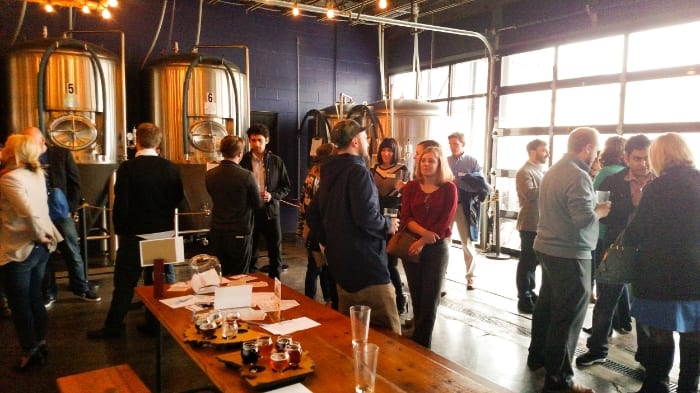 Startup Week Happy Hour shows great turnout & sharing of ideas
April 11, 2016
Last week we had the privilege of bringing together the region's entrepreneurs for another evening of informal networking and relationship building, as well as planning for Dayton's first Startup Week. The event was held at the Dayton Beer Company on none other than April 7–National Beer Day.
We had a great turnout and were encouraged by the brigade of new faces that attended to join the conversation and get plugged into the entrepreneurial community.
As promised we introduced the 6 Tracks of events for Dayton Startup Week, as well as the Track Captains who will be working to plan the conference events for each of their respective tracks.
The Tracks and their Captains are:
Starting Up Your Startup–Charles Nick of The Wright Cup
Marketing–Joe Harrison & Chris Seelbaugh of Virtuojo & Nucleus CoShare
Funding–Gayle Rominger, a local angel investor
Technology–Tyler Back & Zach Saunders of Mitosis & Meiosis
Design & Web Development–Ryan Clark & Carla Hale of The Scenery
Talent & Culture–Megan Gray of Marxent Labs
Each track will have at least one event per day, giving conference-goers the opportunity to attend up to 6 events daily that cover topics relating to various stages of business ownership–from conceptualization to startup to growth. There will also be drop-in mentoring hours, market research help, and coding consultation available at the Dayton Startup Week Basecamp over the course of the week.
We're excited about the energy, education and relationships that Dayton Startup Week can bring to the community, but we need your help to make the event the best it can be. We're currently looking for your ideas:
What do you want to learn about?
Who do you want to hear from?
What resources would you like to see available?
What kinds of networking opportunities would you be most likely to attend?
Don't be shy–tell us what you want!
Dayton Startup Week is your event, so help make it valuable by telling us what you need to help your business get up and running or to help your business grow.
You can email your thoughts and ideas for Dayton Startup Week to Tiffany Ferrell at tiffany.ferrell@wright.edu. You can sign up to receive registration updates at dayton.startupweek.co.
Don't get left out of the conversation–get involved! Together we can make Dayton a GREAT place to do business!
Popular Categories
Related Stories