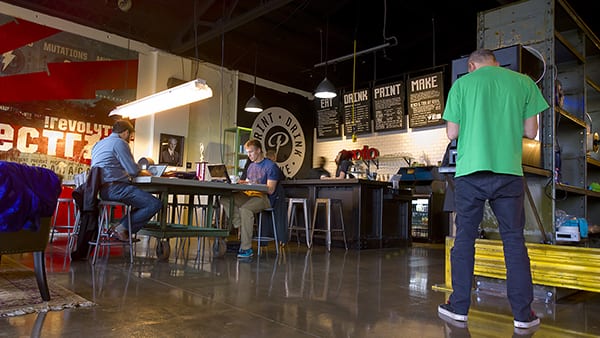 Dayton's Proto BuildBar Picked as a Finalist for SXSW's 2016 Interactive Innovation Awards
February 3, 2016
Dayton, O. is full of pretty cool places to hang out, make connections, and have a drink while you're at it. One of our favorite new fixtures is Proto Buildbar, a Maker Space where you can make your imagination reality by jumping on one of their 3D printers or maker benches which are each fully equipped with a digital solder station, power supply, laptop and a full set of small electronics hand tools. They host a slew of special events, offer classes and workshops, make a mean latte, carry a great selection of craft beer, and as if all that weren't enough, they even have an enormous claw game!
Real Art recently posted the blog below that proves we're not the only ones that think Proto Buildbar is an awesome place for tech-lovers to mingle. You can read the original post here.
Take some time to stop in, check them out, and tell them congrats on the nomination!
---
Proto BuildBar—part 3D printing lab, part electronic maker space, and part café—has been chosen as a finalist for South By Southwest's 2016 Interactive Innovation Awards in the category of "Innovative 3-DIY."
According to SXSW, the finalists in the "Innovative 3-DIY" category are picked based on "making 3D printing technology more accessible or affordable, or to the Maker using such technology in new and exciting ways." The Interactive Innovation Awards serve as a celebration of the most exciting and innovative developments in our hyper-connected world.
The winners for this year's 19th annual ceremony will be crowned on Tuesday, March 15th in Austin, TX. The proceedings will be hosted by NYC-based comic, actress and co-host of truTV's "Hack My Life" Brooke Van Poppelen and musician Julian Velard.
Best of luck to Proto BuildBar and congratulations on the nomination.
Popular Categories
Related Stories