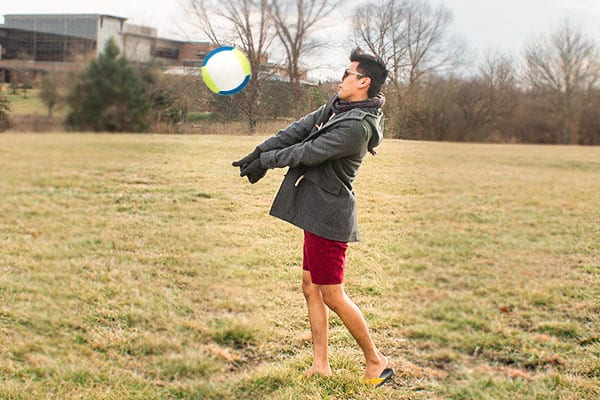 California to Dayton: Best Move Ever? | Marxent @ Work
February 2, 2016
Once again Marxent is showing us why Dayton, O. is an awesome place to grow a business. We love this former California resident turned Daytonian's take on making the move from the West Coast's sunny shores to the Midwest's colder climate. You can read the original post here.
---
Believe it. I moved from California to Dayton, Ohio
The beginnings of my California-to-Ohio transition consisted of generally not knowing what I was getting myself into. I was clueless with regard to the weather, the people and the culture of Ohio. With a California license plate still on my bumper, off I went to be a 3D Artist at Marxent.
Yes. I moved  to Dayton on purpose
My preparation for the trip meant extending my wardrobe beyond beach shorts, tank tops, and flip flops that I'd gotten used to wearing during California winters. Clearly I am only joking around. The fact I can now joke about it comes with the move, and a move worth taking it was.
You'll definitely want to bring pants
I was raised in California and having lived mostly in San Diego and Los Angeles, I have grown up with the notion of an eternal summer. Let's face it, I was a spoiled "dude" clueless about what awaited me in the coming seasons. I had seen winter and fall online and in films, of course. But was I ready for the real thing — that stuff called snow? Only time will tell. One thing is for sure: My investment in pants was a good one.
A smooth and spectacular landing
After one layover and six hours of flight time, the plane finally descended. I've never seen anything so breathtaking. The city of Dayton, Ohio was stunningly draped in browns, yellows, and reds as we landed on a beautiful October day. I recall glancing at others on the plane looking at their electronic devices and thinking to myself, "Come on guys, look outside!" I was leaning over the edge of my middle seat, looking over the passenger to my right and trying to get a glimpse of the gorgeous landscape around my new home.
California could learn a thing or two
I will admit it. Snow is cold. Really, really cold. In spite of a season of cold, though, Dayton has greeted me with open arms. The Marxent team has been especially welcoming. My first day fell on a Friday, the day that the entire team participates in a weekly standup meeting. I was heartily welcomed by more than thirty strangers, now my friends. They eased my way in and introduced me to the culture of midwestern hospitality, Ohio-style. This kindness has also translated to every day interactions. Strangers I pass while walking in parking lots, local grocery stores, and malls acknowledge me graciously.
People look at each other here. They make eye contact and greet one another. This is something I would love to see more of in Southern California. Everyone here seems much more approachable than in Los Angeles. There's a sense of warmth that overrides the cold weather.
Goodbye gridlock, hello awesome roommates
Being stuck in gridlock seems long gone as well as the ridiculous prices for gas. In fact, the cost of living here gives me the opportunity to live a life I've always wanted. I managed to find some awesome people off Craigslist looking for an extra person to occupy an empty room in the house they were leasing. Sure it was a precarious leap, but after calling and FaceTiming with my potential roommates, and again feeding off the good energy, I knew I was making the right move.
I actually enjoy my commute
University of Dayton is just down the road from where I live and I usually take the longer route home just for kicks while continuing to bask in the scenic and foreign environment. The falling leaves in the crisp air during my drives make this a momentous, new way of commuting I do not mind one bit.
Ultimately, it's been one smooth transition thus far. Dayton has been nothing short of considerate and welcoming, and I'm sure that soon it will feel like home. I already have my coats, gloves, and scarves ready for my first winter, ever.
Julius Edraisa is a 3D Artist at Marxent
Popular Categories
Related Stories