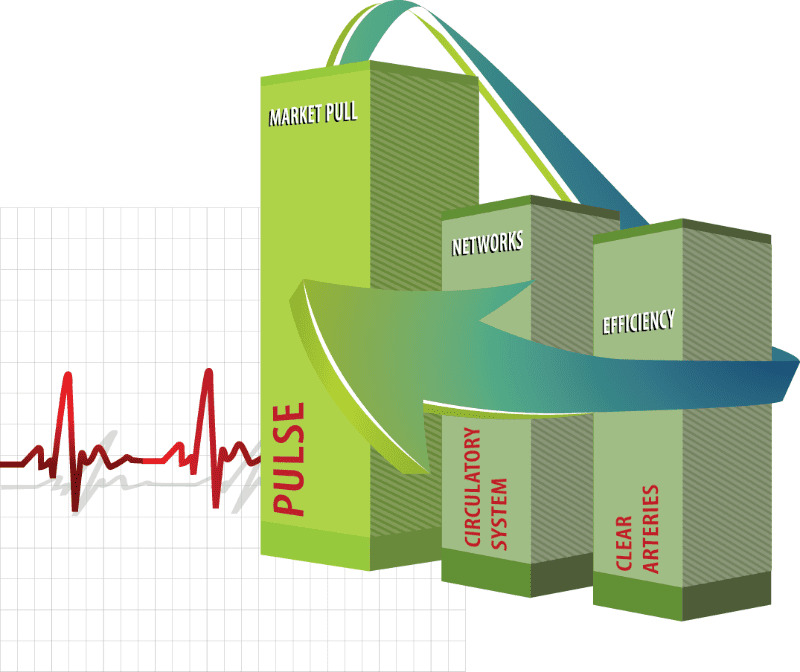 Building a Culture of Collaboration Helps Everyone
January 5, 2016
A few months ago, Wright State University was awarded a hefty sum of grant money from the DoD's Office of Economic Adjustment. The purpose of the grant is to diversify the region's economy and move us a little further away from our dependence on DoD dollars.
Here's what AFRL's Director of Small Business Bill Harrison has to say about communities whose economies are driven by DoD contracts:
---
Scarcity Versus Collaborative-Driven Network
By William Harrison, Director of Small Business at the Air Force Research Laboratory. To view the original post, please visit http://bit.ly/bhsvcdn
Federal agencies attract companies to a region to support their requirements, but often create a scarcity model where everyone is fighting over the agency's limited funding. While the competition can be beneficial in the short term for the government agency, if it is the only source of funding for a region, the regional economy will ebb and flow depending on the agency's annual solicitations that are won by regional companies. History has shown that dramatic budget shifts can significantly help or hurt a region.
The Wright Brothers Institute (WBI) conducted focus groups for the AFRL Small Business Office to help it develop better processes, programs and tools to work with small business. Some of the focus groups included participants from small businesses, universities, prime contractors, investors, community groups, and business enablers. WBI found a common theme: businesses in the region focused on winners and losers of Air Force contracts, sometimes creating adversarial relationships between companies, thus potentially missing key opportunities where collaboration could have yielded a better outcome for both the Air Force and the businesses. Interestingly, some focus group members shared stories about sabotaged efforts by others when a certain company won a contract and the expected contract winner did not succeed. If scarcity is the only view of the region, then the region will rise and fall based on the limited contract awards to businesses in the region. In addition, the Air Force may not benefit from the best, most innovative technologies to meet our increasingly complex technical needs.
Knowing when to compete and when to collaborate could be a way to grow a healthier ecosystem in the Dayton region. The challenge is how to build the collaboration networks that create and exchange value both tangible and intangible. For a sustainable value-driven network, a cultural shift is required to enable win-win value proposition between competitors. For the greatest impact on innovation, participants in the ecosystem must provide value to not only to the Air Force but to other parts of the regional ecosystem. Even small contributions to the regional ecosystem can generate great value across the entire ecosystem as each member contributes their own connections, experiences and skills. Any attempt to exclude organizations weakens the network and reduces the regional economic impact by disconnecting from those connections, experiences, and skill.
A Win-Win Proposition
The WBI study helped form a vision for a networked innovation ecosystem – where all participants give and receive value. In this envisioned model, companies could look beyond the military for demand for products and services, while still being responsive to military needs. Collaborative tools and environments could help businesses determine when to compete and when to collaborate. To build this networked, collaborative environment, the innovation ecosystem must accomplish the following:
Connect to market demand. Market pull often defines and drives the value exchange. Analogously, the "heart" of the ecosystem, market demand serves as the pulse, the driving force of a value network.
Build Trusted relationships. Relationships are the connections through which value is exchanged, serving as a "circulatory" network for the ecosystem.
Increase efficiency and speed. In order for the network to flow, it needs clear "arteries" or efficiency and speed.
---
So now what?
WBI is partnering with Wright State University and other regional organizations to give life to the vision of a collaborative-driven ecosystem. In the coming year AFRL and University technologies will be selected for commercialization, and our region full of engineers and entrepreneurs will be able to reap the benefits.
Creating new startup opportunities is really exciting for a lot of reasons, but here are two reasons why we're especially excited:
Dayton, O is packed with brilliant people who could make huge contributions to the community. With this program,  our engineers and technologists will have the opportunity to address the needs of the general public, helping to make life better for everyone.
Startups are about more than just bringing new technologies, products, and services to market–they're about creating new jobs, new opportunities, and new relationships. Not to mention entrepreneurs and entrepreneurial-minded individuals are innovative go-getters who bring energy into a community andfacilitate positive change.
Want to be a part of Dayton's growth? Check out the rest of the Hitchhiker's Guide to find the resources and connections you need, and Subscribe to our Mailing List to stay up to date on opportunities and successes in the region.
Popular Categories
Related Stories