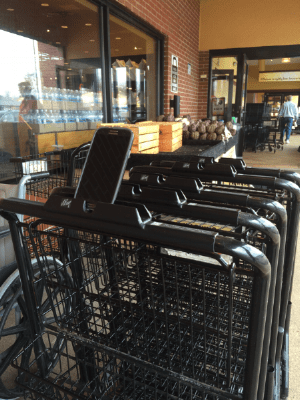 Simplicity is key with Revo-Products
December 20, 2016
The Revo-Handle
Parents across the nation have experienced the dread of shopping with their young children. Keeping your kids occupied, continually checking your shopping list, searching for the best deals, placing items in your cart, are all tasks that you're managing as you walk up and down the aisles. This is cognitively depleting and downright exhausting for most people. The solution to this conundrum is here. Meet the Owner and CEO of Revo-Products, LLC, Philip Hoffheimer.
Philip Hoffheimer comes from a long line of entrepreneurs and small-business owners. You can trace his roots back to the Goldsmith's Sons Co. athletic goods, a very successful business in its own right. He received his bachelor's degree in social work, after which he worked as a Case Worker for Specialized Alternatives for Families and Youth (SAFY) here in Ohio. After working for some time with SAFY, he returned back to school to get his MBA. Philip began working as an HR Leadership Partner for the Kettering Health Network, working on various projects including operational issues, performance management, labor utilization, strategic planning, leadership mentoring, and many other projects. Not too long after he began working in HR, he was called back to SAFY to begin working as a Foster Parent Recruiter. This gave him extreme flexibility and with his valuable experiences, he began considering a way to solve this shopping dilemma that he stumbled upon while wandering through his local grocery store trying to both balance his phone with his shopping list and entertain his child.
Being a busy new father he began shopping because of the arrival of his new baby, which led him to see the need for a product that could revolutionize the way consumers navigate through their shopping experience. He went straight to the drawing board and began sketching what will soon be the first RevoProduct, the Revo-Handle in 2012.
"Image while you're walking down the soup aisle your phone lets you know that your Campbell's soup is down this aisle. It could also let you know that there is a buy one get one Chunky soup right next to yours. It gives that decision-making point directly to the consumer" said Philip. It's a seamless two-way line of communication between the consumer and the store during a shopping experience. Being able to clearly communicate with the buyer while they are walking up and down the aisles could change the way shopping is done. Philip has developed a product that can make this line of communication so much simpler for consumers. Philip recognized that with the advancement of technology and how our world communicates, we can revolutionize the shopping experience through the devices we hold in our hands.
"This is way technology is going. Look at Amazon go and how it's revolutionizing our shopping experience".
By placing your phone in the patented Revo-Handle, you can not only shop easier but connect better with the technology that can enhance your shopping experience. No more fumbling for the phone in your pocket. Simply place it in the slot that is built onto the shopping cart and move on.
"This product belongs in Kroger, Meijer, Home Depot, Lowe's, and pretty much anywhere you need a shopping cart" says Philip. "That was another reason I went after it. The market is so large. All I need is half a percent to a percent of the market and I have a profitable business. I can make these at a very similar rate to at which they are currently getting their handles so it seems like a no-brainer". According to Philip, there are roughly 30 million shopping carts in the United States and those change over at about 1-1.5 million carts a year. There is a need for this product and a certainly a want from consumers to have the best experience possible while shopping.
So what does Revo-Products need? "Right now I need sales. My manufacturing is taken care of and now we can make orders of any need" Philip explain. "Once one major retailer has this product, it will be a domino effect". The product already has numerous interested parties including grocery stores and even app makers who want to pair their product with the handle.
What drives Philip to pursue this dream? What wakes him up in the morning and gets him excited about what he is doing? "Definitely my family. If I can get this business up and build a future for my family, that would be fantastic".
The Revo-Handle is here and it is ready for market. Check out their website and you can connect with Philip here.
Popular Categories
Related Stories