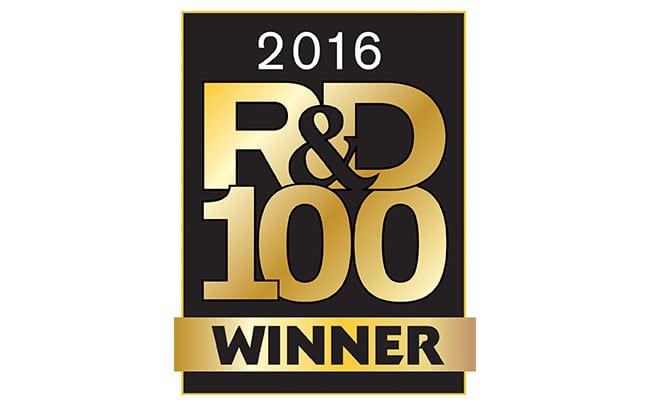 Obi wins R&D 100
December 12, 2016
Congratulations to our friends at desin for winning this very prestigious award in the field of research and development for their robotic dining device Obi! their new technology is giving people with disabilities or physical impairments back their independence at mealtime.
Check out their story!
Obi™, a revolutionary robotic dining device, is a winner in the Mechanical/Materials category in the 54th annual R&D 100 Awards. The announcement was made at the recent annual award ceremony celebrating the 100 most technologically significant breakthroughs introduced into the marketplace in 2016.
Dubbed the "Oscars of Innovation," the R&D 100 Awards recognize excellence across a wide range of industries.  Of the 5,400 innovations celebrated since the awards' inception, Obi has the rare distinction of being among less than 60 consumer products to earn an R&D 100 Award over more than five decades. The honor is presented by R&D Magazine.
Obi is the first product from DESῙN, a small team of visionaries from Michigan and Ohio. It blends cutting-edge robotics, iconic design, intuitive controls and a friendly personality to empower individuals who cannot use their arms with an ability to take control of their meals at home and in public. No matter where a person has mobility on their body and how limited that mobility may be, Obi can accommodate a switch or control interface that will work for that person's specific need.
Obi's key functionality is a robotic arm that can select virtually any properly sized food from one of four compartments and deliver it to a position where the diner can eat from the spoon. The pace and selection of each bite is controlled by the user. Sophisticated programming collects a spoonful in a graceful manner that mimics a person's instinctive use of silverware.
Past R&D 100 annual ceremony award winners include revolutionary innovators such as Elon Musk (Tesla and SpaceX) and Larry Page (Google). Every year since its inception, more applicants enter the competition, making each year tougher to win an award. Over the years, some notable inventions that have been honored include the ATM machine, fax machine, HDTV, the artificial retina, and the biological 3D Printer.
"We are thrilled that Obi, as a consumer product, was recognized among these other scientific breakthroughs and impressive technologies," said Jon Dekar, Obi's inventor and DESῙN's co-founder. "There were many ingenious technologies in the competition and to be recognized as a four person company on this international stage, along with MIT, NASA, and Fortune 500 companies, is a humbling and encouraging experience. We know Obi has the ability to enhance the lives of millions around the world and we will continue to work tirelessly to fulfill our belief that everyone deserves access to an independent, empowering dining experience."
Pictured: Obi Photo Courtesy of www.meetobi.com
The robotic dining device was designed to accommodate an amazingly diverse set of user needs and preferences for people of all ages with a spectrum of different bodily control capabilities, desiring a range of configurations during their dining experience.  It's rare to find two people with the same needs and preferences spanning the conditions affecting the upper extremities that Obi can best serve, such as ALS, amputation, cerebral palsy, muscular dystrophy, multiple sclerosis, neuromuscular conditions or injuries, Parkinson's and spinal injury.
Powered by a rechargeable battery, Obi holds enough energy to serve four to six meals on a single charge. Obi also fits within the confines of a dinner placemat, operates quietly and can be carried with ease like a laptop computer.
DESῙN is offering risk free trials of Obi, along with direct-to-customer in-house rental and leasing options to make the device – which retails for $4,500 – more easily accessible to users without the added burden of working through a third party health care equipment or finance organization to bring an Obi home. Purchase, lease and rental details are available at www.meetobi.com.
Obi was also named a finalist in the 2016 International Design Excellence Awards earlier this year.
About DESῙN
DESῙN was formed in 2010 with a belief that everyone deserves access to an enjoyable dining experience.  Jon and Tom Dekar found a significant lack of technology helping people fulfill the basic human need of eating independently.   They became driven to create an empowering lifestyle product that not only helps people eat, but also dine in style with friends and family.
DESῙN's mission is to continually improve the quality of life by delivering robotic product solutions that empower and excite individuals like never before.
DESῙN is headquartered in Bloomfield Hills, Mich. with operations in Michigan and Ohio. DESῙN is privately-held and is funded by a mix of individual and institutional investors. Its first product, the Obi™ assistive dining device, was launched in 2016. For more information, visit www.meetobi.com.
Austin Rains, Marketing Associate at DTG
Popular Categories
Related Stories