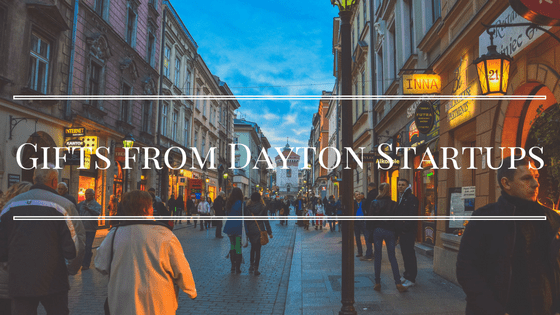 Holiday gift ideas from your Dayton startups
November 23, 2016
Don't get stuck out in the cold while holiday shopping at big department stores this year. Instead, contribute to your local economy by getting your gifts from local startups and small businesses. We have compiled some local Dayton startups with "giftable" products just for you!
The Wright Cup – Ohio's only provider of locally roasted coffee beans that are delivered directly to your door! Ohio's greatest coffee beans from all over the state of course. They have searched long and far for the very best that Ohio's coffee roasters have to offer and packaged it into four 2.75 oz bags. This is the perfect gift for those coffee lovers in your life. Start your subscription today!
Pig of the Month – Another amazing subscription service that can be directly shipped to your home from a startup right here in Dayton. Depending on the subscription you choose for that meat-lover in your life, they could receive a bacon of the month, or BBQ meat of the month. The bacon of the month flavors subscription could range from BBQ rubbed to Bloody Mary! In the BBQ of the month subscription you could receive some best sellers like Memphis style ribs, juicy pulled pork, or Applewood smoked brisket. Is your mouth watering yet?
City Seed Delivery – This Company can bring fresh, hormone-free, antibiotic-free, non-GMO, products directly to your doorstep. Anything from fresh produce to a variety of dietary essential oils can be hand selected for you and then conveniently brought to you. Their farm-to-home convenience makes eating a truly nutritious diet so simple! Consider subscribing and get the weekly "staples" that your family purchases like milk, eggs, meat, produce, and pantry items. You will always get the best ingredients, and the most nutritious food, all while helping support your local Dayton/Cincinnati economy!
Fronana – Who doesn't like ice cream? Sometimes it is hard to put the pint down. What if there was a delicious alternative option to a cold favorite? Fronana is healthy and delicious frozen treat that is made completely out of bananas and serves the same as ice cream. It contains no dairy, gluten, added sugar or artificial ingredients. The product is naturally sweet by the natural sugars from fruit! You can find a pint practically in any part of Miami Valley. They are sold at several Dorothy Lane Market, Kroger, Dot's Market, and Fresh Thyme locations. They sell pints in the Columbus and Cincinnati areas, as well.
Galatune – Do you have a gamer in your life? Are they getting tired of the same old card game that has been on the market for a while now? Galatune is an anime battle tabletop card game set on the fantasy planet of Lyra. The United World Government maintains peace and prosperity through the monopoly of advanced ancient technologies, but utopia comes at a steep cost. Will you join with the government to protect unity, or will you join the rebels and fight for freedom and independence?  Decide where you stand on the future of the planet as up to five players face off in exciting fast-paced battles where all players take their turns simultaneously!  Great game for first-time gamers or serious pros! Easy-to-Learn, impossible to master! Pre-order your decks today!
Noxgear – It's dark outside and all you want is to hit the road for some well-deserved miles. For safety, you are supposed to wear a bulky and uncomfortable safety vest so that light reflects off of you and the local drivers know you are there. Ditch the vest and invest in the products sold by Noxgear. Paired with high quality 3M reflective materials the Tracer360 is the perfect, lightweight replacement for your bulky and uncomfortable safety vest. Wear it over a t-shirt to hit the road and avoid the heat on summer nights or over your favorite high visibility running jacket in the fall and winter. The Tracer360 is an essential addition to your cold weather running gear or cycling gear. They even sell one for your dog, if you like to take Fido for a run with you.
Regardless of who you are buying for this holiday season, there are plenty of gifts available for you and yours! By buying from the local home-grown companies you are really contributing to the local economy. Check them out and have a wonderful holiday from all of us at DTG!
Written by: Austin Rains, Marketing Associate at DTG
Popular Categories
Related Stories