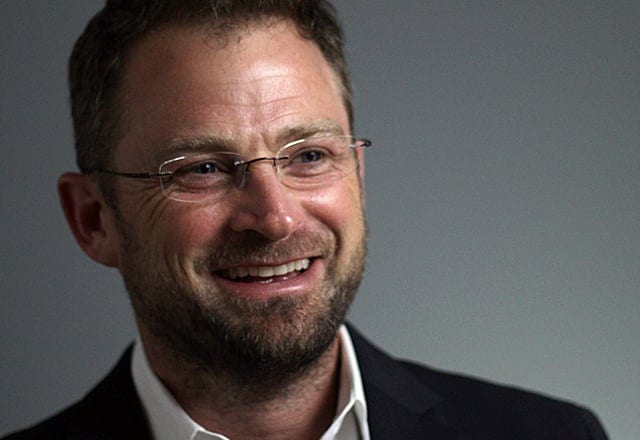 This Dayton startup is positioned at the center of $100 Billion virtual & augmented reality market according to Forbes
January 11, 2016
Here in Dayton, O., we pride ourselves in our longstanding history of innovation and technological contributions, and so it's no surprise that we are absolutely ecstatic about what Marxent is doing in the virtual and augmented reality market.
Check out this recent Forbes article in which Bruce Rogers takes a look at how co-founders Beck and Barry Becksecker got their start and set themselves up to rule the AR/VR world!
Beck Becksecker, Co-Founder And CEO, Marxent
By Bruce Rogers, Staff Writer for Forbes. View the original article at http://onforb.es/1R9juie
A Series of Forbes Insights Profiles of Thought Leaders Changing the Business Landscape:  Beck Besecker, Co-Founder and CEO, Marxent.
There is a new set of "Wright Brothers" that hail from Dayton, Ohio.  Their names are Beck and Barry Besecker and the service they are working to see take flight is Virtual and Augmented Reality in the form of their company, Marxent.
Marxent positions itself as the leader in branded Augmented Reality experiences for retailers and manufacturers and virtual 3D products. Companies like SanDisk, Baxter Pharmaceutical and Lowes, among many others partner with them for AR apps that get results, delight customers and defy reality.
And like the Wright Brothers and flight in general, the failures and flops were epic, before they succeeded.  But the effort seems worth the while.
Research on the VR/AR marketplace has people really excited about this space. It's still very early but people are talking $100 billion markets for AR and VR. A report from Digi-Capital  puts the market opportunity at $150 billion by 2020. The largest "The way we were doing the math and our own research, is that of the $150 billion probably $75 billion is around hardware and operating systems. Then we think of commerce opportunities in the $30 billion to $40 billion range. And then you also have gaming, and training, and medical, and lots of other verticals – industrial, education. I don't know what the exact numbers are but a lot of people think it's big," says Marxent Co-Founder and CEO Beck Besecker.
The 45 year-old Beck Besecker and his brother Barry (Marxent CTO) founded the company in 2011.  But the venture-backed creator of 3D virtual products has experienced more than his fair share of business-related obstacles. Throughout his career as an innovator, Beck has experienced failures ranging from unenthusiastic audiences to over-saturated markets to failed business models that he changed again and again.
Most entrepreneurs would have given up, accepted the loss. Not Beck. Beck embraced the philosophy that with each obstacle comes an opportunity. The success might not come tomorrow or even in the same year, because good ideas take nurturing and reinvention. They take failure. Especially in the startup community, where the goal is to 'fail fast' by facing the typical challenges early on so you can then learn and try again. This mentality has led Beck to create successful and innovative virtual and augmented reality customer experiences, working with the likes of Lowe's, AZEK and more, to change the way consumers shop.
"What's the difference between being early and wrong? Nothing," says Beck Besecker, referring to his favorite quote. "We've been taught to view failure as both unacceptable and necessary. To fail is shameful and is, by definition, the opposite of success. But there are many who believe that without some failures there cannot be success, or that failing often leads to bigger and better success."
Marxent is an AR/VR company. While most of hype in the ARVR space is about the hardware and gaming, the company focuses on content. "If you think about the history of all technology evolution, it always kind of runs hardware first, followed by, software and then content.   We've created a content management system to help retailers and manufacturers onboard their content, to create 3D representations of their products," says Besecker.
A good example of this is the work Marxent is doing with Lowe's Home Improvement.  "Somebody called it Minecraft for moms. I thought that was pretty funny. The idea is that you can use an iPad to design a kitchen or bathroom, with an easy drag and drop experience that you could do at home or in the store. And then you could wear an oculus headset and be placed in the middle of your kitchen. Obviously, the value proposition is that people are hesitant to make decisions about things they're not sure about. So if you can be in there, and see it, and interact, you're closer to a purchase decision. So that's really pretty simple – VR for retail," continues Besecker.
What the difference between Virtual and Augmented Reality you might ask?
 They are really sister technologies. The tools that are used to create AR and VR experiences, like the software tools, are effectively the exact same. It's really about context. "If you're in your kitchen and you're thinking about looking at products in 3D and evaluating your purchase, you'd use augmented reality because you can actually place the object in your physical kitchen. If you're not in context, like you're in a Lowe's store and not in your actual kitchen, you would use virtual reality because it creates an entire virtual experience," says Besecker.
 Marxent provides a software platform that serves as a content management system for VR/AR content. So imagine you have a web-based pool and you can upload a 3D model of, let's say, a refrigerator. And then you can create all of the metadata around that product. This allows you to put that refrigerator in a scene, it has properties that relate to the real world. For instance, you can put the refrigerator on the floor or a wall in that scene, but it can't connect to a ceiling. A lamp or a mirror can connect to a wall but not a floor. So there's intelligence around the object. You can then add intelligence on how that object interacts with other objects. For example, if you have a vanity that has three holes in it, you can't have a two-hole faucet. You need a three-hole faucet.
The content management platform is technology agnostic.  "We don't really care which visualization tool they use.  And in fact, what we find, is whether it's an Oculus, or HTC Vive, or a FOVE, or iPad, or 360 video, that most of our clients are excitedby the fact that their content is now be portable across platforms.  So like the Lowe's example, you can design on an iPad, compose on an iPad, view in an Oculus, and then you can output your scene into a YouTube 360 video. And if you have a Google Cardboard you can view your 360 video on cardboard," says Besecker.
 The company will be five years old in June. The impetus for what Marxent is doing comes about from Beck and his brother Barry's passion for science fiction.  "The genesis of this is Barry and me trying to create what we've seen in movies and TV shows. Whether that's things like the Star Trek holodeck or other science fiction movies. It's really trying to make the world that we've imagined as kids growing up come to life as adults," says Besecker.
The 40-person company has taken a modest $4 million venture backing from Detroit Venture Partners ( run by Dan Gilbert who owns Quicken Loans and the Cleveland Cavaliers) and Stage One, out of Boston.  They've been able to grow the business without huge investments and have in fact seen growth of about 100% a year for the past three years, according to Besecker.
While the company is helping to push adoption of new VR/AR technology, its inception is the furthest thing from the typical Silicon Valley start-up.
"My brother and I grew up in Dayton, Ohio. Grew up kind of in the ethos of the Wright Brothers. That was probably an influencing factor for us. My brother is an engineer. So we've always been building things, from treehouses to go-carts," says Beck.
Right out of school, the pair started a firm called Copient that provided a management system to make promotions more efficient, and it also was a content management system of sorts. That firm was sold to NCR in 2003.
After that company, Beck had an opportunity to go to a much larger company, Catalina, the sales promotion company known for its couponing processing system. He acted as an inside entrepreneur there where he started three businesses in the five years he was there. "Marxent is kind of getting the band back together, if you will," says Besecker.
 Building things and businesses seems to be in the Besecker blood.  "I think all entrepreneurs are driven by the opportunity, that it's a very personal journey of focusing on something that you have an idea for, your team has an idea for, and making it come to life. So business is obviously a great vehicle for that. Plus, my father was an entrepreneur as well (the senior Besecker ran a sporting goods business)."
The brothers also have a larger objective in mind: "Creating jobs is about the most exciting thing that I can think of doing," says Besecker
As for the future, Besecker sees a bright future for how VR and AR will be incorporated into everyday life and commerce. "We imagine the way e-commerce works today will transform, and it will open up a whole new class of products that you've not been able to buy at home, that you'll be able to buy at home in the future because they're configurable or complex as a result of our platform."
And what the Besecker brothers imagine seems to have a way of coming to life.
Popular Categories
Related Stories