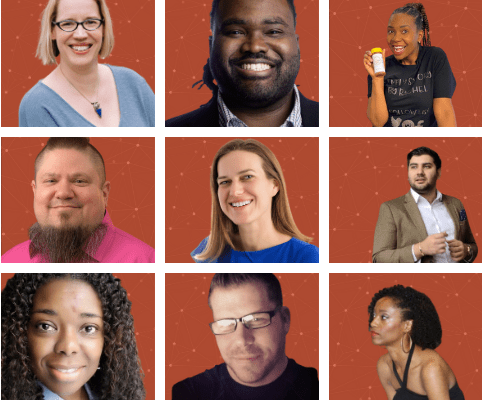 10 startups to watch in 2021
January 5, 2021
Dayton's startup ecosystem continues to grow, and we're excited to see what's in store for these companies in the new year! (Startups listed alphabetically.)
AIMM
Luis Estevez and his company, AIMM, are working to develop the world's first self-disinfecting N95 mask, an innovative upgrade to the masks that are vital to the fight against COVID19. Luis has 10+ years of materials science expertise that he is funneling into his startup, AIMM, which specializes in antimicrobial coatings for porous materials that activate with simple water.
Luis took first place in the tech category of the 2020 Startup Week Pitch Competition. He also took first place in his Early Risers Academy 2020 spring tech cohort's pitch competition. Apply for a 2021 cohort here.
AIMM is also now a client of The Entrepreneur Center's ESP program.
Ella Bella Homemade offers a range of gluten-free baking mixes and flours to enable you to easily bake gluten-free at home. Founder Mandy Groszko launched the company after her daughter was diagnosed with a gluten sensitivity — the startup was the culmination of her mission to make a chocolate chip cookie that both her daughter and husband would eat. Mandy became an Amazon seller at the top of 2020 and soon saw her sales quadruple as families looked to bake together during the pandemic.
Lectratek
Lectratek LLC is looking to power the world's first flying cars. The startup is focused on powering eAviation technologies for an industry poised for dramatic growth in the coming years. A spinout of private aerospace and defense firm Cornerstone Research Group, Lectratek leverages two decade's worth of federally-sponsored research into electric aviation for applications from commercial and industrial drones to mid-tier commercial airliners. The current team is actively recruiting for executive leadership and business development positions.
Lectratek is a client of The Entrepreneur Center's ESP program.
New Season Wellness is your one-stop shop for CBD products. Anikka Masey and her husband launched the company as an online retail space in 2020 offering a range of products from topicals that help with pain to teas, honeys, tinctures, CBD nuts, chocolate and fruit chews. They are currently working with a manufacturer in Kentucky to develop their own product line — look for their new pain cream later this year.
Annika was a member of the fall 2020 Early Risers Academy cohort and took first place in her cohort's pitch competition. Apply for a 2021 cohort here.
Savorista Coffee founder Kait Brown and her partner traveled the world to find the best decaf and half-caf coffee to offer customers through their caffeine-conscious co. In 2020, Savorista won the University of Dayton's Flyer Pitch, taking home $25K cash and $25K in in-kind support from The Entrepreneurs Center. At the end of the year, Savorista debuted their new single-serve coffee product.
Savorista is a client of The Entrepreneur Center's ESP program.
The pandemic has pushed folks back into their kitchens to cook meals at home, and Simply Savory by Rachel has seen exponential growth as a result. Simply Savory offers a range of spice blends designed to make cooking dinner as quick and easy as possible. In January of 2020, her online sales were about $15, but they kicked up in April, and she ended the year at five figures, she said. She has shipped products to 40 states, Canada and Iran. In 2021, she's shooting to reach those final 10 states and claim a spot on the shelves at the new Gem City Market.
Rachel was a member of the Early Risers Academy 2020 fall cohort. Apply for a 2021 cohort here.
STEM Whisperers
STEM Whisperers is a martech-focused college and career readiness STEM program that seeks to reduce the school-to-prison pipeline by diverting at-risk youth in urban schools into training programs to fill the martech gap in STEM fields. The founder is T. Osinubi, self-described "bad kid" turned entrepreneur. He is working with Dr. Amy Magnus to finalize a 12-week curriculum for schools to debut this month. A mobile app for the STEM Whisperers curriculum is also in development.
T. Osinubi was the winner of his spring 2020 Early Risers Academy cohort's pitch. Apply for a 2021 cohort here.
True Concepts Medical
This Dayton-based startup has developed new syringe technologies capable of revolutionizing healthcare across the globe, including S.A.F.E., a syringe that can save lives during cardiac arrest by ensuring the proper saline flush automatically follows the administration of epinephrine. Founder Mick Hopkins hopes to get the syringe in front of investors and pharmaceutical cos this year.  "Research has shown a 50 percent increase in at-home sudden cardiac arrest during COVID," Mick shared. "Currently only 6 percent of at-home sudden cardiac arrests survive — even increasing that number 1 percent is 4,000 lives saved, so arming paramedics with the S.A.F.E. syringe will be huge." Mick also landed his first international patents in Japan and the European Union in 2020, which he aims to leverage this year to expand abroad.
True Concepts Medical is a client of The Entrepreneur Center's ESP program.
WaleeWall
Wright State University graduate Abdullah Alwali launched his new fintech co, WaleeWall, mid-2020 after observing a swing of new investors trading from their homes. Over the last couple years, there has been an increased interest in investing among those 18-35 years old, he shared. In 2020, many e-brokers doubled, especially those apps designed for inexperienced traders, he continued. Folks are looking for ways to get that passive income — WaleeWall aims to provide education and analysis for individuals new to the stock market to allow people to trade in a much simpler way, Abdullah said. The MVP is currently in development.
House of DEFIance: A Fashion & Design Co-Working Experience
In December 2020, founder Caressa Brown signed a lease for a nearly 15K-square foot space at the Dayton Mall for the new House of DEFIance, an offshoot of the Dayton Emerging Fashion Incubator which will offer coworking and boutique space for Dayton's fashion community. Caressa is shooting to have a grand opening (tiered to accommodate COVID safety protocols) at the newly-rennovated space in March.
Caressa was a member of the spring 2020 Early Risers Academy cohort. Apply for a 2021 cohort here.
Popular Categories
Related Stories