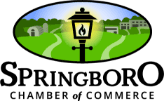 Springboro announces small biz stimulus program
April 14, 2020
The City of Springboro & Springboro Chamber of Commerce have launched an emergency stimulus program to provide up to $5K to small family-owned businesses within the Springboro city limits.
Springboro leaders recognize that small businesses are a critical part of our community, and that many are facing significant challenges during the coronavirus pandemic, stated a news release.
Interested business owners can email Chamber President & CEO Carol Hughes at carol@springboroohio.org to request an application or more information. The deadline to apply is Friday, April 17 at 5pm.
"While this program will likely not meet all of the needs of small businesses, it will provide some relief," the release stated. "We urge everyone to support local businesses during these challenging times."
Program Overview: The Small Business Emergency Stimulus Program is a business assistance program offered by the City of Springboro and Springboro Chamber of Commerce to offset the economic impact to small businesses as a result of the of the COVID-19 pandemic. The program provides direct working capital funding of up to $5,000 to assist small businesses in retaining their staffing levels.
Program Eligibility Requirements
• The business shall be a current Springboro business with a physical location in the City of Springboro.

• The business shall be family-owned and operated.

• The business shall be in current compliance with all City ordinances.

• The business shall operate a commercial or retail storefront receiving consumer traffic.

• Businesses that have fifteen (15) full-time equivalent (FTE) employees or less.

• The business has experienced adverse economic impact since March 1, 2020 as result of the COVID-19 pandemic resulting in 50% or more loss of income or 50% or more in employee layoffs.

• The business shall be able to substantiate their adverse economic impact with financial statements and tax returns upon request.

• The business is required to honor gift certificates or e-commerce gift cards produced and sold by the Chamber to the general public, to be created at a later date and utilized by the public when the business re-opens.
Questions? Call the chamber at 937-748-0074.
Popular Categories
Related Stories