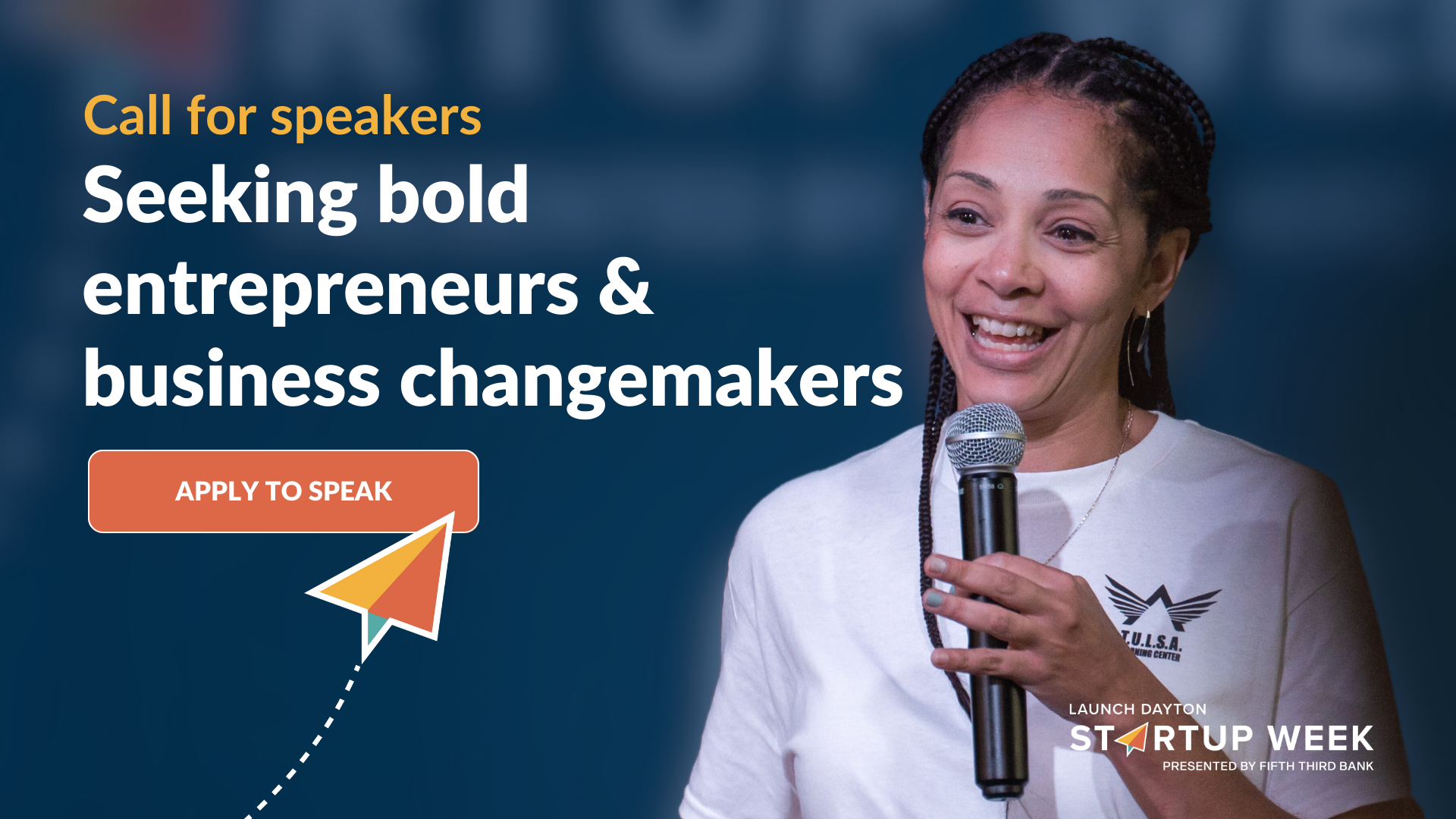 OPPORTUNITY ALERT: Speak onstage at Startup Week!
May 9, 2023
Are you ready to share your expertise on the Launch Dayton Startup Week stage?!
Startup Week is the Dayton region's biggest gathering of entrepreneurs and small business owners.
Sept. 12-15, 2023, hundreds of bold makers, innovators, dreamers and doers will converge in downtown Dayton to learn, network, and engage with both peers and resource providers. The week-long schedule includes powerful talks, impactful hands-on workshops, and vibrant networking opportunities, all designed to help entrepreneurs move their businesses forward.
This year, we are excited to launch our first formal call for speakers. We want YOU to share the tangible tactics, strategies and lessons you've learned along your business journey. Every attendee should walk away from the conference with at least one piece of new knowledge or expertise they can immediately apply in their own business.
Startup Week is FREE to all attendees. One reason that's possible is because of the Launch Dayton community's "Give First" value. At Startup Week, this value is embodied when speakers volunteer their time.
We're seeking both folks who want to present individually and folks who want to speak on panels. We recommend to prepare about 30 minutes of content & leave 15-20 minutes for Q&A.
DEADLINE EXTENDED! Apply by June 14. Selected speakers will be notified & confirmed by June 30.
What talks should I pitch?
Want to share your story on stage? We don't just want to hear why you started — we want to know what tangible strategies worked for you in your journey that you can now teach others. Maybe you've nailed how to effectively network. Maybe you have a fool-proof marketing or sales strategy. Or maybe it's Maybelline — Tell us! We're looking for hands-on workshops and tutorials to help entrepreneurs implement these solutions in their businesses.
Here are some how-to topics we know our community wants to hear:
marketing — both intro- and next-level strategies & tactics
sales — from how to land that first customer, to how to build that consistent sales funnel
how-to business operations, processes, systems/software
tech industry trends, what's next with AI, etc.
recession-proofing your business
launching a company in retirement
launching a food business
pricing strategies
customer service strategies
hiring/retaining good employees
soft skills for successful business owners
best practices for service-based businesses
building a sustainable business
Please have a headshot and speaker bio ready to include in your speaker application. Questions about whether you should apply? Reach out to us at [email protected]. We can't wait to hear from you!
Popular Categories
Related Stories