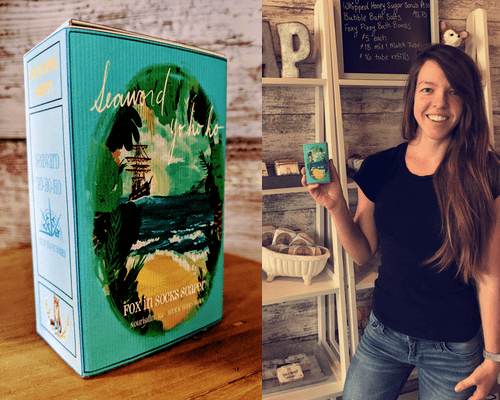 Local soaper creates storybook line to support Dayton Children's Hospital
October 8, 2019
When a rep from Dayton Children's Hospital approached entrepreneur Katie Hall about having a coin jar at her 2nd Street Market booth, Katie saw an opportunity to make a much larger impact.
Next month, the founder of Fox in Socks Soapery will release a new line of storybook soaps to support the institution's work.
The soaps — locally made and sourced, true to Fox in Socks' mission — will be packaged to look like children's books. Katie will open up sales Nov. 2 with a faux book launch party at 2nd Street Market that will feature face painting & a scavenger hunt through the market.
Katie will also be accepting children's book donations during the launch party — and she'll match every book donated with a bar of storybook soap that will be delivered to a patient at Dayton Children's Hospital.
"I knew I wouldn't make an impact with a coin jar," Katie said, reflecting on her foot traffic. "I said, 'I want to make you a specific line.'"
The solopreneur made the jump from hobbyist to small business owner about five years ago. She tapped the knowledge she gained studying biotechnology to create her formulas, then she set off visiting Ohio Proud farms to locally source as many of her ingredients as possible.
"I want to build community one bar at a time," she said. "When you buy a bar of my soap, you're supporting up to 15 small businesses. My dream for my business is to source enough product that I can impact other small business owners to reach their dreams, too."
Katie will donate 25 percent of the proceeds from the upcoming storybook line to Dayton Children's Hospital. Find more info on the launch party here.
Popular Categories
Related Stories