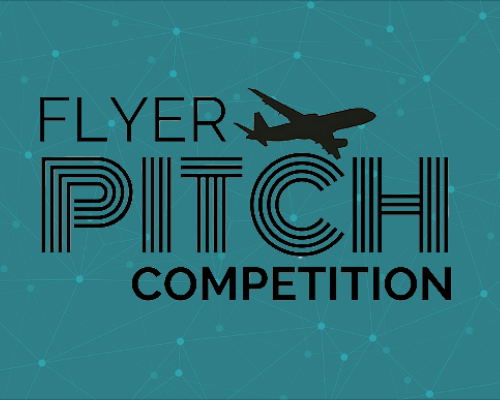 Flyer Pitch announces 2022 finalists
January 25, 2022
Eleven finalists have been named across the startup and social venture tracks of the 2022 Flyer Pitch Competition.
The Flyer Pitch Competition is an annual competition sponsored by the University of Dayton's L. William Crotty Center for Entrepreneurial Leadership and the Greater West Dayton Incubator in partnership with PNC Bank and the Entrepreneurs' Center. Now in its 15th year, Flyer Pitch awards more than $100K in cash prizes and more than $50K in in-kind prizes during the competition.
The final round of pitches will be held April 9, from 9a to 5p, in The Tank at The Arcade.
Competing for cash prizes + in-kind resources in the venture track will be:
Michael Ragsdale & Bailout Systems, offering the world's first hands-free rapelling device for emergency responders;
Ben Zawacki & The Ortho Sock, a no-show insole for arch and toe support;
Luis Estevez & AIMM, developing new water purification technology;
Kameron Seabrook & Open Bay Autos, providing a safe environment for DIY mechanics;
Sarah Kallile & Lunnie, reinventing the nursing bra.
Competing for cash prizes + in-kind resources in the social track, powered by the Greater West Dayton Incubator, will be:
Jordyn Calhoun & Unemotional, a Social Emotional Learning curriculum with an emphasis on cultural responsiveness;
Tiffany Brown & West Dayton Strong Camp, a STEM summer camp for students in West Dayton neighborhoods;
Ashley Browning & SoLoved, a project-based Christina community outreach organization;
Virgil Goodwine & Montgomery County Community Band
Michel'le Curington & Fail Me Not Tutoring, offering reading, math, and writing tutoring for k-8 students;
John Terrell & League Bound Prevention Institute
Popular Categories
Related Stories