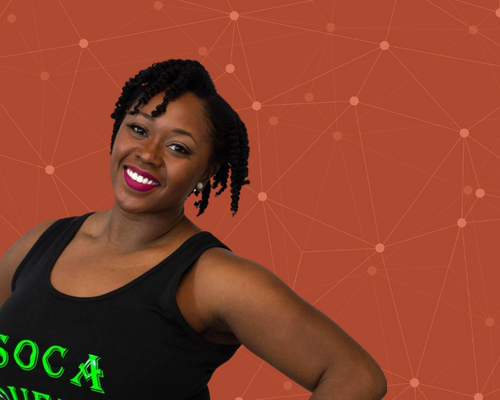 Caribbean Sweat Dayton offers fitness with Jamaican club vibes
September 27, 2022
By Katie Aldridge
Kandace Hunter is the founder of Caribbean Sweat Dayton, a health and fitness goal company for women founded in 2018. Kandace teaches classes for those from the ages of 7 to 70 with the goal of encouraging women to love their bodies, themselves, and wherever they are on their journey.
Kandace is a member of the current cohort of Early Risers Academy, a 10-week business-building course powered by Launch Dayton partner Parallax Advanced Research. We recently caught up with Kandace to learn more about the company and their entrepreneurial journey.
Launch Dayton: How did your company start?
Caribbean Sweat Dayton came from when my now-husband and I went on vacation to Jamaica, and he proposed. A year later, we went back to get married. The ladies who were coordinating my wedding took us on a club tour. I loved the energy and the vibes of the clubs. When I was there, I had the idea to turn it into a fitness class. Caribbean Sweat Dayton is a love-letter to me and my husband and my love for fitness.
Why this idea?
I have a passion for dance and movement; I am the most free and vulnerable when I'm dancing. It doesn't take me a lot to do. It naturally comes to me and is authentic to me. When I'm teaching a class, I don't have to think. I can't put it into words — it's organic. It is a natural gift that I put my own spin on.
Did you always want to be an entrepreneur?
No. I fell into this because I was laid off during the pandemic. I started posting on Facebook to see if anyone wanted to work out with me online for free. People were sitting at home with nothing else to do, so they joined. Then the gyms started opening back up, and I started there. It was not my plan to be an entrepreneur.
What identities do you bring to entrepreneurship that helped prepare you for this lifestyle?
Risk taking, adaptability, and perseverance. As I'm learning how to maneuver this experience, I would say I'm a risk taker to a certain extent. I try things and if it doesn't work out, I can say I at least tried. When it comes to entrepreneurship, I have to be able to adapt because I'll have good months, bad months, steady months, months where I question why I'm here, and months where you know why.
What is the biggest barrier you've faced in entrepreneurship?
My biggest barrier thus far is not knowing. There is no right way, there is no wrong way; there is just the way that fits me. My biggest barrier is navigating the ambiguity that comes with entrepreneurship and partnership. I have been in situations where I decided to do something, and I look back and realize I should have let it unfold on its own.
Why do you love what do you?
It's so personal. It is the unspeakable connection I have between me, the kids, the other coaches, teams, and classes. My class has sustained on its own because of that connection. On some days, when I feel like I can't do it, I'll hear someone tell me that they were having a bad day and my class made them feel free, or a parent will tell me that their daughter is listening better, is doing well in school, or now has confidence in themselves. It's those little pieces of the puzzle that make up the bigger picture.
How can the Launch Dayton community support you?
Follow me on Facebook & Instagram! Any opportunities to teach in the community would be great. I have done a lot of collaborations with people who have the same audience. We tend to host a lot of free workouts, so look out for those and come to a class! I would love more opportunities to teach. Any kind of exposure would be great.
How did you get connected to the Launch Dayton Community?
Last winter, I went to the Arcade to help some friends during the winter shopping day. I went to the last Early Risers pitch day. At both of those events, I signed up for emails. Eventually, I realized I should apply.
How is your experience with Early Risers Academy?
I like how much information I have received from the classes. It is a wonderful avenue for entrepreneurs. You could be wanting to start a business or in your business. It helps you put the pieces together that you may not know, or you can learn from someone who has more of a business acumen. We are networking in our own ways and learning about what other people are doing in the community.
Curious if Early Risers Academy might be a fit for you? Learn more and apply by Sept. 30 for the final cohort of 2022!
Popular Categories
Related Stories