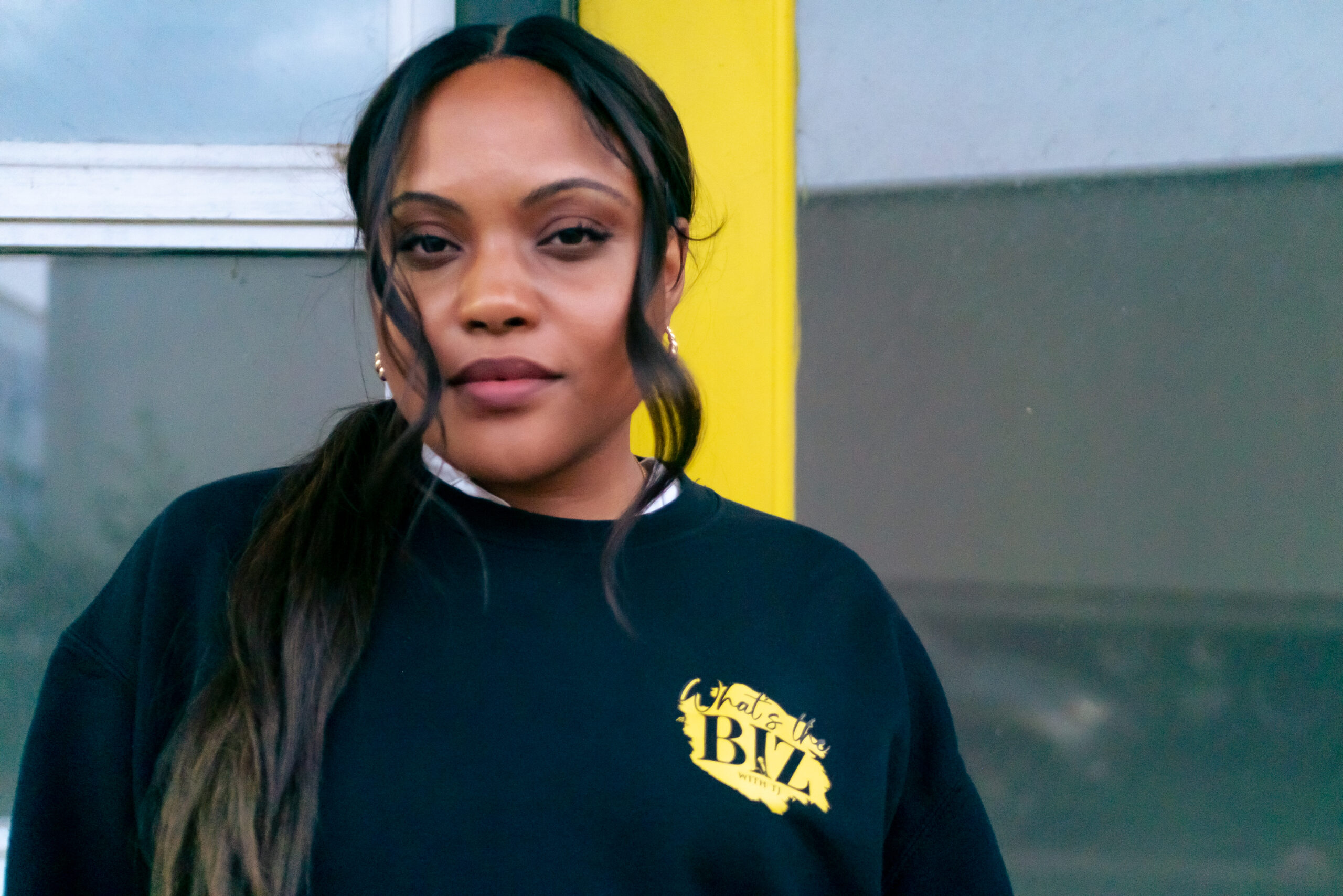 What's The Biz partners with Launch Dayton to film fourth & final season
June 27, 2023
By Te'Jal Cartwright, Founder, What's The Biz
In September of 2018, I walked into a new business I'd recently learned about called Theze Dealz, a "thrifty boutique" located in the heart of West Dayton. I was excited to interview the owner, Zontaye Richardson, about an incident at her shop. Someone had attempted to break in, busting her front window in the process. She shared this news on Facebook, and by the end of the day, the community had come together to raise over $600 to fix her window.
I was truly inspired by her strength and the cooperative energy that centered her business. During our interview, we had a good time, Zontaye became a dear friend, and Theze Dealz became one of my favorite stores.
This interview led me to bring a personal idea to life. At the time, I was dedicated to uplifting the Black community in any way that I could. I was curious to see what it would look like if I applied my passion for on-camera journalism to a mission to elevate the Black community through Black economics.
What if I created a show that highlighted the stories of Black business owners? What if the goal was to not only to promote the business, but also to share the story of the business owner in order to build solid relationships in the community?
What's the Biz is born
A year later I would interview Zontaye again and launch a digital web series-turned-media company called What's the Biz with TJ. Over the next three years, the WTB team would share the stories of 130+ local Black business owners in a fun and quirky way to strengthen the relationship between Black business owners and consumers.
Today, we find ourselves planning for season 4, but with a twist. Season 4 will be about addressing some of the bigger issues Black entrepreneurs face and finding long-lasting solutions as a collective.
Since launching WTB, I've seen firsthand some of the injustices and inequities that plague Black businesses and Black business owners. I've seen business owners forced to shut down because out-of-state landlords refuse to prioritize building maintenance and repairs. I've seen successful business owners unable to access funding to expand or purchase their own spaces. And I've heard about racist antics from public officials that target minority-owned businesses for random inspections and fines.
As I listened to countless stories of the treatment Black entrepreneurs face behind closed doors, a feeling of naivety and frustration rushed over me.
How did I not know these things? How did I overlook the possibility of discrimination that Black business owners have to face?
I began to understand the myriad of ways the growth of Black communities and the Black economy are hindered.
Yes, business owners can benefit from classes that cover finances, management, marketing and more, but what else can we do? We hold classes to help business owners strengthen their businesses, and these things are needed, but what about the other stuff? What does a Black business owner do if they have everything in order, but still face outright discrimination? It's not right.
A new call to action
Theze Dealz has been in business for 5+ years simply because Zontaye understands the value of her "thrifty boutique," and she refuses to give up. But she shouldn't have to constantly fight these large battles. How long are we going to ignore the serious problems Black business owners face or make excuses about what we can and cannot do? Sometimes I feel like we have a "that's just the way things are" mentality, but I urge us to be proactive.
Black entrepreneurs deserve better, and I'm excited for our team to partner with Launch Dayton to give business owners a platform to share what they really need. Launch Dayton has been a key player in building the small business ecosystem in Dayton. This is a great opportunity for resource providers in our community to elevate and work to discover what that next level of support looks like.
I'm also excited to talk about the importance of economic solidarity. If Black business owners and customers continue to find ways to empower each other and work together, maybe we can find the solution within ourselves.
As we gear up to begin production for season 4 of What's the Biz, I invite everyone to join the conversation. Our team consists of so many people. We only know so much! We welcome all experiences, thoughts, and voices throughout this process. Stay tuned for our fourth season, premiering this July!
Popular Categories
Related Stories