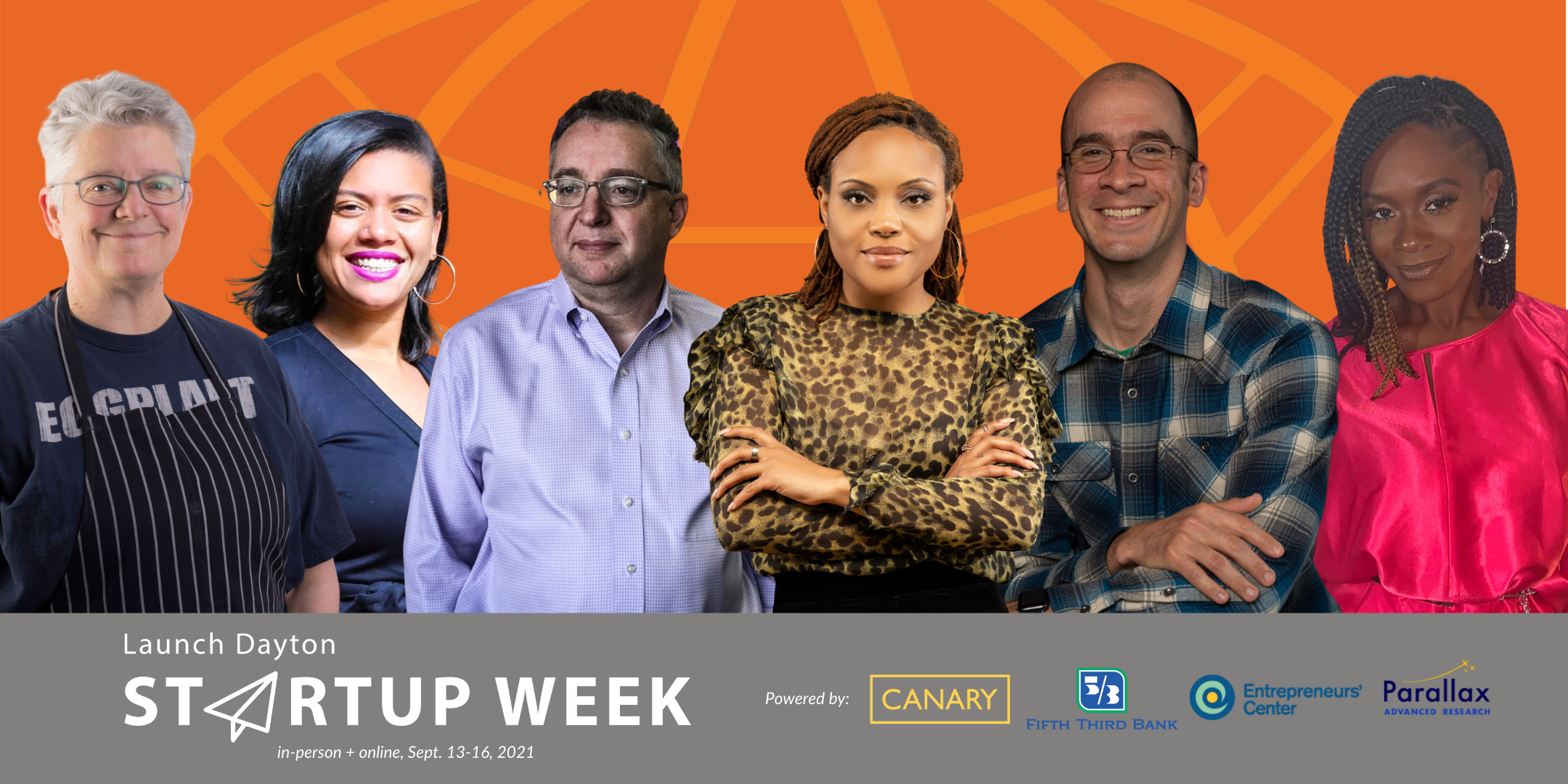 Two weeks until Launch Dayton Startup Week!
August 31, 2021
Have you snagged your spot yet for Dayton's premier entrepreneurship conference?!
We're counting down the days to this year's free Launch Dayton Startup Week conference, which will bring inspirational stories of local founders, hands-on workshops to help you launch and grow your business, a pitch competition with $10K in cash prizes, a startup market, and more!
This year's lineup has been curated to celebrate the diversity of the Dayton region's startup community and to spur tangible growth for local business owners. Check out the full Launch Dayton Startup Week agenda with descriptions here, or scroll down for a glance at the full lineup.
Launch Dayton Startup Week is made possible through the generous support of our title sponsors: Canary Consulting, Fifth Third Bank, Entrepreneurs' Center, and Parallax Advanced Research
Monday, Sept. 13 — Main Stage, Arcade Rotunda
8:45a, Kickoff
9a, Living Room Co to $15M Contract, featuring Mile Two founder Jeff Graley & Jorge Sanchez
10a, Maximize the Money You Have, featuring Emerald Sparks and Arcani Coil Care founder Jerricha Hoskins
11a, Doing Business in 2020, featuring Theze Dealz founder Zontaye Richardson & 937 Delivers founder Shanon Morgan
1p, Marketing Debunked, featuring Christina Mendez, Jon Powell, Taylor Hudson-Snead, and Israel Olaore
2p, Don't Hire Your Freinds + Other Advice for Founders Gearing Up, featuring Canary Consulting's Kyle Babirad & Puff Apothecary's Bethany Ramsey
3p, One Founder's Secrets to a $90M Exit, featuring X-spine and Aerobiotix founder Dave Kirschman
4p, Meet a Black-Owned Startup in the Cannabis Industry, presented by What's The Biz & featuring Noorah Labs' Nickole Ross
9a-8p, Launch Dayton Startup Week Startup Market, in collaboration with Tae Winston
6p, Launch Dayton Startup Week Pitch Competition, featuring 10 companies competing for $10K in cash prizes, sponsored by the Entrepreneurs' Center (EC) and Spark Fairborn
Tuesday, Sept. 14 — MedTech, The Hub + The Tank
Sponsored by ClearnMark QMS & Factor 7 Medical | Coordinated by BioOhio
9a, Product Regulation & Regulatory Strategies Workshop, Alison Sathe, ClearMark
10:30a, Right Size Quality Management Systems in MedTech Startups, Alison Sathe, ClearMark
1p, Incorporating Automation into Medical Device Manufacturing, Noah Smith, Invotec
2p, Successfully Navigating the Medical Device Development Process, Jennifer Palinchik, Jalex Medical
3p, Accessing & Engaging DoD Resources for Medtech Founders, Lisa Delp, GDI Partners
4p, Social Hour + Medtech Startup Showcase
Tuesday, Sept. 14 — SAAS, The Tank
Sponsored & coordinated by Technology First
5p, What Does It Really Cost to Develop an App?
6p,

Positioning Your Tech Startup for a Funding Round

, Josh Reid, Inphlu
7p, Social Hour
Tuesday, Sept. 14 — Business 101, The Hub
Sponsored by First Financial
1p,

Are You Really Ready to be an Entrepreneur?

, KeAnna Daniels
2p,

Create a 10-Day Business Plan

, Katie Hill, the EC
3p,

Bookkeeping Basics

, Sarah Seagraves, 67B Bookkeeping
4p, Social Hour
Tuesday, Sept. 14 — Marketing, The Hub
Coordinated by LMG
5p,

Market Research: Working With Personas & Audience Insights

, Israel Olaore, LMG & Danielle Phillips, GuideBeam Digital Marketing
Wednesday, Sept. 15 — Food/Retail, The Tank
Sponsored by Honeycomb Digital | Coordinated by Downtown Dayton Partnership
1p,

From Chef to CEO

, Elizabeth Wiley, Meadowlark | Isiah Davis, Cookieologist
2p,

I've Outgrown My Production Space, Where Do I Go?

, Charlynda Scales, Mutt's Sauce | Charles Nick, Third Wave Water
3p,

Make Your Storefront Work For You

, Theresa Peretta, Culture Refined
4p,

Tech Startup Mindset Meets the Hospitality Industry

, Chris Dimmick, Tender Mecy/Sueno
5p, Aviatra presents: Million-Dollar Women Founders Panel, Robin Gentry-McGee, Functional Formularies | Melanie Cedargren, Spicy Olive | Katie Hill, CommuterAds | Tamela McBath, Human Capital Analytics LLC | Pamela Cone, Aviatr Accelerators — Dayton
6p,

Are You Actually Ready For Retail Shelves?

, Tae Winston, The Entrepreneurs' Shoppe | Lynda Suda, 2nd Street Market | Leah Bahan-Harris, Gem City Market
7p,

Product Photography Tutorial

, Taylor Hudson-Snead, Taylored Social | Abby Hofrichter | Carly Hensley, Fusian
Wednesday, Sept. 15 — Artists + Creative Entrepreneurs, The Contemporary Dayton
Coordinated by Culture Works | Hosted by The Contemporary Dayton
1p,

Art Is My Day Job

,

Rodney Veal | Thomas Troutman | Michelle Hayford

2p,

Getting Funded as an Artist

,

Ann Kim | Mychaelyn Michalec | Jesseca Ynez Simmons | Furaha Henry-Jones

3p,

Paperwork for the Creative Entrepreneur

, Emerald Sparks
4p,

How to Build Your Audience

,

Ace Metaphor | Candace Hester | Julie Riley | Phillitia Charlton

5p, Social Hour, The Tank
Wednesday, Sept. 15 — Scale-up, The Hub
Coordinated by the Entrepreneurs' Center
1p,

Create a Clear Value Proposition

, LeKeisha Grant, the EC
2p,

Know Your Numbers: Financial Projections Workshop

, Katie Hill, the EC
5p,

Seek Investment

, Kim Frazier, the EC
6p, Social + Networking, The Tank
Thursday, Sept. 16 — Defense, The Tank
Sponsored by Infinite Management Solutions & Treble One Aerospace | Coordinated by Parallax
12:30p, Keynote
1p, Leverage the Gov't to Launch Your Defense Company, Scott Koorndyk, the EC | Atossa Alavi, Immobileyes | Jason Molnar, Infinity Labs | Sivaram P. Gogineni, Ph.D.
2p, Government Proposals: The Good, the Bad, and the Ugly, Darrell Lochtefeld, Parallax
3p,

The Contract is Signed: Here are the Mistakes You're Going to Make

, Lisa Coker, Infinite Management Solutions
4p, Social + Networking
Thursday, Sept. 16 — Future Tech, The Tank
Coordinated by OhioX
5p, The Occuli Story: Lessons for Ohio from Silicon Valley, Steven Hong, Occuli | Chris Berry, OhioX
6p,

The Next Medtech Frontier

7p,

Flying Cars & Other Drones of Tomorrow
Thursday, Sept. 16 — Marketing, The Hub
Coordinated by LMG
5p, Digital Marketing: Make Your Marketing Adventure Map, Israel Olaore, LMG & Danielle Phillips, GuideBeam Digital Marketing
Popular Categories
Related Stories