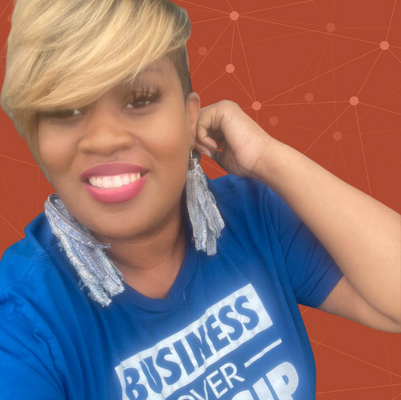 Thriving Together: How Tae Winston is Helping Other Entrepreneurs Succeed
October 25, 2022
By Meghann Naveau
When Tae Winston was working in a boutique and hosting events back in 2015, she fell in love with seeing other people win and other businesses thrive. Since then, she's opened three businesses – soon to be four! – all built on the idea that we're better together.
As Tae prepares to open her new District Market mid-November, we caught up with her to hear about the details and her passion for helping others.
Launch Dayton: You've been such a champion for other entrepreneurs and businesses in Dayton, Tae. Where do you get that passion? 
Tae Winston: One of the reasons I started The Entrepreneurs Marketplace was to provide a place for small businesses to get their name out there and be in front of people. I saw businesses trying to do something new and different, but they struggled. I love the idea that we can all do better if we're working together, and the idea for the Marketplace – and then The Entrepreneurs Shoppe and then the Entrepreneurs Connection – evolved from there.
Are there owners who have done especially well using your spaces as a starting point?
Definitely! My spaces have been really successful because they provide space for the person who has the motivation and will do the hard work and really wants to win.
My friend Anthony Thomas started with his Taco Street Co. food truck, then moved into West Social Tap and Table across the street. Now he's getting ready to open Lux Barber Lounge, which will be the only barbershop in the Wright-Dunbar neighborhood. He's killing it!
AlwaysLove Custom Creations is another. Founder Laeina Musa sells her custom t-shirts and other items in The Entrepreneur Shoppe, and she's often selling out!
And, Chef Phil Morgan recently announced he's opening a restaurant in Wright-Dunbar. He's been serving at The Entrepreneur Shoppe, too.
Honestly, part of me being successful means that business owners are outgrowing our space and that they're ready to move into their own spaces. That's powerful!
How did you decide to invest in the Wright-Dunbar neighborhood?
That's my stomping grounds! I grew up there and wanted to be there when I started getting into business and collaborating with other founders.
You've always got an eye toward the future, Tae. What's next for you?
My fourth business, District Market, opens up mid-November. When West Social came in, I closed The Entrepreneurs Marketplace. But, I've seen there's still a need to help those really small food businesses get started, and I'm excited to bring this kind of offering back downtown.
We'll have six vendors to start, including: Your Vegan Chef, Sisters Catering, Thai's Kitchen, What the Slush, Z's Lemonade and The Cheesecakery. There's something for everyone and every taste bud!
District Market is located at 200 Wayne Avenue and will be open Wednesday through Sunday, 12 to 7 p.m.
Having lots of options for the community in one place is good for all of us. It gives people a space and platform to thrive. The community can come out and support it, and we're all lifting each other up!
Lux Barber Lounge launches this Friday!
When we spoke with Tae, she was on-site at Anthony's new Lux Barber Lounge. He shared what it's like to work with Tae and what it means to him to be an entrepreneur. 
Anthony Thomas: Tae really gave me a location. Before her, food trucks in west Dayton were pretty unheard of, but she created an avenue for food trucks to be able to park and get attention, and that was really a no brainer for me and Taco Street. She helped us get our name out there, and she's continued to be a great support for me as I'm starting Lux Barber Lounge.
Tell us about your new space and venture! 
Anthony: Our soft opening is Friday, October 28, and we're Dayton's first luxury barber shop. The guys get left out a lot! Usually a barber shop doesn't really have a good vibe, and there's not a space that makes you really want to come in and relax. Here, people will be able to come in for a facial, beard trim, shampoo, cut and more.
My mindset in business has always been that how you do anything is how you do everything. Tae and I have that in common; we both operate that if you're slacking in one part of life, it'll show in another area of your life. That passion and dedication has been a common thread for us.
Lux Barber Lounge is located at 1115 West Third Street and open Tuesday through Sunday, 9 a.m. to 7 p.m. 
Popular Categories
Related Stories