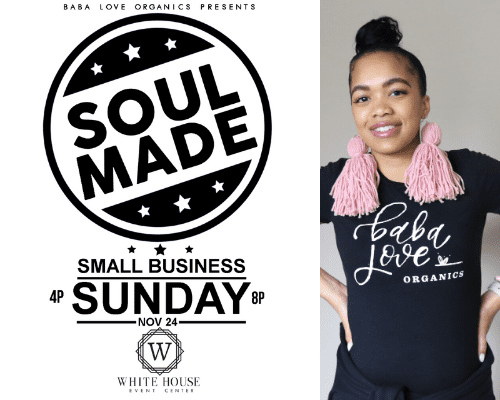 Shop 'Soul Made' Sunday this holiday season
November 4, 2019
Baba Love Organics founder Vaniti Byrd is organizing a new local shopping opportunity this holiday season — Soul Made Sunday.
Vaniti is seeking local makers, entrepreneurs & organizations to participate in the Sunday shopping & dinner event, slated for Sunday, Nov. 24 from 4-8p at the White House Event Center, located at 101 E 2nd St, Dayton.
"When I think about Sunday, I think about family and a good Sunday dinner," Vaniti said. "That's why this event will feature my very good friend, who has become family, Jasmine Brown of De'Lish Cafe, a local soul food cafe in Dayton."
As well as local, handmade goods & services, the free event will feature raffles, a DJ, a photo booth, and children's activities.
Perks of shopping the Soul Made Market? Beat the Black Friday rush; purchase local, handmade goods & services; and save on shipping costs, Vaniti said.
"When you support a small business, you support a big bream," she said.
Vending spots are first-come, first-serve. Email [email protected] by Friday, Nov. 8 to reserve a spot.
Popular Categories
Related Stories