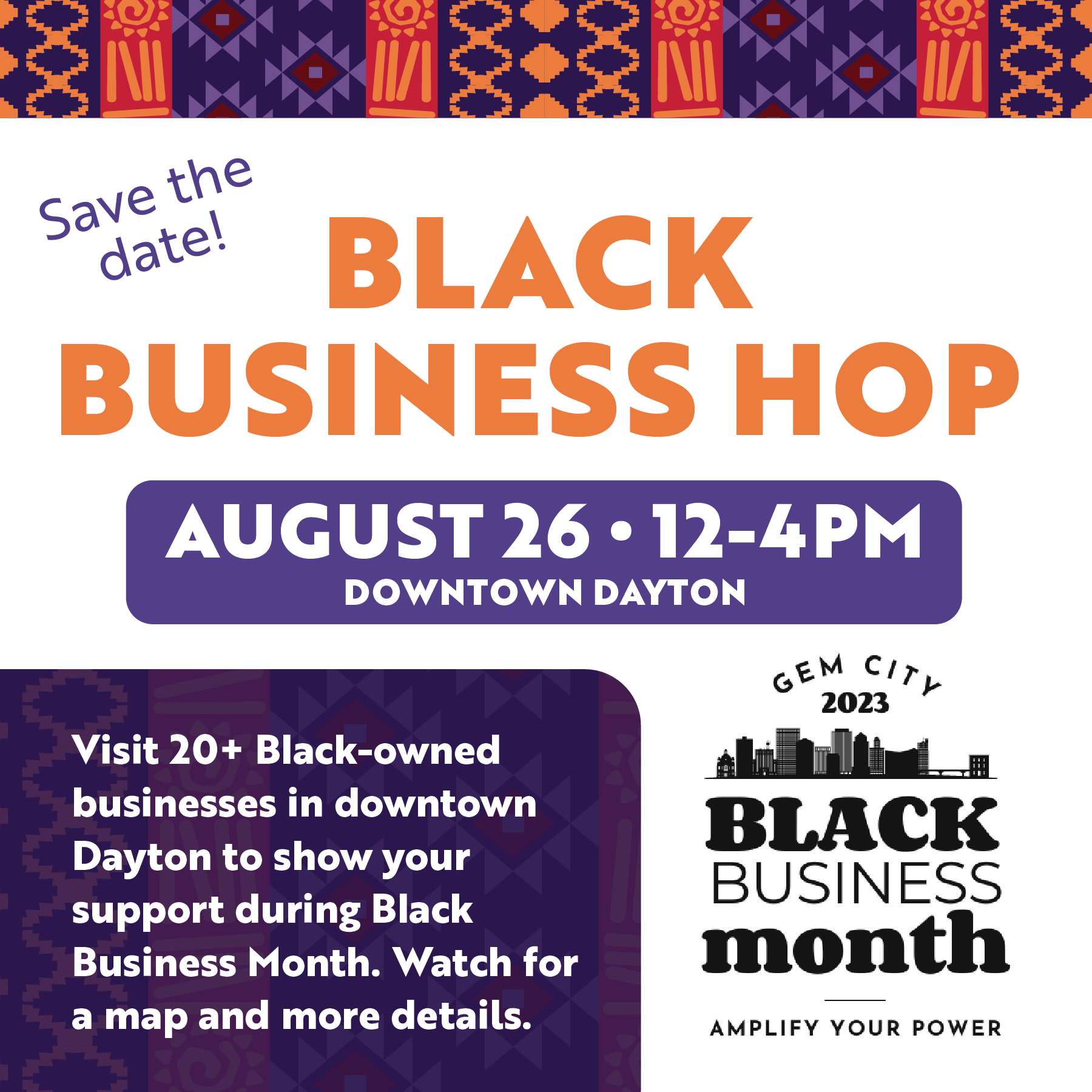 Shop 60+ Black-owned businesses during this weekend's Downtown Black Business Hop!
August 22, 2023
Explore businesses via a free shuttle, Saturday, Aug. 26
Shop and celebrate Black-owned businesses this Saturday, Aug. 26 from noon to 4 p.m. at the Downtown Black Business Hop!
The event is part of the annual Gem City Black Business Month.
"We are thrilled to partner to bring this Downtown Black Business Hop to life!" Launch Dayton Communications Manager Audrey Ingram said. "Launch Dayton partners are committed to building a community that breaks down barriers and supports all entrepreneurs. This Gem City Black Business Month collaboration is a fun way to do just that. Come on out to eat, shop, groove and support our Black-owned businesses!"
The route
Start your hop at After5, 111 E. Third St. in the Fire Blocks District. Register for a raffle to win free Downtown Dollars, and pick up a map of participating Black Business Hop locations and vendors. Several pop-up vendors will be along the route, as well as downtown's brick-and-mortar businesses.
"Black-owned businesses are thriving in Downtown Dayton, and the Downtown Dayton Black Business Hop is a day to highlight and celebrate each and every one of them," Alaina Geres, Director of Economic Development at the Downtown Dayton Partnership, said. "There are 62 different businesses participating in the event, including 21 shops in the Second Street Market and 9 pop-up vendors hosted by Fire Blocks District businesses."
Greater Dayton RTA is providing a free shuttle to help visitors patronize as many businesses as possible. Also catch live entertainment at Third Perk Coffeehouse, 146 E. Third St. in the Fire Blocks District, during your day of support and shopping.
The Downtown Black Business Hop is one of several events on the 2023 Gem City Black Business Month calndar. The annual campaign supports Black entrepreneurs and helps connect them with resources to further grow their businesses. Find more events and information on Launch Dayton's website.
Aviatra Accelerators, the Greater West Dayton Incubator, Parallax Advanced Research's Launch Dayton team, Downtown Dayton Partnership and Shop Black Biz Dayton are proud supporters of the Downtown Black Business Hop.
Popular Categories
Related Stories