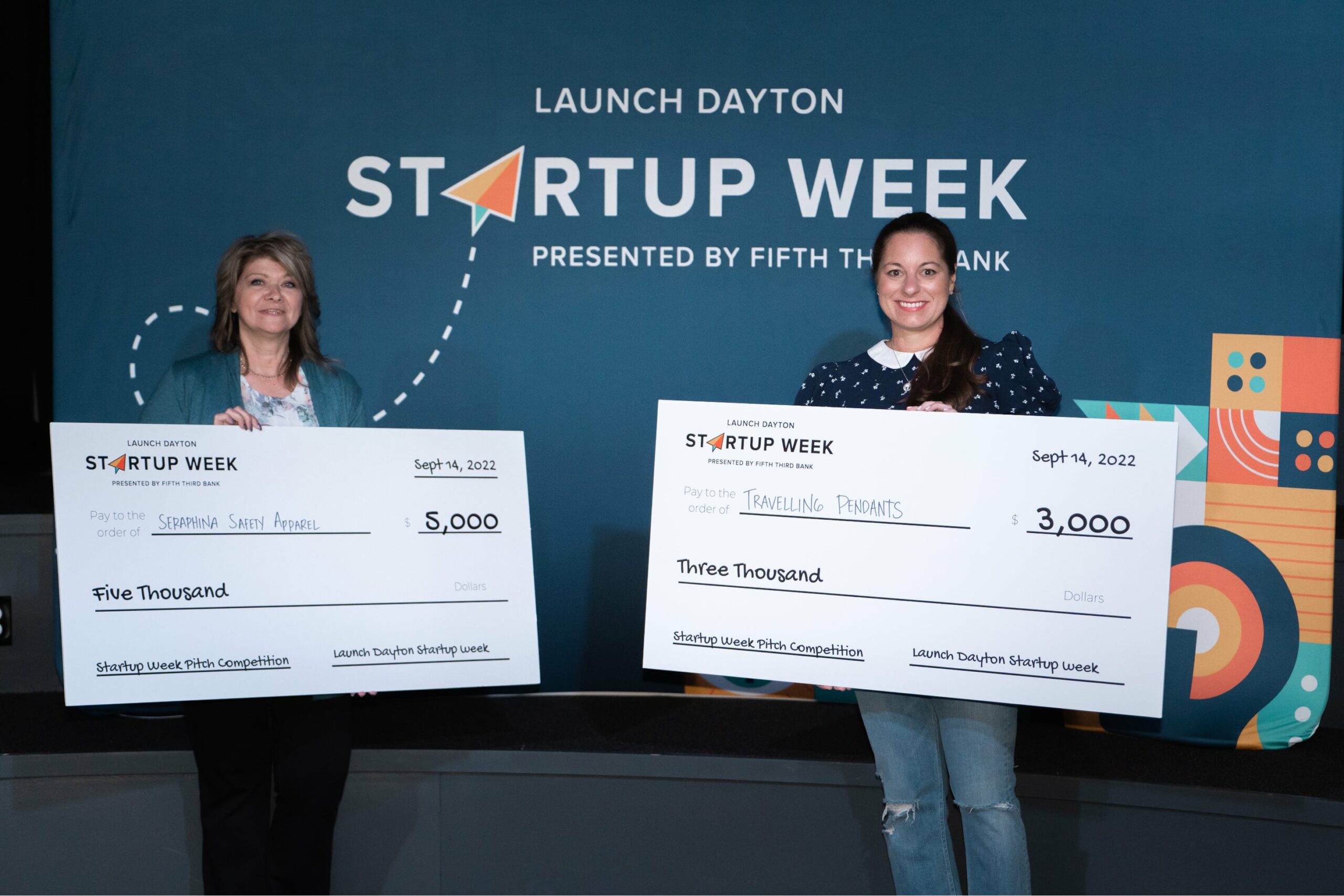 Seraphina Safety Apparel, Traveling Pendants take top prizes at Startup Week Pitch Competition
October 11, 2022
Ten startup founders pitched for $10K+ in cash & prizes at this year's Launch Dayton Startup Week Pitch Competition.
Taking first place in the innovation category was Kelly Franko, founder of Seraphina Safety Apparel, designing and manufacturing flame-resistant underclothing to protect women in the industrial workplace through use of technical fabrics with performance features that increase comfort, fit, and productivity. Kelly took home $5,000 in cash + $5000 in services to grow her business.
Runner-up in the innovation category was Brett Ewing, founder of AXE.AI, developing a Cybersecurity Credit Score to help insurers and investors quantify cyber risk using a data driven security platform that analyzes every pillar of a companies security posture. Brett took home $2,500 in services to grow his business.
First place in the main street category went to Lesley Jones, founder of Traveling Pendants, creating inspirational jewelry designed to carry strength: wear for strength, pass it on to someone in need, then track it as it travels using the unique pendant number. Lesley took home $3,000 in cash to infuse into her business.
This year's pitch competition was sponsored by Entrepreneurs' Center and Converge Technologies.
Also pitching at the 2022 Startup Week Pitch Competition were:
In the innovation/tech-based category —
BestShifts.com, an innovative B2B2C mobile app that's the single source for staffing licensed professionals in the Healthcare, Administrative, Light Industrial, Trucking, Construction, and IT sectors nationwide.

ARMA, producing a sprayable second-skin technology as a much superior replacement for the existing nitrile and latex gloves.
COGO Insurance, an insurtech product tailored for "Smart Trucking" operations, owner-operators, small fleets and select new entrants.
In the main street category —
Michelle Person, founder of The Tulsa Learning Center,

a revolutionary, child-centered, developmentally appropriate, adequately resources, culturally responsive, educational learning center.

Sylvia NebSa Harmon, founder of

'The Village To Vendor Pipeline," offering hybrid vendor sales training and social enterprise programs.

Meredith Florkey, founder of

Wildflower Child & Family Center, a high-quality nature-based child care center that leads the early childhood field in staff experience and aligns learning, living, and play with and for our natural world.

April Kline, founder of

THE WELL, a wellness center that houses a thoughtfully curated collective of diverse yet like-minded practitioners + The Soul Cucina, a community kitchen where you can grab a ready-to-nourish organic smoothie bowl, join a cooking class, or settle onto a luxurious couch with a book from the center's library.
Congratulations to all the pitching founders!
Stay tuned to our newsletter to get to know them better.
Popular Categories
Related Stories