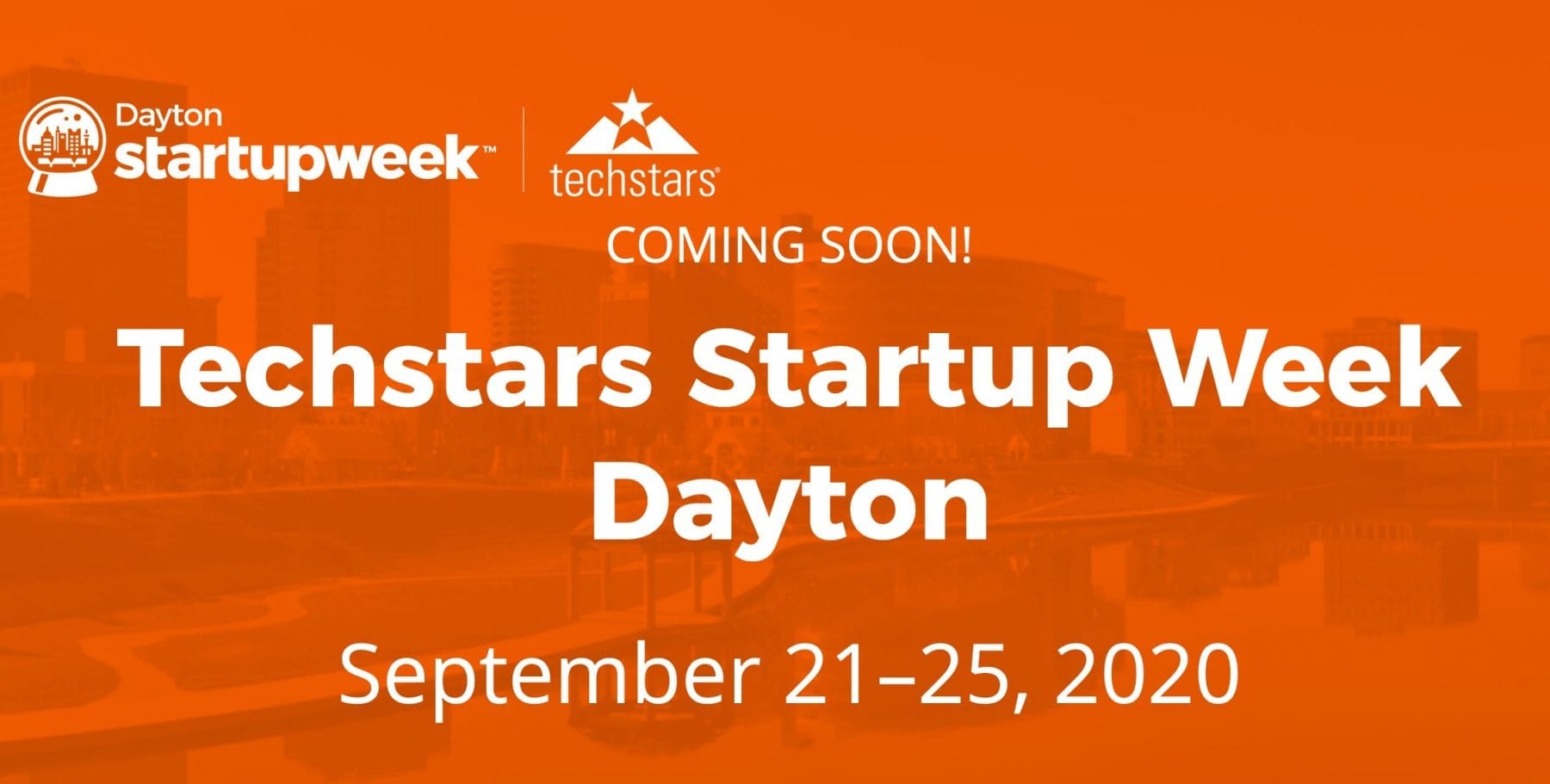 Save the date for Techstars Startup Week Dayton, Sept. 21-25!
June 13, 2020
Mark your calendars for the fifth annual Techstars Startup Week Dayton, slated for Sept. 21-25, 2020!
The health and safety of our entrepreneur community are paramount, so we are planning to bring you a blended conference this year with both in-person and virtual attendance options.
On Monday & Tuesday, we'll host a series of powerhouse speakers from the local entrepreneur community on our main stage. In-person attendance will be capped at the State of Ohio's recommended limits. We will also stream the sessions live online so you can join from anywhere.
We are also considering streaming sessions live to local businesses. Our hope is that we can still capture the networking magic that is part of Startup Week while gathering in these small groups. If you're a business owner interested in hosting a small livestream gathering, please reach out.
Wednesday through Friday, we'll be offering industry-specific tracks that will allow attendees to dig deeper into topics specific to your type of business. Each track will include a session on industry-specific funding opportunities, as well.
This year's industry-specific tracks are in the works for entrepreneurs in the food&beverage, medtech, defense, materials & manufacturing, health/beauty/wellness, and arts/creative industries.
These industry-specific tracks are being planned by teams of volunteer track captains including Mandy Groszko, Andy Cothrel, Eric Wagner, LeKeisha Grant, Tae Winston, Ryan Helbach, Anissa Lumpkin, Lisa Hanson, Karen Maner, Sierra Leone & Phillitia Charlton. We are so grateful to these leaders for their enthusiasm and dedication to plan, even through the uncertainty of a pandemic. If you see one of them in the next few weeks, give them an extra shout out!
Startup Week brings together the thinkers, dreamers, doers, makers, entrepreneurs around cups of coffee, pints of beer, and small stages spaced throughout local establishments. It is organized by the entrepreneur community, for the entrepreneur community.
All experiences are welcome — whether you're a seasoned entrepreneur or new to the community, there is space for you to jump in.
Please stay tuned as we roll out this year's details. The startup community is nothing if not innovative — we are working to remain flexible as we navigate the waters of a global pandemic, but know that one way or another, we will bring you Techstars Dayton Startup Week 2020.
We are working to bootstrap this year's budget as our business community recovers from the impact of the COVID pandemic. If you are able and desire to support this year's conference as a sponsor, please reach out.
Popular Categories
Related Stories