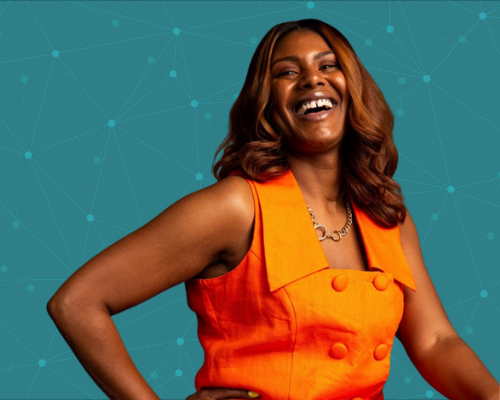 Parallax's KeAnna Daniels is returning to St. Louis
May 24, 2022
You might know her as the lead facilitator for Early Risers Academy, the manager of the Launch Dayton Mentor Network, podcast cohost, or all-around Dayton champion and entrepreneur.
But next month, KeAnna Daniels will step into a new role as Lead Engagement Strategist for Filament, a St. Louis-based organization that specializes in meeting facilitation.
We're sad to see her go, but we're excited for her next adventure, and grateful for all the energy and ideas and work she has contributed to build up Dayton's entrepreneurs over the last three years as a Parallax project manager.
We caught up with Ke recently to hear more about what's next for her.
Launch Dayton: So what is next for you, exactly?
Ke: Filament is a consulting agency where we do meeting facilitation for helping organizations and corporations have better and more productive meetings. We spark ideas, creativity and productivity within organizations, and really help them maximize meeting time by getting inputs from everyone, allowing all voices to be heard in the room, to meet bottom-line goals. I will be the Lead Engagement Strategist, where I'll do meeting facilitation, and I'll be in charge of expansion and growth into other cities and states.
What are you most excited about in this transition?
I'm jazzed to be going from one team that's amazing and dope to another. I appreciate that the organization has an entrepreneurial growth mindset and an enterprising environment. As a serial entrepreneur myself that is extremely important to me. While it's a shift in focus, in that I won't primarily be focused on entrepreneurs, it's still very entrepreneurially-minded. And I'm very excited to be going back to St. Louis, which I consider home. I didn't see it coming, but it feels full circle and in total alignment with God's plan for my life.
What are you most proud of from your work in Dayton?
I'm most proud of the impact that we've had in the community, serving startup and small businesses, specifically Black and Brown businesses, woman-owned businesses — helping eliminate barriers that have existed forever, and being able to watch these businesses accelerate and grow and get connected to the right people, and access to opportunity, resources, and information. That has always been my goal and the very thing that kept me going, and I had a chance to watch it manifest, to be part of that change and positive impact. I really do feel like I came, I conquered, and I'm leaving my city and community in a better position than I found it. I am immensely grateful.
Any advice or final thoughts for your Dayton community?
I hope the new member of the Parallax Launch Dayton team is someone who will be as excited about community work and making a difference and continuing to move the needle forward and collaborate for a collective impact; to do what's said to be impossible. To my Dayton community, my hometown — thank you for accepting me when I returned from St. Louis, for trusting me and supporting me in the visions I have for connecting the dots and helping to put Dayton on the map. To the dreamers, doers, movers, and shakers, I'm confident in the amazing talent in Dayton to continue creating and dreaming what's possible for our community and our future. Rise to the occasion, it really is yours for the taking. I'm going to miss everyone. I look forward to staying connected.
Popular Categories
Related Stories