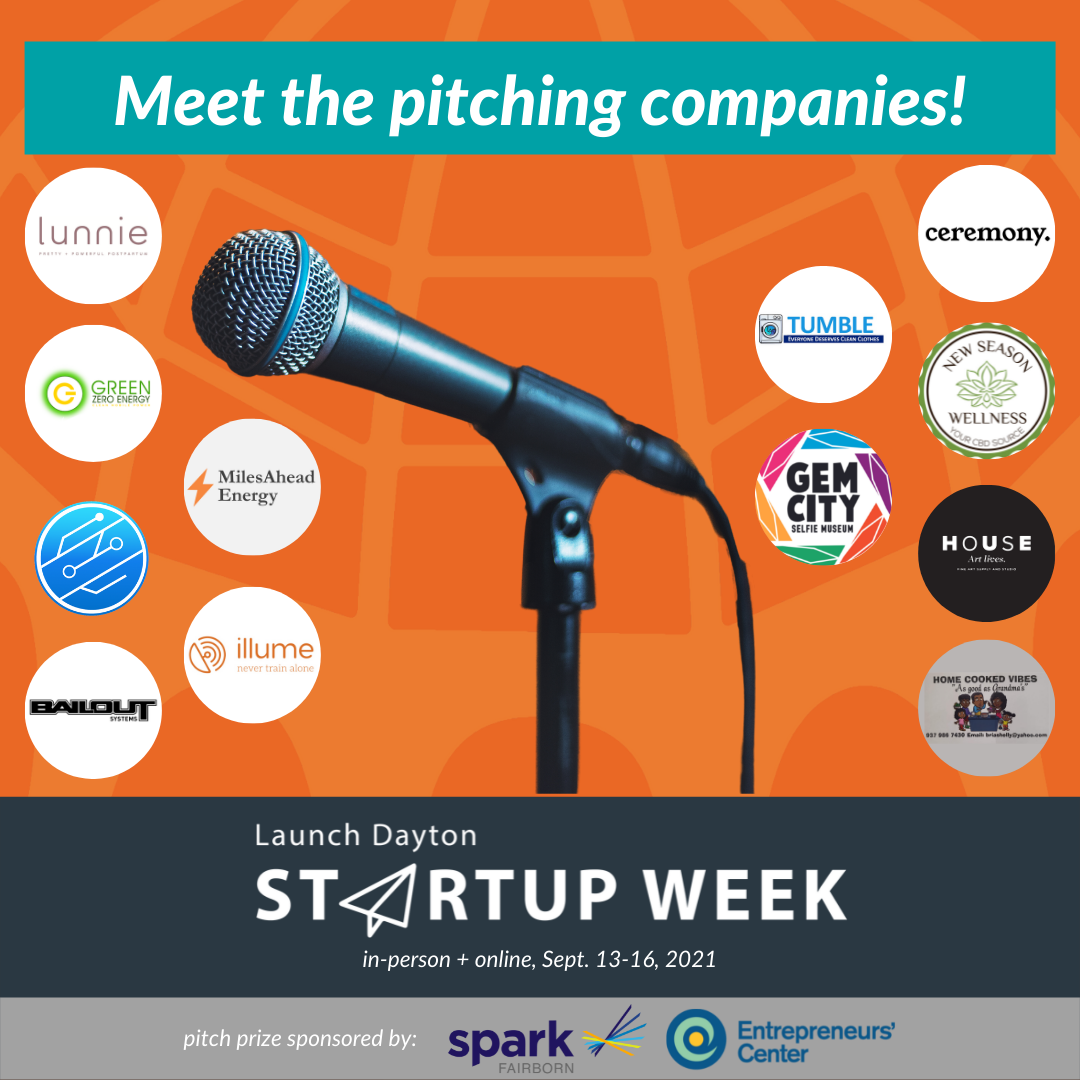 Meet the founders pitching Launch Dayton Startup Week 2021!
September 7, 2021
Twelve startups companies will pitch for cash prizes next week at the annual Launch Dayton Startup Week Pitch Competition, kicking off at 6p on Monday, Sept. 13 in the beautiful Arcade Rotunda!
Early Risers is a community pitch event that allows growing scaleable startups the opportunity to pitch their startup to an audience of business and community leaders, resource providers, and other entrepreneurs. Each pitch ends with an ask, such as connections to a target customer or potential investor or help finding a key employee or partner to move the company forward.
At Startup Week, we expand the event to include both innovation-based companies and main street businesses, and the top winner in each category will take home $5K in cash.
This year's pitch prizes are sponsored by Entrepreneurs' Center & Spark Fairborn — when you see these folks at the conference, thank them for their generosity and support!
So who's pitching? We're so glad you asked.
In the innovation/tech-based category, you'll meet:
Lunnie. Community-led brand for a pretty and powerful postpartum. We're reinventing the nursing bra.
Green Zero Energy. Green Zero Energy is revolutionizing the renewable energy sector with clean mobile power.
IRT. Communication of results of Remote Patient Monitoring to and from a patient's Electronic Health Record.
Bailout Systems. Bailout Systems is a fall safety company that has developed the world's smallest rappelling/descent technology, enabling user from multiple industries to lower or fall hands free.
MilesAhead Energy. At MilesAhead Energy, our obsession are solid-state batteries, that will enable electric vehicle & electric aircraft manufacturers to charge faster and have higher power for takeoff/landing; via our heat-embracing battery technology.
Illume. illume is developing a wearable SOS device for endurance athletes to allow them a vital communication link with emergency contacts or emergency services while training.
In the main street category, you'll meet:
Tumble. Tumble provides on-demand wash&fold and dry-cleaning services, giving users more free time.
Gem City Selfie Museum. Using vibrant colors and interactive props to increase mental wellness so you can grow to become your best SELF!
Ceremony. Ceremony boxes to honor, heal and celebrate the events of life
New Season Wellness. New season wellness provides health conscious individuals a variety of CBD infused products that can replace many items used daily
Hue House. Hue House is an independently owned fine art supply store and community studio located in Downtown Dayton serving artists and aspiring creatives of all ages and abilities.
Home Cooked Vibes. As good as Grandma's…with a Chicago twist!
Judges will score the pitching entrepreneurs on their:
ability to communicate their unique value proposition
understanding of the market
customer engagement and validation
revenue model
pitch
Register for the conference to watch the pitches!
If you'd like to learn more about how you can pitch the Launch Dayton community, contact Audrey at audrey.ingram@parallaxresearch.org, find her at the conference, or connect with her in the chat feature of this year's Startup Week app.
Popular Categories
Related Stories