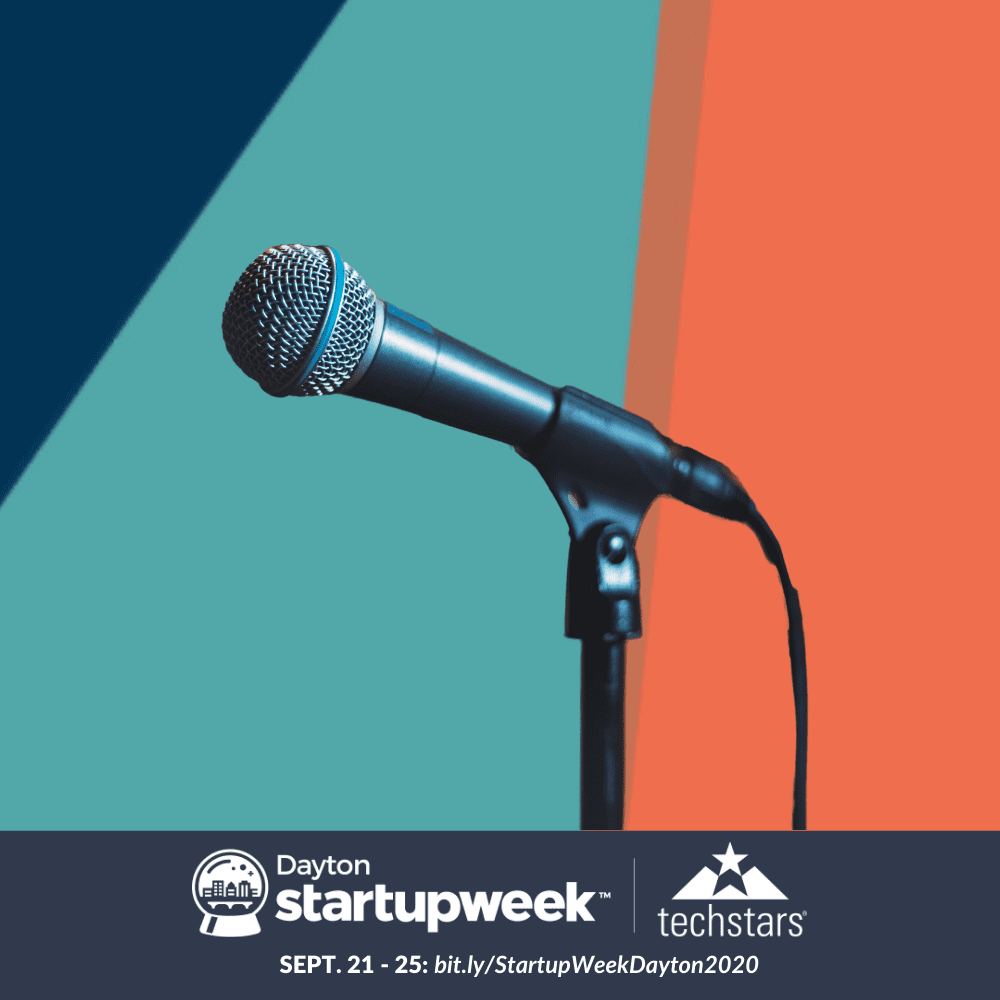 Meet the entrepreneurs pitching tonight at Startup Week Dayton 2020!
September 22, 2020
Ten startups cos will pitch for cash + prizes tonight at the annual Startup Week Dayton Early Risers Pitch Competition, kicking off at 6p!
Early Risers is a monthly pitch event that allows growing startups the opportunity to pitch their startup to an audience of business and community leaders, resource providers, and other entrepreneurs. Each pitch ends with an ask, such as connections to a target customer or potential investor or help finding a key employee or partner to move the company forward.
At Startup Week we expand the event to 10 companies: 5 innovation-based cos and 5 main street businesses. The top winner in each category will take home $2,500 in cash + additional services.
Tonight's pitch competition + storytelling night will be emceed by Amelia Robinson, Community Impact Editor at Dayton Daily News.
Tonight you'll meet:
• Rhea Adkins, founder of Vegan It IZ Eats, a company that provides products to make adapting a vegan and healthier lifestyle easier than ever;
• Clarissa Foster, founder of Charmed by Riss, a company that designs a beautiful array of stretch cord, wire wrapped bracelets, bangles, and other accessories using precious stone, gemstone, natural wood, and polymer clay beads;
• Aaron Brown, founder of Safe Sports Masks, a company that provides sports masks and face coverings for athletes and people into fitness;
• Cierra Lewis, founder of Bless Me Sweets, a bakery that specializes in gourmet cookies, largely targeted to vegan and plant-based eaters;
• Andrew Choi, founder of Cousin's Meals, a co that prepares convenient meals made from scratch that are healthy and fresh, with tons of flavor for you and your family;
• Jack Randall, founder of Illume, a device that allows endurance athletes to send SOS messages to predefined emergency contacts while training;
• Bryan Hunter, founder of Nebula HQ, an accountant's engine to drive client relationships and provide one cohesive platform for day to day client interaction;
• T. Osinubi, founder of Delightfully Understandable, working to replace the school-to-prison pipeline with a marketing technology career path;
• Connor DuShane, founder of Smart Slumber, revolutionizing sleep by allowing users to fall asleep quicker, stay asleep longer, and achieve a higher quality of sleep;
• Luis Estevez, founder of AIMM, striving to bring simple, yet effective, anti-microbial solutions to masses through advanced materials sciences.
Our Startup Week Dayton Early Risers Pitch Competition sponsor for the second year in a row is The ONEIL Center. The ONEIL Center at Wright State was founded in 2017 thanks to a corporate gift of $675K from O'Neil & Associates. The center provides an innovative transdisciplinary experiential learning workspace that simultaneously functions as a classroom, incubator, small business, social impact organization and research lab in a new model of workforce development.
All companies pitching tonight will receive in-kind marketing services from The ONEIL Center. Winners will receive $750 of services, runner ups, $500, and other finalists $200. The winner in the innovation category will also receive $1,000 of in-kind engineering services from partner sponsor Converge Technologies.
Judges will score tonight's pitches on
Their ability to communicate their unique value proposition
Their understanding of the market
Their customer engagement and validation
Their revenue model
Their pitch
Our judges are:
Lauren Tiffan, Director of Strategic Programs at The Entrepreneurs Center
Karlos Marshall, Manager at the Greater West Dayton Incubator
Belinda Matthews Stenson, Director of Minority Business Development at the Dayton Area Chamber of Commerce
Pam Cone, Director at Aviata Accelerators – Dayton
Erica Waite, Managing Partner at Vesna Ventures
While judges deliberate, we'll share stories from local founders who completed a workshop with LORE.
LORE was founded by Bridget Flaherty, who believes in authentic stories. "An authentic story knocks down walls," she writes on her website. "It helps people in organizations see each other as human and can build confidence in customers. Stories even have the power to unite people from vastly different backgrounds and perspectives."
This year, we invited a few local founders to participate in a LORE workshop, then record their story to share at Startup Week. We'll hear from Kate Edmundson, founder of tend&flourish, and Charles Nick, founder of Third Wave Water. We'll also introduce you to some of the entreprenuers who have pitched at Early Risers over the last few years.
If you'd like to learn more about how you could pitch one of these monthly events, contact Audrey at [email protected], or connect with her in the chat feature of this year's Startup Week app.
Popular Categories
Related Stories