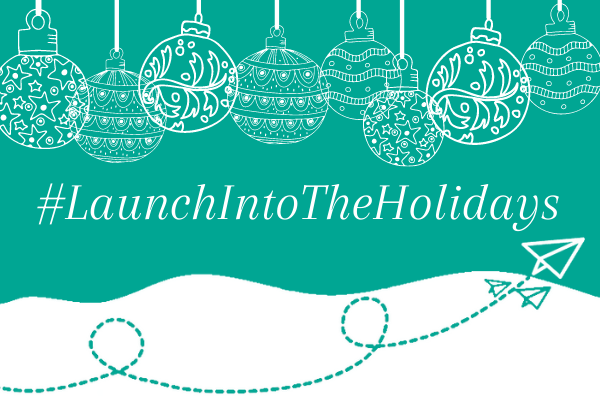 #LaunchIntoTheHolidays is back! Sign up by Nov. 12
November 2, 2021
Launch Dayton's partner organizations are once again collaborating to to promote Dayton-region small businesses this holiday season through the online #LaunchIntoTheHolidays campaign.
Beginning Cyber Monday, Nov. 29, 2021, and running through Friday, Dec. 17, Launch Dayton will host a Facebook Live each day over the lunch hour that will feature a series of small, local businesses showcasing products that make the perfect holiday gift.
Small business owners — sign up here by Friday, Nov. 12 to participate!
The goal is to connect the region's small businesses with new customers seeking to shop local and maximize the impact of their dollars this holiday season.
This campaign is supported by partner organizations including Aviatra Accelerators — Dayton, Dayton Powerhouse, Downtown Dayton Partnership, Entrepreneurs' Center, and Parallax Advanced Research, and more, who will share the live videos with their networks. Participating businesses will also share the posts, cross-promoting each other and helping all the local businesses in the campaign to reach new customers.
#LaunchIntoTheHolidays began in 2020 as a response to the COVID-19 pandemic shutting down so many small retailers and restaurants earlier in the year. The campaign was a hit both with participants, many of whom reported a direct increase in sales as a result of the campaign, and with viewers, who enjoyed the sneak peeks into local kitchens and production spaces as they connected with new businesses to shop and support. In total, the 2020 campaign featured 44 businesses and racked up more than 22,000 views.
For 2021, the campaign includes space for 60+ businesses. Business owners in the retail, health/beauty/wellness products or services, food & beverage products or services, and art & creative industries are encouraged to apply by Friday, Nov. 12.
Launch Dayton is a collaborative effort of regional entrepreneurial support organizations to connect and support Dayton's entrepreneur and startup community. Businesses selected for the campaign will:
Commit to appearing on a Launch Dayton Facebook Live video at an assigned date & time;
Promote their top 3 products that make great holiday gifts;
Share the #LaunchIntoTheHolidays campaign and shout out fellow participating businesses, because Launch Dayton partners believe a rising tide lifts all boats.
Businesses who sign up should:
be physically located in the greater Dayton region (think Piqua to Springboro, Eaton to Springfield);
have at least one product/service/gift card that costs $25 or less.
Business owners must sign up here by Friday, Nov. 12. Participants will be notified and must confirm their Facebook Live time slots by Friday, Nov. 19.
Launch Dayton partners will offer an optional workshop for participants the week of Monday, Nov. 22 to maximize the impact of their Facebook Live, including how to prepare, where to do your live video, how to pick your top products to highlight, and more.
Popular Categories
Related Stories