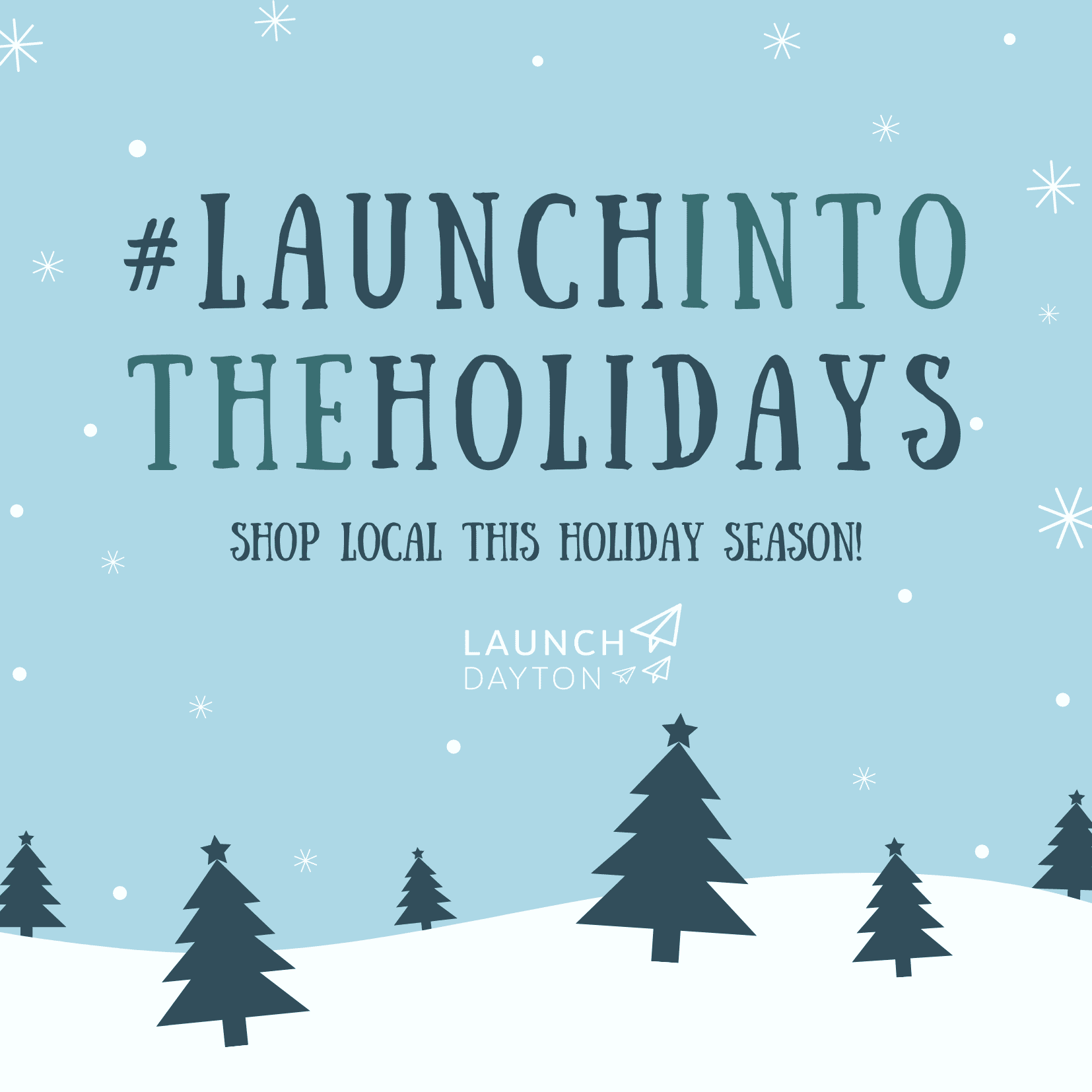 #LaunchIntoTheHolidays by shopping the Dayton region's small businesses this holiday season
November 24, 2020
45+ businesses to be featured across Launch Dayton partner platforms
Make the greatest impact with your dollars this holiday season by shopping local and shopping small.
Launch Dayton's partner organizations are collaborating to run the online #LaunchIntoTheHolidays campaign to promote Dayton-region small businesses this holiday season.
Beginning Cyber Monday, Nov. 30, 2020, and running through Friday, Dec. 18, tune in every weekday at noon to the Launch Dayton Facebook pages to connect live with local businesses offering consumer goods perfect for your holiday gift list. The lineup will feature a range of products including baked goods, baking mixes, clothes, jewelry, beauty and skincare products, toys, kitchen and housewares, fair trade goods, handcrafted items, restaurant and fitness studio giftcards, local spirits, seasoning mixes, CBD products + more.
You can use this lineup as your go-to resource for your local Black Friday, Small Business Saturday and Cyber Monday shopping this holiday season, too!
Launch Dayton is a collaborative effort of entrepreneurial resource provider organizations across the region to support and promote all Daytonians building businesses. Launch Dayton partners believe everyone, regardless of their background, should have the opportunity to determine their own economic prosperity. Several Launch Dayton partner organizations including Aviatra Accelerators — Dayton, Downtown Dayton Partnership, Miami Valley Small Business Development Center, PARALLAX Advanced Research, and The Entrepreneurs Center will also be sharing the #LaunchIntoTheHolidays live videos.
"Our small business community has been hit especially hard this year in the wake of the COVID-19 pandemic," Parallax Program Manager John Owen said. "Though we are disappointed not to be able to gather in person for our annual Holiday Startup Market, we hope the #LaunchIntoTheHolidays campaign will enable us to support and promote even more businesses this holiday season."
Confirmed in the lineup so far are:
Monday, Nov. 30 —
12pm Savorista
12:15pm New Season Wellness
12:30pm Baba Love Organics
12:45pm Yetunde Rodriguez Design
Tuesday, Dec. 1 —
12pm Scattered Shop
12:15pm Foodie Cards
12:30pm Ivy
12:45pm Simply Savory by Rachel
Wednesday, Dec. 2 —
12pm Traveling Pendants
12:15pm FreeHype
12:30pm Harriet Tubman Store
12:45pm Living Simply Soap
Thursday, Dec. 3 —
12pm Lily's Dayton
12:15pm Lady Eleanor Designs
12:30pm The Entrepreneurs Shoppe
12:45pm Always Blooming
Friday, Dec. 4 —
12pm A Spoonful of Sugar
12:15pm Space Three
12:30pm Pachamama Market
12:45pm m & co
Monday, Dec. 7 —
12pm BESSER Hair Care
12:15pm After5 Clothing
12:30pm Sarah C. Maxwell Fine Art Co
12:45pm Ella Bella Homemade
Tuesday, Dec. 8 —
12p Natural Livity
12:15pm Rich Taste Catering
12:30pm Charmed by Riss
12:45pm Support House of Bread – Shop Bonfire by LMG
Wednesday, Dec. 9 —
12pm SugarSweets by Peeks
12:15pm TheZe DealZ
12:30pm Picture Perfect Paint Parties
12:45pm Super Subby's
Thursday, Dec. 10 —
12pm Spoonful, The Edible Cookie Dough Place
12:15pm Whitney Brewer Photography
12:30pm The Entrepreneurs Shoppe
12:45pm Liv Naturally Co
Friday, Dec. 11 —
12pm Making Gems — Westside Makerspace
12:15pm D. Bra Boutique
12:30pm Soul Oil Natural Body Care
12:45pm Topsy Turvy Toys
Monday, Dec. 14 —
12pm Style Encore
12:15pm Rare Active
12:30pm Acacia Health & Wellness
12:45pm Fox in Socks Soapery
Tuesday, Dec. 15 —
12pm Brixilated
12:15pm Hall Brothers Distillery
12:30pm Hawthorne Hill Coffee
12:45pm LEAD Products
Wednesday, Dec. 16 —
12pm Tulips Up
12:15pm Foodie Cards
12:30pm Kindred Connections
12:45pm Smooch Maquillage
Thursday, Dec. 17 —
12pm The Gem City Takeover
12:15pm MADE
12:30pm The Entrepreneurs Shoppe
12:45pm Natural Livity
Friday, Dec. 18 —
12pm WACO Air Museum
12:15pm The Little Exchange Fine Gifts
12:30pm Wagtown
12:45pm Vidia's Closet
Popular Categories
Related Stories