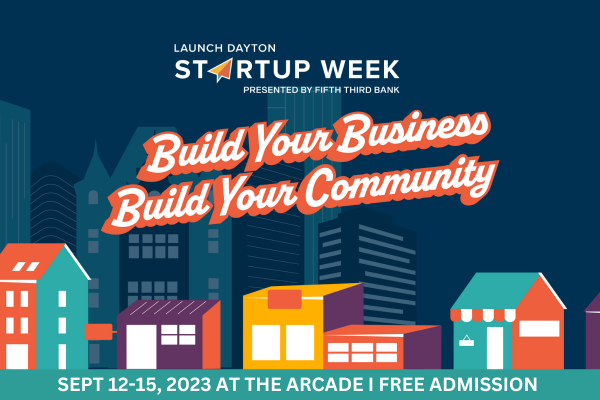 Launch Dayton Startup Week Presented by Fifth Third Bank is back!
July 18, 2023
Build Your Business, Build Your Community at Dayton's free conference for entrepreneurs, Sept. 12-15
Snag your ticket today for Launch Dayton Startup Week Presented by Fifth Third Bank, the Dayton region's premiere entrepreneurship conference!
Launch Dayton Startup Week draws hundreds of attendees each year to celebrate, inspire and empower the Dayton region's startup founders & business owners. The week-long, free conference offers high-quality talks, hands-on business workshops and vibrant networking opportunities.
This year, Fifth Third Bank returns as our presenting sponsor.
"Our commitment to support Startup Week and the region's entrepreneur and small business community continues! We are proud to be the presenting sponsor again this year," said Marya Rutherford Long, Fifth Third Bank VP, Community Impact Manger. "Our communities are vibrant because entrepreneurs take risks every day and pursue visions for a better world. Startup Week offers an invaluable opportunity for those founders to connect to the right people and resources to grow their businesses and to succeed. We're thrilled to help bring this opportunity to our community."
The conference is also made possible by our platinum sponsors, Parallax Advanced Research, Entrepreneurs' Center, Mile Two, and McGohan Brabender. This year's event will be fully in-person and will be held in the historic Dayton Arcade and The Hub Powered by PNC.
We are also teaming up with Sportcial to make this year's conference our most vibrant and interactive yet.
"Sportcial is so excited to partner with Startup Week this year! We've always enjoyed the connectivity that it brings to our city in support of our small business and entrepreneur community," said Buddy Pitts, Co-Owner and Chief Fun Officer at Sportcial. "Get ready to work hard, and play even harder, as you build your business and community!"
The lineup
This year's lineup will feature 50+ speakers across more than 60 sessions.
Empower: Session topics include:
Business planning, business law 101, accounting best practices + other fundamentals to help you launch a successful business
how to implement systems and processes in your business, from hiring practices to customer service
marketing and branding workshops
how to find and utilize mentors and build your team
access to capital
disruptive technologies and industries like AI and blockchain
how to commercialize technology
Inspire: Business owners who will be sharing their inspiring stories and advice include:
Barry Besecker, Marxent
Katie Hill, UNLISTED
Jay Martinez, Metaphorically Speaking Dayton
Isaac Williams, performing artist
Jason Molnar, Infinity Labs
Jackie Gamblin, JYG Innovations
Nicole Cornett, Billie Gold Bubble Tea
And many, many more!
Connect: We've also got a great lineup of social events!
Begin each day with intentional networking
mix and mingle over lunch from area startups
Tuesday, join our business + pub crawl in partnership with Sportcial
Wednesday, compete in the annual Startup Week Pitch Competition Powered by the EC (this year with $20K+ in prizes up for grabs!) Apply here.
Thursday, enjoy local eats at the closing party on the Hub's rooftop patio
Friday, purchase an add-on ticket for boozy brunch to cap off a week of learning + good vibes.
What are you waiting for? Register today and build your custom conference agenda! Can't make it all week? No problem! Startup Week is built so you can drop in and out. Snag a coworking spot to knock out a bit of work. And feel free to bring your kids with you, they're welcome to learn from the Startup Week speakers, too!
Our incredible sponsors help us keep the conference free, empowering Launch Dayton partners to pursue our mission to build an equitable community where all entrepreneurs are welcome and supported. Want to be a part of this work? Reach out to [email protected].
Popular Categories
Related Stories