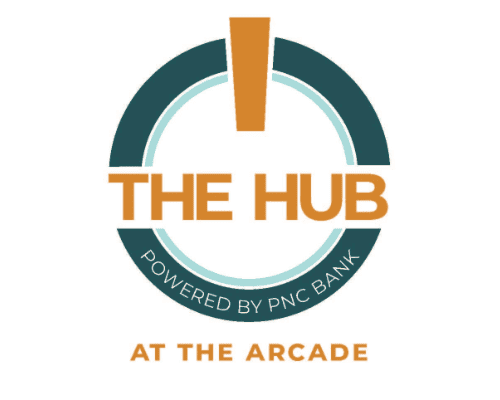 Help name the café at The Hub 
December 18, 2020
We're guessing you're as excited as we are about the impending move into the
The Hub at The Arcade
in 2021.
Small businesses, startups, and entrepreneurial thinkers from all corners of the region will be able to take advantage of working space in the 95,000-square-foot innovation hub through co-share membership, giving them access to anything from open desks to private offices along with meeting rooms, conference areas, high-speed internet and other amenities.
The Hub is a dynamic joint venture of the University of Dayton and The Entrepreneurs Center. The café will provide a convenient menu to hustling entrepreneurs, organizational leaders, Arcade shoppers, and Dayton residents, Greater West Dayton Incubator director Karlos Marshall said.
The menu will be intentionally curated by the GWDI to feature food and beverage products from minority-owned and/or locally-sourced businesses. The café will be operated in partnership with Flyer Enterprises of UD, a student-run corporation that currently manages 10 divisions with 8 retail locations that generate approximately $1.4 million per year in sales.
Additionally, Karlos's team will also start recruiting for a café manager in early 2021. Right now, they are seeking ideas for a permanent name for the café that reflects the intent of this endeavor.
Popular Categories
Related Stories