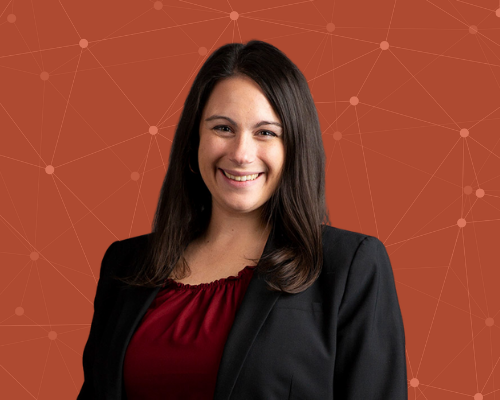 GuideBeam Digital Marketing will cure your social media woes
November 2, 2021
By Katie Aldridge
Ever thrown up your hands trying to figure out what to post to your business social to beat the algorithm? GuideBeam Digital Marketing is here to help.
Founder Danielle Phillips launched her company this year to help business-to-business companies in the Dayton-area grow capacity and focus on digital marketing.
Danielle is a graduate of Early Risers Academy, a 10-week business-building bootcamp managed by Launch Dayton partner Parallax Advanced Research. We recently caught up with Danielle to learn more about her company and her academy experience.
Launch Dayton: How did your company start?
Danielle: I started a few months ago. I have over nine years of experience in the digital marketing industry. I have worked with a variety of different industries. I got started because I saw the need for businesses that might not have the budget to hire an expensive marketing company, but they still need help with digital marketing.
Why this idea?
I love marketing and the potential of having a new marketing idea. The ability to think about what is important to business customers and how I can connect that to a marketing activity while also tracking their results is something that is very interesting to me. I love diving into the data of a business' marketing and making recommendations based on that data. I want to help businesses recognize what investing in digital marketing can do by showing them real results.
Did you always want to be an entrepreneur?
Actually, I never wanted to be an entrepreneur. What changed my mindset on this was recognizing that it will be hard, and it will be difficult, but depending on the type of business, you can really manage and balance that difficulty.
What identities do you bring to entrepreneurship that helped prepare you for this lifestyle?
I have always been involved in a variety of different things. My history and track record to be able to follow through on my promises has really taught me to bring energy into what I do. Somehow, I still have that college student mindset of, just get it done even if you have to stay up late.
What is the biggest barrier you've faced in entrepreneurship?
The biggest challenge is that everybody wants to help you, but you don't always know the best way for those people to help. I am very appreciative of how much everyone wants to help, but I don't know who or where to get the information from until the questions hit me. There is a lot of uncertainty; I don't know what I don't know.
Why do you love what do you?
I really love helping people. A lot of times, with marketing, people are at their wits end, especially with digital marketing. What I like most is when I can actually teach somebody something. I like making something that was complicated to someone easier the next time they try do it.
How was your Early Risers Academy experience?
If anybody hasn't done this, and they're considering starting a business, they should do it, because it was so helpful to define the business and what you're offering. It is a useful way to get introduced to people who will be able to help you with finances, research, and so many other things.
How can the Launch Dayton community support you?
I'm accepting new clients right now, so if there is anyone who is running a business and needs help with their marketing, reach out! I'm open to doing free consultations over a cup of coffee and learn more about their business.
Connect with GuideBeam Digital Marketing on the web and on socials @guidebeamdigital.
Popular Categories
Related Stories