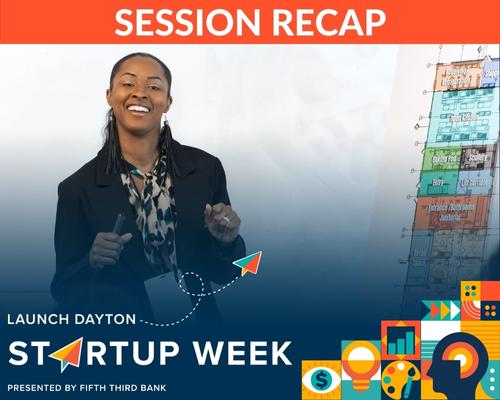 Get the skinny on the 6888 Kitchen
October 25, 2022
By Katie Aldridge
Chefs, bakers, food entrepreneurs, close your eyes and imagine your dream kitchen. Imagine vast counter space, brand new equipment and a wide variety of storage options. Are you ready for it?
At Launch Dayton Startup Week, the founders of the 6888 Kitchen shared all you need to know to tap into this new resource when it opens next year.
A food business incubator, 6888 Kitchen will provide training, business support services, and commercial kitchen space for under-resourced entrepreneurs developing food business. Local businesswomen Dabriah Rice, Jamaica White and Charlynda Scales are the kitchen manager, program manager, executive director, respectfully.
Open 24/7, Kitchen 6888 will feature an array of kitchen spaces, each designed to meet a specific production need. The 10K-square-foot space will include a training and community-use kitchen; bakery kitchen; vegetable processing area; co-packaging services for consumer products; dry, cold and frozen storag; prep tables; three large cooking pods; and retail space.
Kitchen member qualifications
To be a member of this state-of-the-art kitchen, food entrepreneurs must be graduates of Sharpen the Axe, a business training program  tailored for food-based entrepreneurs. Cohorts will complete written and digital coursework on topics from running a business to selling their product, to managing finances. The goal is for business owners to get leave the kitchen and move into their own food trucks, brick + mortar locations, or the get their products on major retail store shelves or televised shopping programs.
The application for the program is $50, to prove commitment. To sign up, you should meet the following criteria:
You're a food business owner
Your business has been in operation for at least two years
Your business revenues are at least $20,000 in your most recent fiscal year
You must be able to attend program orientation and complete all sessions
The first cohort is underway, and the next will launch in the near future. Founders may also apply for Sharpen the Ax even if they don't want to be a member of the shared kitchen.
Learn more at ohtaste.org/6888kitchen or email [email protected] or [email protected].
Popular Categories
Related Stories