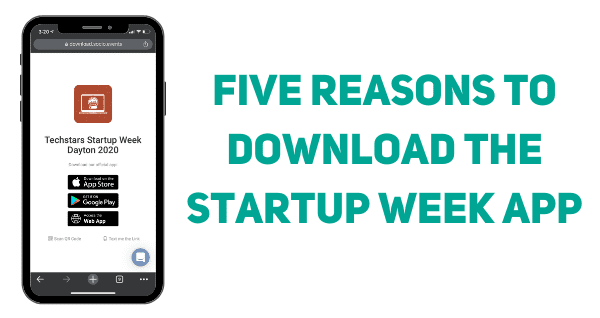 Five reasons to download the Startup Week App today
September 15, 2020
Already registered for Techstars Startup Week Dayton 2020, our free, annual, week-long, entrepreneurship conference?
Download the official Startup Week Daayton 2020 app to get the most of if this year's virtual experience!
Here are five reasons to download the app today:
1. Personalize Your Schedule: Select the sessions you care about & add them to your personal agenda.
2. Join From Anywhere: We're fully virtual this year! Stream from your home or office computer, or jump in from your phone while you're on the go.
3. Connect With Attendees*: Chat and network with fellow attendees. Share what you liked about the prior session and meet someone who will help you move your business forward.
4. Connect With Resources: Learn about local resources to help you launch and grow your business, and apply for programs directly from the event app.
5. Play Our Event Game*: Complete challenges, like attending the Techstars Startup Week Dayton kickoff talk. Score points for each challenge you complete. Win gift cards to Dayton businesses!
Access the official Startup Week Dayton 2020 app on iOS, Android, or via the web. Download it here.
*Available on the mobile app only
Popular Categories
Related Stories