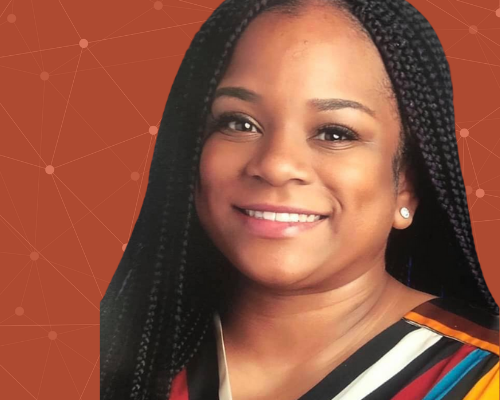 Fail Me Not Tutoring takes cohort pitch prize
October 26, 2021
Michel'le Curington, founder of Fail Me Not Tutoring, is helping students not just catch up academically, but slay their math, reading and writing tests. 
And on Thursday night, Michel'le took first place in her Early Risers Academy cohort's culminating pitch competition, winning $1K to infuse into her business.

"Entrepreneurship is not easy. I was really stressed and depressed a year ago," she recalled. "Thank you for seeing my vision and recognizing the work that I'm currently doing."
Michel'le is seeking funding for laptops, additional tables and chairs, STEM kits and tools. Watch her pitch here, and connect with her at [email protected].
Early Risers Academy is a free, 10-week, business-building bootcamp managed by Launch Dayton partner Parallax Advanced Research.
Participants complete Kauffman FastTrac coursework from the nationally-renowned Kauffman Foundation, receive pitch coaching and hands-on mentoring, weekly discussions with successful entrepreneurs and experts, & access to Dayton's entrepreneurial ecosystem.
The bootcamp is designed to take aspiring entrepreneurs from idea to business launch. These workshops can also be valuable for founders early in their small business journey, or who jumped right into their business without formally developing the plans behind it and are now discovering they need some of that paperwork in place to grow.
Other spring 2021 cohort graduates included:
Christian Johnson, founder of evenYou, an event planning website that uses the power of the internet to connect occasional event planners with specialized event service providers. evenYou is designed to streamline and focus the event planning process in order to spend less time planning, and more time partying!

Shannon Barr, pitching H20's Kitchen, a restaurant dedicated to fine dining by way of high-tech aeroponic grow towers;

Jazmon Stewart, founder of iThrive, a Minority, Agricultural Family leveraging Social Emotional Learning via Plants in Service of Equity for Inner City Communities;

Kane Pickrel, founder of FreshCo, a digital platform that offers a completely reusable packaging solution for food/beverage establishments and delivery services. Restaurants can save money and become carbon-neutral when they subscribe to our end-to-end facilitation and cleaning services using a FreshCo container.

Violet and Aaron Hobbs, pitching a new gluten-free downtown Dayton ice cream shop. By offering entirely gluten free options, with many vegan options, we can accommodate everyone (including you).

Donniece Koontz, founder of Your Favorite Notary, offering mobile/remote services, wedding officiation, loan signing services and other general notary work.
"Early Risers Academy is designed for aspiring founders in any industry," Project Manager KeAnna Daniels said. "We're particularly excited to work with more women and minority founders."
Curious if Early Risers Academy is fit your you? Learn more & apply for our next cohort, kicking off in just a few weeks!
Popular Categories
Related Stories