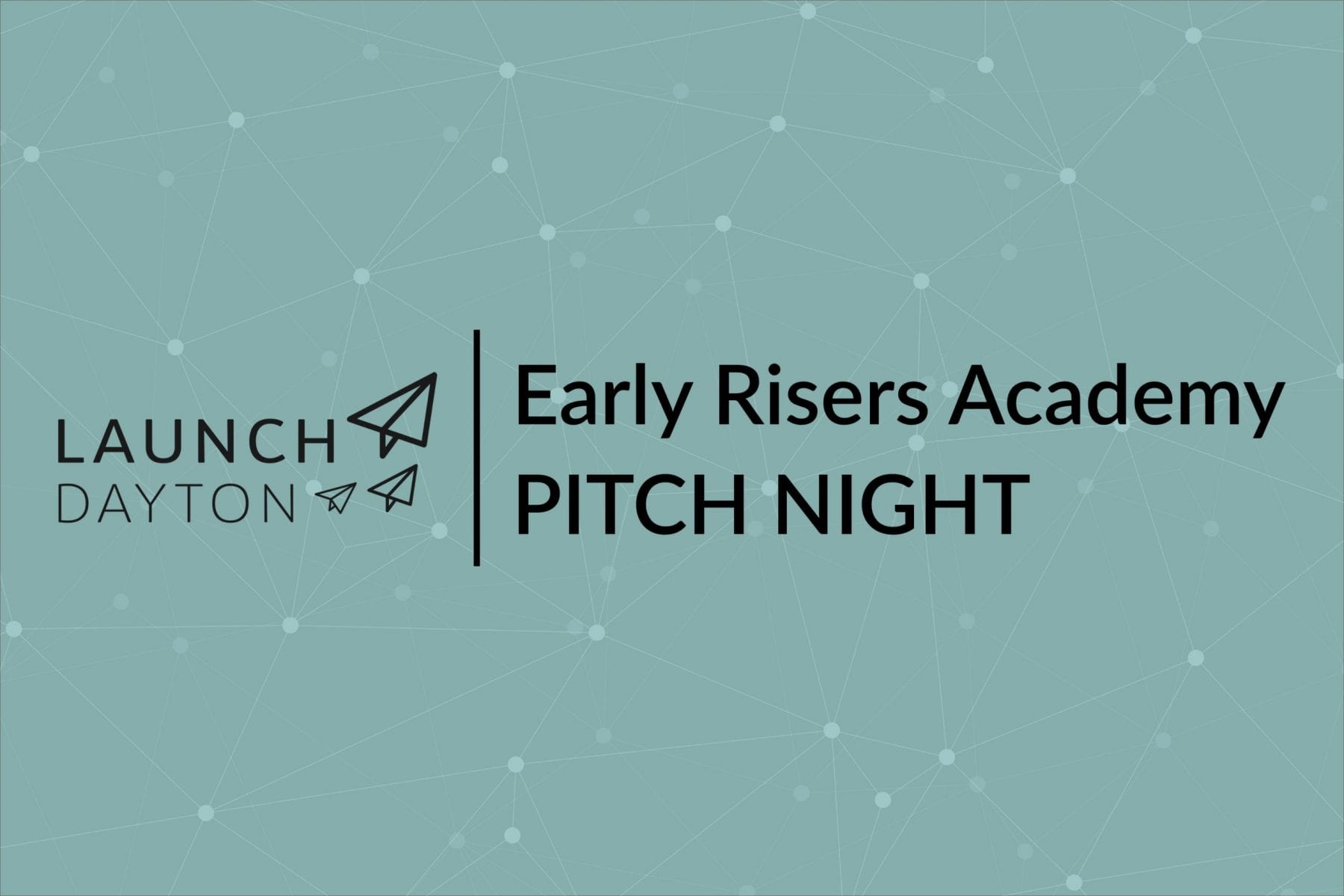 Early Risers Academy grads pitch their cos Thursday, Friday
June 9, 2020
Early Risers Academy is a free, 10-week, pre-accelerator program designed to take participants from business idea to business launch.
This Thursday & Friday, graduates from our latest general & tech cohorts will pitch for a $1k prize!
Join us Thursday evening, June 11, at 5:30pm, for our Early Risers Academy Pitch Night for our spring 2020 general cohort.
You'll meet:
• STEM Whisperers, a Marketing Technology (MarTech)-focused College & Career Readiness STEM program specifically designed to end the School-to-Prison Pipeline. Our culturally-relevant, evidenced-based curriculum meets troubled students where they are, exposes them to MarTech career paths, and sprouts scholars from statistics to significance.
• CB Cakes & More, sweets specialist, creating desserts such as cookies, cakes, cupcakes, and so much more, providing specialty dessert options for all your special occasions. We use quality ingredients to satisfy your sweet tooth, with prices to satisfy your wallet.
• Whitney Brewer Photography, an unparalleled photography and coaching service specializing in empowering self-love, confidence and authenticity in growth-oriented individuals.
• College Thrifts, a resale platform that seeks to create an inclusive college experience for students by providing an affordable and sustainable way for students to sport their school.
• 67b Bookkeeping, working to empower creative entrepreneurs to make smart business decisions by bringing clarity & understanding to their finances. Let 67b handle the books so you can handle your business.
• Cardigan Radio, a Dayton-based podcast-production platform that is focused on making the process of creating fictional audio dramas accessible for independent artists. We strive to bring together writers, actors, directors, and producers to create stories that are both entertaining and convey an impactful message.
• Jalal: UniMart, a student marketplace on which students of same university can sell/buy belongings from each other or even rent. Also they can shop online with the opportunity of receiving their purchase before whole payment.
• BOSH Kids (Body•Organic•Science•Hair), unleashing creativity! Our all-natural DIY, high quality and reusable bath and body kits are focused on creating fun at-home STEM experiences for girls ages 8-14. It's not enough to make the packaging pink and call it a girls 'toy," at BOSH Kids, we focus on using girls' natural play patterns to CREATE SPARKS of JOY in learning (with a dash of pink and glitter).
• What's The Biz, a multi-faceted company that focuses on increasing black businesses' customer bases by highlighting the stories of black business owners through a quirky web series and an intentional digital experience.
• Roe: Future Dreamers, a youth entrepreneurial program that offers hands on experience. The participants will enter with an idea, write it down , make a plan and leave with a legacy.
• Dayton Emerging Fashion Incubator (DE-FI) LLC, a volunteer-based community outreach initiative that helps launch careers in fashion.
• Be Whole! Life Coaching, offering online private and group coaching sessions, courses, dream interpretation, and books to women who seek personal development, empowerment, and life fulfillment. Our "whole person" approach provides clarity, encouragement, and accountability for our customers to live happy, healthy, and whole; thus, becoming the best version of themselves.
• Katakage Brands, although the products shift like shadows, the experience is as timeless as light.
Join us Friday afternoon, June 12, at 12:30pm, for our Early Risers Academy Pitch Night for our spring 2020 tech cohort.
You'll meet:
• AIMM, using 10+ years of materials science expertise to enable anti-microbial coatings for porous materials that activate with simple water. At AIMM we are striving to bring simple, yet effective solutions to the masses through advanced science.
• EzKin Company's Factory View Online solution, simplifying the manufacturing industry and giving a reachable option to get companies into the competitive digital world to make data driven decisions.
• Seer, building a platform utilizing artificial intelligence to measure, communicate, and analyze operational data to inform business decisions and optimize operational efficiency. With opportunity in the $100B business productivity software market, we're providing insights into an organization or individual's operations, such as analyzing what activities our clients spend their time on and how much time they spend on them.
• CommTrans, a system that provides real-time medical information at the touch of a button, allowing emergency personnel and medical staff to interact with patients anywhere in the world, empowering patient freedoms and maintaining levels of patient care, wherever life happens to take them.
• Skuld, an advanced materials company focused on developing new metal manufacturing processes. Our process innovations allow manufacturers to create new casting and additive manufacturing designs that are more cost effective and efficient.
• Pinch 2 Purchase, providing shoppable video in a pinch, designed for small screen mobile devices, providing monetization of retail transactions on a SaaS platform for digital video publishers and influencers.
• Delaney Centers, tackling the problem of opioid addiction, which impacted 10 million people and their families in 2019 with 200 addicts dying every day, by using telepresence technology and non-narcotic medicinal treatment to break this dependence until it becomes clear that full recovery from addiction is possible for everyone.
Early Risers Academy is designed for aspiring founders in any industry. We're particularly excited to work with more women and minority founders.
Participants complete Kauffman FastTrac coursework from the nationally-renowned Kauffman Foundation, receive pitch coaching and hands-on mentoring, weekly discussions with successful entrepreneurs and experts, & access to Dayton's entrepreneurial ecosystem.
These workshops can also be valuable for founders early in their small business journey, or who jumped right into their business without formally developing the plans behind it and are now discovering they need some of that paperwork in place to grow.
Learn more & apply for an upcoming Early Risers Academy cohort here.
Popular Categories
Related Stories