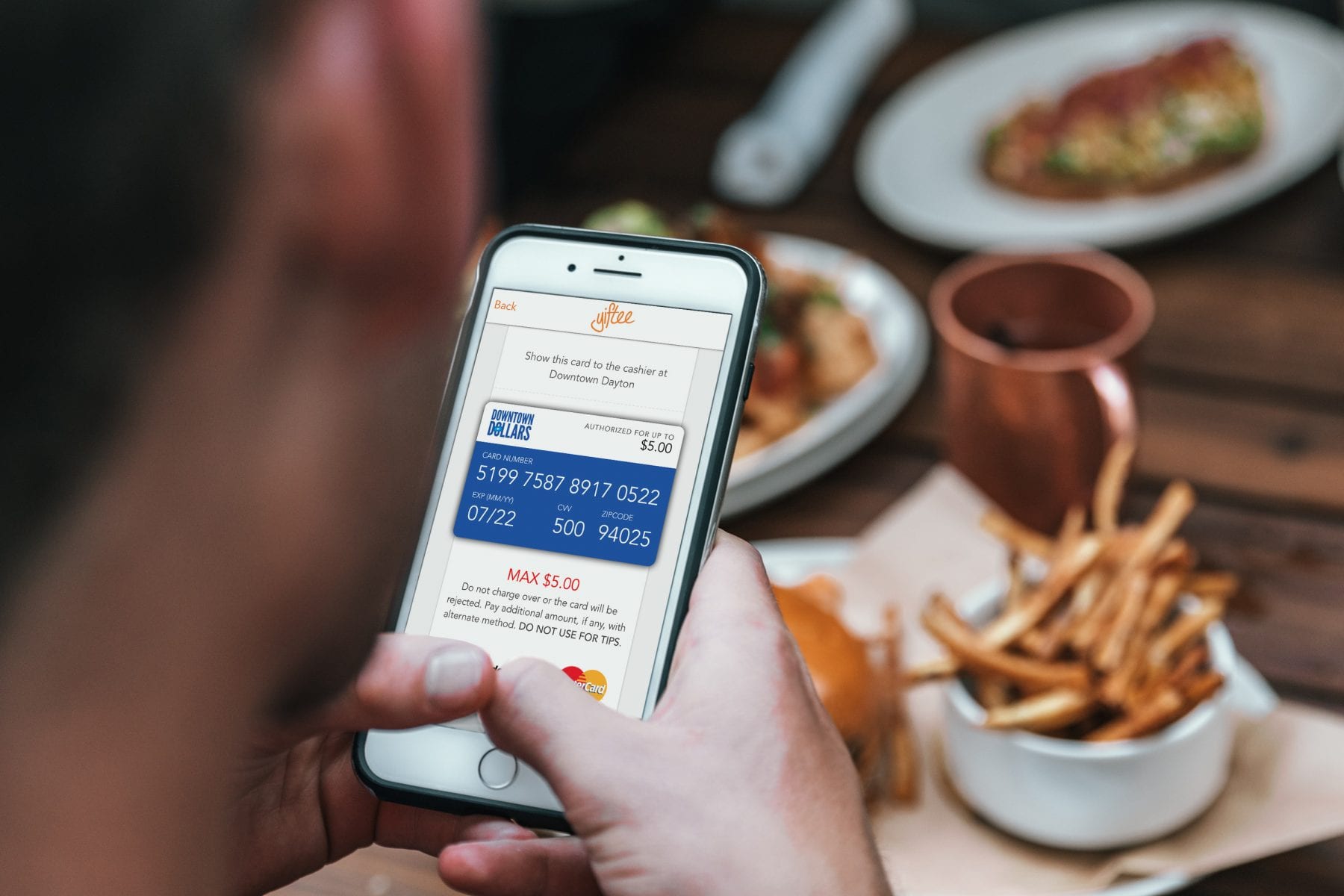 Downtown Dayton Partnership launches e-gift card program, Downtown Dollars
December 3, 2020
Downtown Dayton Dollars, a new, e-gift card program designed to keep local dollars with our downtown businesses, is LIVE!
Downtown Dollars is a digital gift card platform, redeemable at dozens of downtown Dayton participating businesses, including restaurants, pubs, retailers and services. Downtown Dollars will go on sale on Monday, Dec. 7, at www.downtowndayton.org/dollars.
Buy Downtown Dollars for your own everyday purchases, or as a gift for a friend, family member or colleague. Downtown Dollars gives access to the best shopping, dining and entertainment in Downtown Dayton with one card, conveniently stored on a phone or other mobile device. Downtown Dollars directly support the network of small, independent businesses in the heart of Dayton.
A full list of participating businesses in downtown Dayton, plus information on how the cards can be purchased and redeemed, can be found at www.downtowndayton.org/dollars.
"We wanted to create a program that was a simple way for our community to load money into one account but spend at a network of their favorite small businesses in our downtown," said Sandra K. Gudorf, president of the Downtown Dayton Partnership. "Every time Downtown Dollars are used, we'll know that money is directly impacting our small businesses in downtown Dayton, and they need our support now more than ever."
When you purchase Downtown Dollars for yourself, or to give to others as a gift, the e-gift card is delivered via email or text message. Benefits of the Downtown Dollars e-gift cards include:
Downtown Dollars are accepted at more than 30 participating merchants in Downtown Dayton.
No monthly inactivity fees.
Your Downtown Dollars balance is listed directly on the card, and is updated as you use your card.
Purchasing cards is fast, personalized and instantaneous – great for last-minute gifts!
Funds are immediately available (no need to wait for a physical card to be mailed).
Monthly reminders are sent via email and/or text message to help customers remember they have the gift card available for use. If a card is not used after 12 consecutive months a small inactivity fee kicks in.
Starting on Monday, Dec. 7, customers can go to the Downtown Dollars webpage to purchase the e-gift cards for themselves or to send as a gift. Choose the amount, and it will be delivered by email or text message. Every time a Downtown Dollars card is used at a participating business, it puts money directly in the pockets of those local, independent businesses that need support the most.
For organizations interested in making a bulk purchase ($500 or more) of Downtown Dollars, contact Val Beerbower at [email protected] to discuss reduced eDelivery fees for paying by check, ACH or wire transfer.
As Daytonians look to buy gifts this holiday season, order meals or drinks for their families and households, or make everyday purchases at local businesses, Downtown Dollars can be a new option of payment that will directly support Dayton businesses.
For a complete list of downtown's events, a dining guide, parking maps and more, visit www.downtowndayton.org, and follow the DDP on Facebook, Twitter, or Instagram to keep up with downtown events and news.
Popular Categories
Related Stories