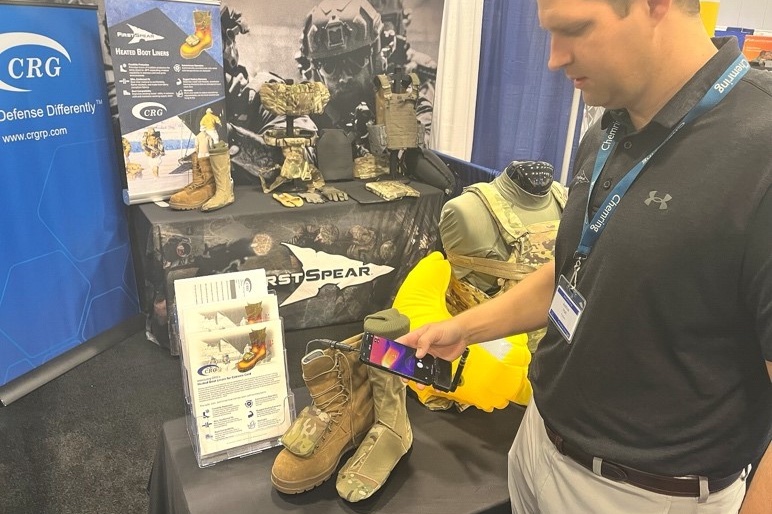 CRG launches heated boot liners
November 7, 2023
A Dayton company's new heated boot liner technology offers advanced cold and frostbite protection, effective down to -49°F.
Cornerstone Research Group collaborated with FirstSpear Technology Group to develop the prototypes they debuted last month at the SAFE Association's 61st Annual Symposium in Virginia Beach.
Users rigorously field tested the revolutionary wearable technology in Alaska and Vermont, shared research engineer Elaine MacAslan.
"This was the first time FirstSpear debuted the HBL prototypes in a public setting," Elaine said.
The SAFE Symposium is a prominent platform for safety experts in aviation, space, land, and marine disciplines. It offered CRG and FirstSpear the perfect venue to introduce this innovative technology to a global audience, including domestic military and NATO allies.
CRG's collaboration with FirstSpear to scale up production and distribution of the product will ensure this cutting-edge solution reaches warfighters in the field.
Features of the Heated Boot Liners:
Revolutionary Protection: CRG's Heated Boot Liners (HBLs) provide frostbite protection down to -49°F. Users can wear these slim and conformal boot liners with existing boots, eliminating the need for specialized footwear. They are flame-resistant, Berry compliant, and rigorously tested, marking a substantial advancement in cold weather protection.
Autonomous Operation: The liners detect cold temperatures and automatically provide heat, delivering hours of frostbite protection.
Rugged Heating Elements: Even if torn, the flexible, stretchable heating elements remain shockproof, ensuring durability in challenging environments.
Washable and Durable: Users can hand wash and hang dry the liners, reducing the need for extensive laundering.
Popular Categories
Related Stories