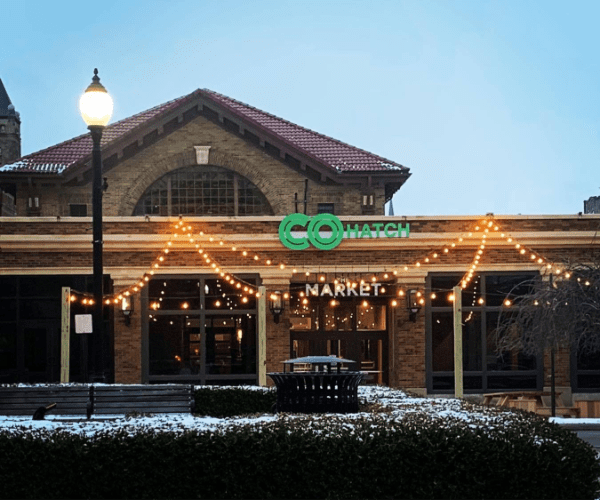 COhatch to launch modern market with coworking, restaurants, kitchen space
February 28, 2020
The long-awaited Springfield COhatch is slated to open next month in the historic Myers Market building, and we couldn't be more excited!
COhatch The Market, located at 101 S. Fountain Ave., will offer 18 1- to 5-person offices, four conference rooms, four restaurant concepts, a North High Brewing tap lounge, an event space with a full-service bar, a shared kitchen with a show kitchen for pop-ups, and plenty of space for coworking memberships.
"I can't describe to you the amount of excitement I have to bring this space to life! Springfield is in a fantastic place and we believe that COhatch is going to add so much value to what is already going on. Plus, who doesn't love tacos, waffles , pizza, craft beer, and delicious salads served by the best humans on earth?!" Community Orchestrator Joe Harrison said. "In all seriousness, we are so excited to be a part of Springfield's thriving community and pumped to help activate businesses in the region."
The new restaurants will include:
• Crust & Co, an artisan pizzeria that will be the third food startup for Lisa & Dan Freeman, who also own Springfield's Le Torte Dolci Bakery & Salato Deli;
• Ironworks Waffle Cafe, offering specialty sweet & savory waffles, as well as espresso & tea;
• Painted Pepper, the popular Mexican food truck that is now pursuing a restaurant concept;
• Fresh Abilities, a gourmet salad bar operated by TAC Industries, which hires & empowers individuals with disabilities. All the veggies for the salad bar will be grown at their factory, where the company has produced more than 700K cargo nets for the U.S. Air Force.
Shared kitchen space is available starting at $59. Cowering memberships also start at $59.
The entire COhatch space is tailored to pay homage to the city, residents & history of Springfield — from the rose-backed phone booth that nods to Springfield's one-time title as flower capital of Ohio to the locally-made lights from Velorossa Design.
Want to see a sneak peak and test some of North High's Beers? RSVP here.
Want to set up a private tour or inquire about space? Contact [email protected]
Popular Categories
Related Stories