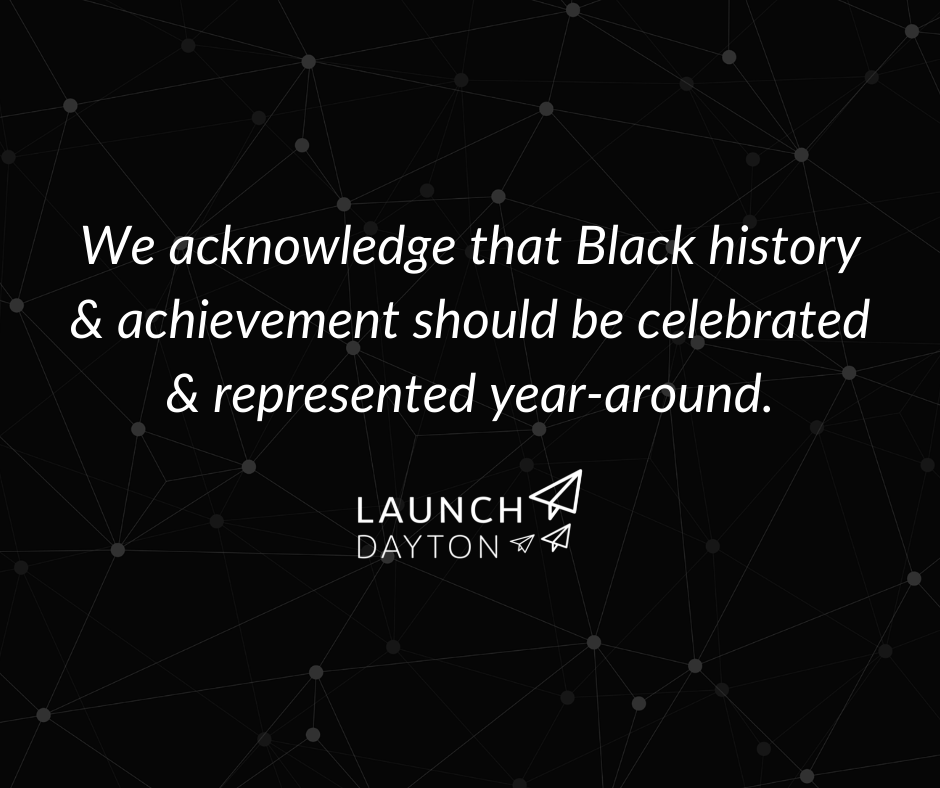 Celebrating Black History Year-around
February 25, 2022
A dispatch from KeAnna Daniels, Audrey Ingram, John Owen
Launch Dayton partners believe everyone, no matter their background, deserves the opportunity to determine their own economic prosperity. This community exists to support and inspire ALL Daytonians who are building businesses.
As we celebrate Black History Month, we are thrilled to see our media feeds full of images, headlines and profiles of past and present Black leaders and innovators.
We pledge that you will continue to see these faces and stories in our feeds as the year continues — because at Launch Dayton, we acknowledge that Black history & achievement should be celebrated & represented year-around.
Launch Dayton is a partnership of 20+ entrepreneur and small business resource organizations across the Dayton & Miami Valley regions that work to support entrepreneurs and business owners who are launching and growing companies.
We — Audrey, John, KeAnna — are the Parallax team that serve our local entrepreneurs. Through our team, Parallax is a proud partner of the Launch Dayton community.
We strive to build a diverse, equitable, and intentionally inclusive ecosystem where every entrepreneur feels welcome and gets the support they need. We believe the demographic of our entrepreneur ecosystem should match the demographic of our region, and so we have set our goal metrics accordingly — we aim that you see at least 50% minority and 50% women represented across the stories we share, on the stages we manage, and in the rooms of the events we coordinate and curate.
In the past two years, we have made progress toward these goals —
in 2021, the stories told on launchdayton.com featured 60% minority and 58% women
speakers at Launch Dayton Startup Week 2021 were 59% women and 46% minority
since 2020, 61% of the entrepreneurs directly served by the Parallax Launch Dayton team have been minority, and 52% have been women
Although we've been intentional with our efforts, we acknowledge that there is still much work to be done.
As we celebrate Black History Month 2022, we reaffirm our commitment to our region's Black and Indigenous People of Color founders and entrepreneurs.
We pledge to partner with an even greater mix of Black-led organizations and Black business owners as we work to level the entrepreneurial playing field in our community.
We will continue to charge ourselves with making this space more equitable, diverse, and inclusive.
If you'd like to learn more about any of our programs, please reach out.
Popular Categories
Related Stories